Reporting and Multimedia Journalism
Reporting and multimedia journalism inform the public about important issues and events. By using written, oral and visual communication skills, multimedia journalists tell stories that matter to the audiences they serve.
The reporting track prepares students for careers in print, broadcast, and digital news, investigative journalism, magazine writing, editing, and publishing, documentary film, podcasting, and many more.
Are you interested in:
Breaking news stories that influence public policy?
Traveling the world to tell important stories about people and places?
Using data and insights to engage audiences?
If any of these sound interesting, the reporting track may be the right fit for you!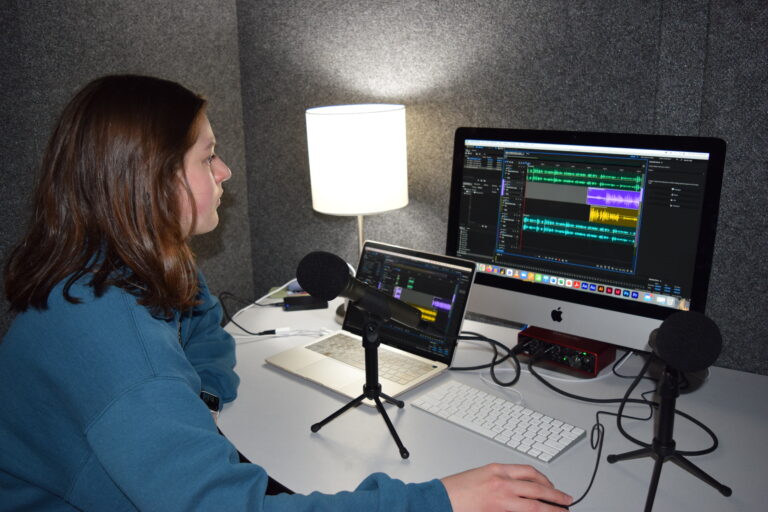 Undergraduate Admissions More
Apply for Admission More
Degree Requirements More
Course Guide More
Strategic Communication More
Meet with an advisor
What You'll Learn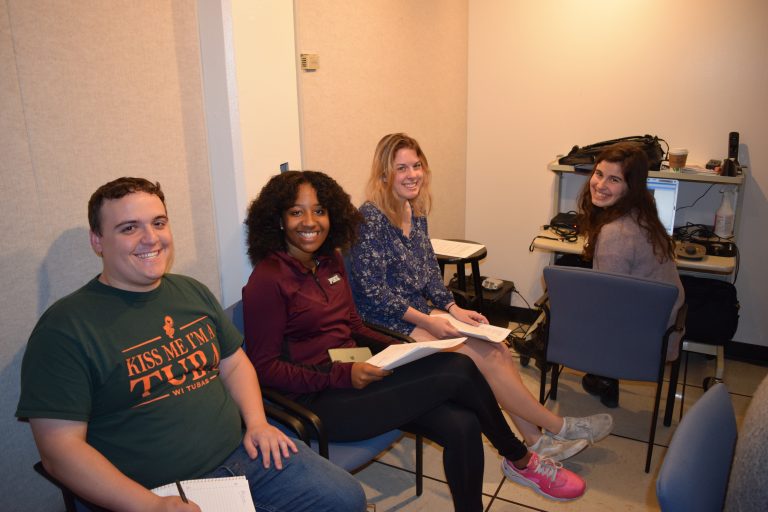 In-Demand, Transferable Skills
You'll learn the skills employers need, including:
News writing and copy editing
Data analysis and visualization
Video and audio production and editing
Web, digital and social media for news
How alumni are using their skills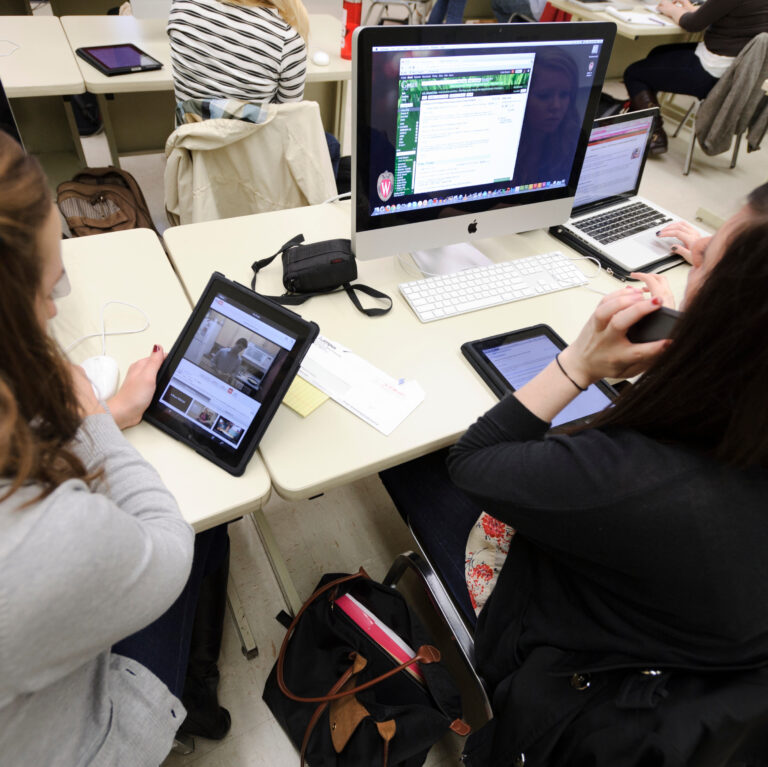 Well-Rounded, Cutting Edge Curriculum
Our courses reflect what is happening in the industry today to prepare you for the jobs of tomorrow. Some of our classes include:
In-Depth Reporting
Magazine Publishing
Investigative Reporting
Video Journalism
Storytelling through Sound
View the course guide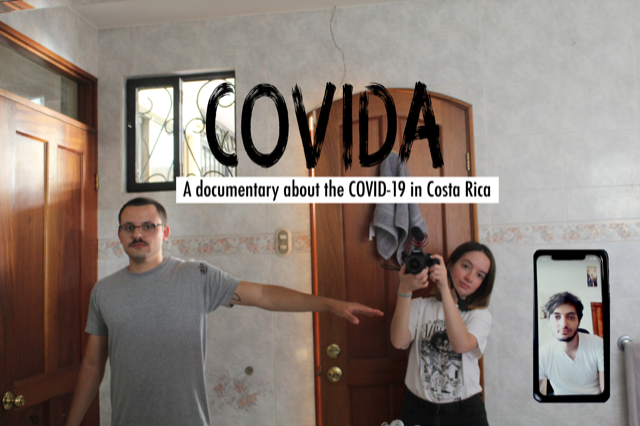 Real-World Projects and Experience
You'll publish work in real news outlets, building your portfolio. Recent award-winning student work includes:
CURB Magazine receives 2022 Society of Professional Journalists Awards
The Badger Report receives Milwaukee Press Club Awards
Podcasting Students receive Wisconsin Broadcasters Association Awards
Read more about student work
What You'll Do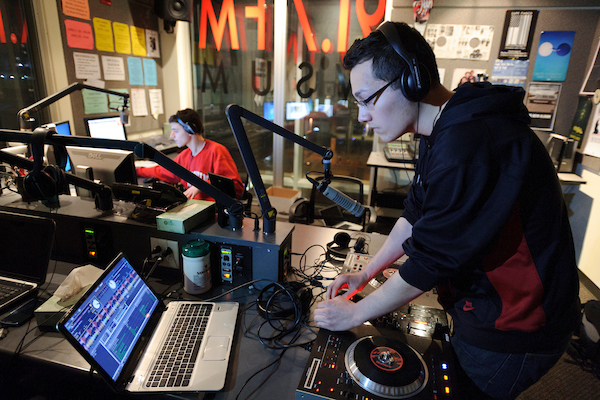 Get Involved
Join one of a dozen student organizations sponsored by SJMC and get real world multimedia journalism experience.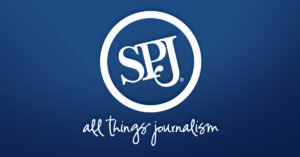 See student organizations & media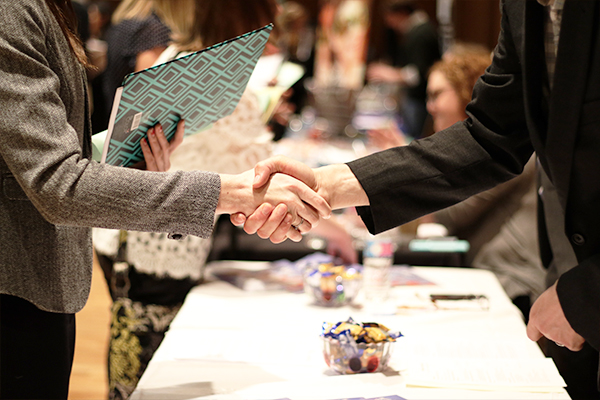 Launch Your Career
By leveraging our strong professional network of alumni and our dedicated career advisor, 97% of our graduates find careers in their chosen field, like:
Morning Show Producer
Breaking News Reporter
Investigative Journalist
Editorial Assistant
Digital Producer
Learn About Career Services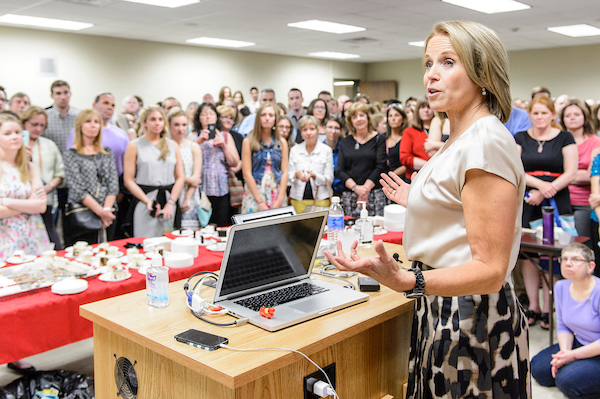 Work for the Best
Our graduates go on to work for some of the leading organizations locally and across the globe.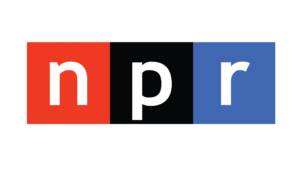 See recent grad job placements
If you'd like to get started on the reporting and multimedia journalism track, it's time to take the next step.
How to Apply Meet with an Advisor
Home > Ethics > SPJ Code of Ethics
SPJ Code of Ethics Revised September 6, 2014 at 4:49 p.m. CT at SPJ's National Convention in Nashville, Tenn.
Preamble Members of the Society of Professional Journalists believe that public enlightenment is the forerunner of justice and the foundation of democracy. Ethical journalism strives to ensure the free exchange of information that is accurate, fair and thorough. An ethical journalist acts with integrity. The Society declares these four principles as the foundation of ethical journalism and encourages their use in its practice by all people in all media.
Seek Truth and Report It Ethical journalism should be accurate and fair. Journalists should be honest and courageous in gathering, reporting and interpreting information. Journalists should:
Minimize Harm Ethical journalism treats sources, subjects, colleagues and members of the public as human beings deserving of respect. Journalists should:
Act Independently The highest and primary obligation of ethical journalism is to serve the public. Journalists should:
Be Accountable and Transparent Ethical journalism means taking responsibility for one's work and explaining one's decisions to the public. Journalists should:
Bookshop.org
Amazon/Kindle
The SPJ Code of Ethics is a statement of abiding principles supported by explanations and position papers that address changing journalistic practices. It is not a set of rules, rather a guide that encourages all who engage in journalism to take responsibility for the information they provide, regardless of medium. The code should be read as a whole; individual principles should not be taken out of context. It is not, nor can it be under the First Amendment, legally enforceable. For an expanded explanation, please follow this link .
Arabic [PDF]
Chinese [PDF]
French [PDF]
German [PDF]
Persian [PDF]
Portuguese [PDF]
Russian [PDF]
Spanish [PDF]
Ethics Case Studies
Committee Position Papers
Media Ethics: A Guide For Professional Conduct, 5th edition
Quill: Stories About Journalism Ethics
What the Codes Say: Code provisions by subject
Other codes of ethics
Ethics Hotline
Contact the Ethics Committee
Become an SPJ Member
Become an SPJ Supporter
1996 Ethics Code [PDF]
1973 Ethics Code [PDF]
1926 Ethics Code [PDF]
The SPJ Code of Ethics is a statement of abiding principles supported by additional explanations and position papers that address changing journalistic practices. It is not a set of rules, rather a guide that encourages all who engage in journalism to take responsibility for the information they provide, regardless of medium. The code should be read as a whole; individual principles should not be taken out of context. It is not, nor can it be under the First Amendment, legally enforceable. Sigma Delta Chi's first Code of Ethics was borrowed from the American Society of Newspaper Editors in 1926. In 1973, Sigma Delta Chi wrote its own code, which was revised in 1984, 1987, 1996 and 2014.
SPJ News –  SPJ statement on the shooting of Spectrum News 13 journalists –  SPJ and NLA partner for Sunshine Week 2023 –  SPJ statement on changes at Al Día
CCNY Introduction To Journalism
Truth Matters
Reporting Basics
Journalism means more than taking handouts or reporting what's said in news releases. Good journalism rests on a set of principles. Solid stories require accurate information and balance in reporting it.
Think about answering a story's basic questions:
Then examine how  the story happened.
How do we connect the dots to tell a good story with a beginning, middle and end?
The inverted pyramid.
But increasingly, news organizations encourage reporters to use better storytelling techniques, using characters and interesting details to get the reader, viewer or listener interested. Television stories often start with small details, or personal stories and we see that more and more in print, digital and radio.
Only report what you know was said, and by whom.  This means attributing statements to specific people:
The mayor says…
The district attorney says…
The neighbor says…
According to the Associated Press…
According to The New York Times…
According to the website….
Wikipedia and many other websites aren't always reliable sources.  If a site quotes another source, it's important to go to the primary source to make sure that you have accurate information.
Just because somebody says something doesn't mean it's true.  Even high-ranking public officials may be misinformed, or may have an agenda that obscures the truth.  Even when you're under deadline pressure, try to confirm everything that you're told with additional sources.  It's a good idea to have at least two sources.  Remember:  truth is an absolute defense against libel.
Elements of a Good Story
Ancient Greek writers developed a basic storytelling formula and they understood the importance of characters:
You'll find victims, villains and heroes at the center of every good drama.  Audiences recognize the victim's pain, hiss at the villain, and cheer for the hero. Most of what we cover will not be as dramatic as a classic Greek tale, and news coverage demands that we balance two sides of a story. Until the jury returns a guilty verdict, it's unfair to characterize the accused as a villain. But if the actions of the accused are villainous, you report the facts and the audience, like the jury decides.
Highlight Characters
In daily news reporting, we don't always have the luxury of a developing a story around a character. We do have to report the facts. But where we can, we want to highlight characters.
Often they reveal themselves in what they say, how they act, and through the expressions on their faces.
Readers, viewers and listeners want to engage with the real drama in real people's lives. We feel their pain, their anger, their frustration and their triumph. We cheer them, get angry, or feel their pain. We're indignant or inspired.
Characters drive stories and make them memorable.
Organization
Whether you begin with just the facts, an engaging character or an interesting detail, you   need to let your reader, viewer or listener in on the point of the story pretty quickly.
Journalism uses the nut graf ,  or paragraph, to explain the heart of the story. The nut graf should come pretty close to the top of the report. It helps to tie everything together.  It helps you keep the focus and continue to the ideas in your story.
Once you explain the point of the story, you can move on flesh it out with facts and details.
Share this:
5 replies to "reporting basics".
Pingback: Assignment September 10, 2020 – CCNY Introduction To Journalism
Pingback: Assignment Thursday, October 22, 2020 – CCNY Introduction To Journalism
Pingback: Undermining security and democracy via the Internet | Marcus Ampe's Space
Pingback: Assignment for September 9, 2021 – CCNY Introduction To Journalism
Pingback: Writing exercise – CCNY Introduction To Journalism
Leave a Reply Cancel reply
This site uses Akismet to reduce spam. Learn how your comment data is processed .
The elements of journalism
In their book The Elements of Journalism , Bill Kovach and Tom Rosenstiel identify the essential principles and practices of journalism.
Here are 10 elements common to good journalism, drawn from the book.
Journalism's first obligation is to the truth
Good decision-making depends on people having reliable, accurate facts put in a meaningful context. Journalism does not pursue truth in an absolute or philosophical sense, but in a capacity that is more down to earth.
"All truths – even the laws of science – are subject to revision, but we operate by them in the meantime because they are necessary and they work," Kovach and Rosenstiel write in the book. Journalism, they continue, thus seeks "a practical and functional form of truth." It is not the truth in the absolute or philosophical or scientific sense but rather a pursuit of "the truths by which we can operate on a day-to-day basis."
This "journalistic truth" is a process that begins with the professional discipline of assembling and verifying facts. Then journalists try to convey a fair and reliable account of their meaning, subject to further investigation.
Journalists should be as transparent as possible about sources and methods so audiences can make their own assessment of the information. Even in a world of expanding voices, "getting it right" is the foundation upon which everything else is built – context, interpretation, comment, criticism, analysis and debate. The larger truth, over time, emerges from this forum.
As citizens encounter an ever-greater flow of data, they have more need – not less – for suppliers of information dedicated to finding and verifying the news and putting it in context.
Its first loyalty is to citizens
The publisher of journalism – whether a media corporation answering to advertisers and shareholders or a blogger with his own personal beliefs and priorities — must show an ultimate allegiance to citizens. They must strive to put the public interest – and the truth – above their own self-interest or assumptions.
A commitment to citizens is an implied covenant with the audience and a foundation of the journalistic business model – journalism provided "without fear or favor" is perceived to be more valuable than content from other information sources.
Commitment to citizens also means journalism should seek to present a representative picture of constituent groups in society. Ignoring certain citizens has the effect of disenfranchising them.
The theory underlying the modern news industry has been the belief that credibility builds a broad and loyal audience and that economic success follows in turn. In that regard, the business people in a news organization also must nurture – not exploit – their allegiance to the audience ahead of other considerations.
Technology may change but trust – when earned and nurtured – will endure.
Its essence is a discipline of verification
Journalists rely on a professional discipline for verifying information.
While there is no standardized code as such, every journalist uses certain methods to assess and test information to "get it right."
Being impartial or neutral is not a core principle of journalism. Because the journalist must make decisions, he or she is not and cannot be objective. But journalistic methods are objective.
When the concept of objectivity originally evolved, it did not imply that journalists were free of bias. It called, rather, for a consistent method of testing information – a transparent approach to evidence – precisely so that personal and cultural biases would not undermine the accuracy of the work. The method is objective, not the journalist.
Seeking out multiple witnesses, disclosing as much as possible about sources, or asking various sides for comment, all signal such standards. This discipline of verification is what separates journalism from other forms of communication such as propaganda, advertising, fiction, or entertainment.
Its practitioners must maintain an independence from those they cover
Independence is a cornerstone of reliability.
On one level, it means not becoming seduced by sources, intimidated by power, or compromised by self-interest. On a deeper level it speaks to an independence of spirit and an open-mindedness and intellectual curiosity that helps the journalist see beyond his or her own class or economic status, race, ethnicity, religion, gender or ego.
Journalistic independence, write Kovach and Rosenstiel, is not neutrality. While editorialists and commentators are not neutral, the source of their credibility is still their accuracy, intellectual fairness and ability to inform – not their devotion to a certain group or outcome. In our independence, however, journalists must avoid straying into arrogance, elitism, isolation or nihilism.
It must serve as an independent monitor of power
Journalism has an unusual capacity to serve as watchdog over those whose power and position most affect citizens. It may also offer voice to the voiceless. Being an independent monitor of power means "watching over the powerful few in society on behalf of the many to guard against tyranny," Kovach and Rosenstiel write.
The earliest journalists firmly established as a core principle their responsibility to examine unseen corners of society. " "
The watchdog role is often misunderstood, even by journalists, to mean "afflict the comfortable." While upsetting the applecart may certainly be a result of watchdog journalism, the concept as introduced in the mid-1600s was far less combative. Rather, it sought to redefine the role of the journalist from a passive stenographer to more a curious observer who would "search out and discover the news."
The watchdog role also means more than simply monitoring government. "The earliest journalists," write Kovach and Rosenstiel, "firmly established as a core principle their responsibility to examine unseen corners of society. The world they chronicled captured the imagination of a largely uninformed society, creating an immediate and enthusiastic popular following."
Finally, the purpose of the watchdog extends beyond simply making the management and execution of power transparent, to making known and understood the effects of that power. This includes reporting on successes as well as failures.
Journalists have an obligation to protect this watchdog freedom by not demeaning it in frivolous use or exploiting it for commercial gain.
It must provide a forum for public criticism and compromise
The news media are common carriers of public discussion, and this responsibility forms a basis for special privileges that news and information providers receive from democratic societies.
These privileges can involve subsidies for distribution or research and development (lower postal rates for print, use of public spectrum by broadcasters, development and management of the Internet) to laws protecting content and free speech (copyright, libel, and shield laws).
These privileges, however, are not pre-ordained or perpetual. Rather, they are conferred because of the need for an abundant supply of information. They are predicated on the assumption that journalism – because of its principles and practices – will supply a steady stream of higher quality content that citizens and government will use to make better decisions.
Traditionally, this covenant has been between news organizations and government. The new forms of digital media, however, place a responsibility on everyone who "publishes" content – whether for profit or for personal satisfaction – in the public domain.
The raw material cast into the marketplace of ideas sustains civic dialogue and serves society best when it consists of verified information rather than just prejudice and supposition.
Journalism should also attempt to fairly represent varied viewpoints and interests in society and to place them in context rather than highlight only the conflicting fringes of debate. Accuracy and truthfulness also require that the public discussion not neglect points of common ground or instances where problems are not just identified but also solved.
Journalism, then, is more than providing an outlet for discussion or adding one's voice to the conversation. Journalism carries with it a responsibility to improve the quality of debate by providing verified information and intellectual rigor. A forum without regard for facts fails to inform and degrades rather than improves the quality and effectiveness of citizen decision-making.
It must strive to keep the significant interesting and relevant
Journalism is storytelling with a purpose. It should do more than gather an audience or catalogue the important. It must balance what readers know they want with what they cannot anticipate but need.
Writing coaches Roy Peter Clark and Chip Scanlan describe effective newswriting as the intersection of civic clarity, the information citizens need to function, and literary grace, which is the reporter's storytelling skill set. In other words, part of the journalist's responsibility is providing information in such a way people will be inclined to listen. Journalists must thus strive to make the significant interesting and relevant.
Quality is measured both by how much a work engages its audience and enlightens it. This means journalists must continually ask what information has the most value to citizens and in what form people are most likely to assimilate it. While journalism should reach beyond such topics as government and public safety, journalism overwhelmed by trivia and false significance trivializes civic dialogue and ultimately public policy.
It must keep the news comprehensive and proportional
Journalism is our modern cartography. It creates a map for citizens to navigate society.
As with any map, its value depends on a completeness and proportionality in which the significant is given greater visibility than the trivial.
Keeping news in proportion is a cornerstone of truthfulness. Inflating events for sensation, neglecting others, stereotyping, or being disproportionately negative all make a less reliable map. The most comprehensive maps include all affected communities, not just those with attractive demographics. The most complete stories take into account diverse backgrounds and perspectives.
Though proportion and comprehensiveness are subjective, their ambiguity does not lessen their significance.
Its practitioners must be allowed to exercise their personal conscience
Doing journalism, whether as a professional writing for a news organization or as an online contributor in the public space, involves one's moral compass and demands a personal sense of ethics and responsibility.
Because "news" is important, those who provide news have a responsibility to voice their personal conscience out loud and allow others to do so as well. They must be willing to question their own work and to differ with the work of others if fairness and accuracy demand they do so.
News organizations do well to nurture this independence by encouraging individuals to speak their minds. Conversation and debate stimulate the intellectual diversity of minds and voices necessary to understand and accurately cover an increasingly diverse society. Having a diverse newsroom does little if those different voices are not spoken or heard.
It's also a matter of self-interest. Employees encouraged to raise their hands may "save the boss from himself" or protect the news organization's reputation by pointing out errors, flagging important omissions, questioning misguided assumptions, or even revealing wrongdoing.
Having a sense of ethics is perhaps most important for the individual journalist or online contributor.
Increasingly, those who produce "the news" work in isolation, whether from a newsroom cubicle, the scene of a story, or their home office. They may file directly to the public without the safety net of editing, a second set of eyes, or the collaboration of others. While crowdsourcing by the audience may catch and correct errors or misinformation, the reputation of the author and the quality of public dialogue are nevertheless damaged.
Citizens, too, have rights and responsibilities when it comes to the news
The average person now, more than ever, works like a journalist.
Writing a blog entry, commenting on a social media site, sending a tweet, or "liking" a picture or post, likely involves a shorthand version of the journalistic process. One comes across information, decides whether or not it's believable, assesses its strength and weaknesses, determines if it has value to others, decides what to ignore and what to pass on, chooses the best way to share it, and then hits the "send" button.
Though this process may take only a few moments, it's essentially what reporters do.
Two things, however, separate this journalistic-like process from an end product that is "journalism." The first is motive and intent. The purpose of journalism is to give people the information they need to make better decisions about their lives and society. The second difference is that journalism involves the conscious, systematic application of a discipline of verification to produce a "functional truth," as opposed to something that is merely interesting or informative. Yet while the process is critical, it's the end product – the "story" – by which journalism is ultimately judged.
Today, when the world is awash in information and news is available any time everywhere, a new relationship is being formed between the suppliers of journalism and the people who consume it.
The new journalist is no longer a gatekeeper who decides what the public should and should not know. The individual is now his or her own circulation manager and editor. To be relevant, journalists must now verify information the consumer already has or is likely to find and then help them make sense of what it means and how they might use it.
Thus, write Kovach and Rosenstiel, "The first task of the new journalist/sense maker is to verify what information is reliable and then order it so people can grasp it efficiently." A part of this new journalistic responsibility is "to provide citizens with the tools they need to extract knowledge for themselves from the undifferentiated flood or rumor, propaganda, gossip, fact, assertion, and allegation the communications system now produces."
This guide, like many of the others in API's Journalism Essentials section, is largely based on the research and teachings of the Committee of Concerned Journalists — a consortium of reporters, editors, producers, publishers, owners and academics that for 10 years facilitated a discussion among thousands of journalists about what they did, how they did it, and why it was important. The author, Walter Dean, was CCJ training director, and former API Executive Director Tom Rosenstiel who previously co-chaired the committee.
Need to Know
Fresh useful insights for people advancing quality, innovative and sustainable journalism.
Need to Know: March 7, 2023
How Gen Z and Millennials fund news, only reporter covering Congress in New Jersey laid off, and covering caste in India
Continue Reading

Become a Member
Ad Placement
Editorial Cartoon Services
PNA Job Bank
Foundation Fellows Grants
Pennsylvania Public Notices
Pennsylvania Press Passes
PNA Foundation Statewide Advertising Campaign
Promotional Spotlight
PNA Publications
"Real News" Newspaper
Tools for Sales Success
Writing Coach
Events & Training
Contests & Awards
Economic Impact Report
Legal Hotline
Legal Hotline Archive
Local Legal Initiative
Pennsylvania Newspaper Handbook
Reporters' Handbook on Judicial Access
Reporters Handbook on Sources & Materials
Sunshine Week
Sunshine Act Compliance Concerns
Website Accommodations for Disabled
Gender Identity Guides
Member Newspaper Search
Political Advertising Resource Center
Vendor Directory
7 Reporting Tips Every Journalist Needs Right Now
Ej dickson's july twitter thread prompts the best in reporting pro-tips.
The outpouring created a wide swath of journalism pro-tips, and here are seven key takeaways that will immediately serve your journalistic needs.
Work on your craft.
Sharpen your writing skills. This might mean going back to basics and seeking advice or review from former colleagues or professors. When receiving literary criticism, try to discern the difference between constructive advice and empty, unproductive attacks. Remember things as simple as using active voice versus passive can make a huge difference in the response to a story.
Soledad O'Brien @soldedadobrien
Know the difference between a topic and a story.
A story is a topic with an angle. If the story doesn't have an angle, it is just a topic. And while it is key to determine the facts and truth in any situation and report on them as accurately as possible, the angle of the story remains crucial to the overall quality of the article.
Jenny Roers @jennyrogersDC
Record interviews on more than one device.
This can be a combination of written, audio and/or visual recording. Multiple recording measures will not just protect against lost information, they will provide additional source material to review later, and you can sometimes find more details or previously overlooked aspects in your later review of these different types of recordings.
Alexis Benveniste @apbenven
Don't fill the silence.
When you are interviewing someone do not feel the need to fill the conversation. Leave pauses. It prompts sources to say more – and often times, interesting and unexpected things.
Sarah Todd @SarahLizChar
Always ask "Who else should I talk to?" as the interview wraps up.
Open-ended, fact finding questions at the end of your interviews can provide you with new sources and information that might not have been shared otherwise. Other great phrases to use include: "What didn't I ask that I should have?" or "Is there anything else I should know?" Remember to request the contact information for every interviewee and ask if it is OK for you to contact them with any additional questions you might have.
Mary Emily O'Hara @MaryEmilyOHara
Don't just report on the communities you serve but engage/give back to those areas as well (i.e. community service).
Engaging with and developing your relationship with the communities you report on and serve can be an incredibly helpful step for any journalist. It will not only increase your understanding of the different organizations and individuals in the community, it will foster trust and comfort of those community members in you. The next time you need to ask for tips or information, they will be far more likely to assist you.
Shakari S Briggs @ShakariSBriggs
Call up past sources to check in with them even if you don't "need" them for a particular story you're working on.
This goes hand-in-hand with the previous tips for interviewing and relationship building, and can serve a journalist well to be able to put an "ear to the ground" to have an early indication of a future topic for a story, or be aware of new things happening in the community they report on.
Elisabeth Buchwald @BuchElisabeth
Our Mission
News and Press
Get Involved
Work with Us
2021 Annual Report
RFA on 60 Minutes
Diversity, Equity and Inclusion
Become a Corps Member
Current Corps Members
Advisory Corps Council
Awards & Recognition
Service Projects
Training and Mentoring
FAQs for Journalists
Become a Host Newsroom
Current Newsrooms And Beats
2023-24 Open Newsroom Positions
Local Fundraising Support
FAQ for Newsrooms
Community News Funds
GroundTruth
Local journalism, national service
Corps member applications are now closed., become a corps reporter, philanthropy fuels journalism, reporting with real impact.
Lawmakers take steps to overhaul Maine's troubled legal defense system
Samantha Hogan's investigation uncovered sweeping errors in the financial oversight of the Maine Commission on Indigent Legal Services, revealing overbilling of up to $2.2 million by lawyers defending Maine's poor.  Her continued coverage , still ongoing,  has sparked multiple state investigations and public defense reform.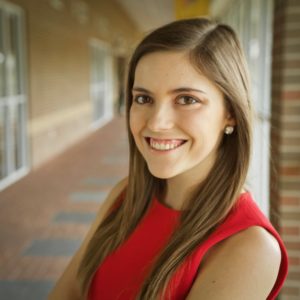 Samantha Hogan
Report for America corps member Maine Monitor
A corruption scandal mobilizes a community and sparks bipartisan action
Corps members Brandon Pho , Hosam Elattar and Noah Biesiada at Voice of OC have  spent months covering developments in Anaheim, California , a city turned upside down by an FBI public corruption probe. The corps members' continued reporting has led Anaheim City Council to push the city's mayor to resign and community members to demand answers.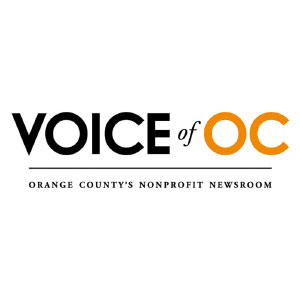 Brandon Pho, Hosam Elattar, Noah Biesiada
Report for America corps members Voice of OC
Anchorage Daily News, Anchorage, AK Associated Press, 18 statehouses throughout U.S. Baltimore Sun, Baltimore, MD Casper Star-Tribune, Wind River Reservation, WY Centro Del Periodismo Investigativo, San Juan, PR Chicago Sun Times, Chicago, IL Columbus Dispatch, Columbus, OH Community Voice, Wichita, KS Dallas Morning News, Dallas, TX Delaware Public Media, Dover, DE El Nuevo Herald, Miami, FL FlintBeat.com, Flint, MI Fresno Bee, Fresno, CA Houston Public Media, Houston, TX Iowa Public Radio, Des Moines, IA Kansas City PBS, Kansas City, MO Kentucky Center for Investigative Reporting, Louisville, KY KUER, Salt Lake City, UT La Noticia, Charlotte, NC Miami Herald, Miami, FL Milwaukee Journal Sentinel, Milwaukee, WI New Mexico In Depth, Rio Rancho, NM Oklahoma Watch, Oklahoma City, OK South Dakota Public Broadcasting, Vermillion, SD Spokesman-Review, Spokane, WA Star Tribune, Minneapolis, MN Tampa Bay Times, St. Petersburg, FL Times-Picayune and The Advocate, New Orleans, LA Traverse City Record-Eagle, Traverse City, MI WRAL-TV, Raleigh, NC
Our Newsroom Partners
Participating newsroom partners include nonprofit and for-profit organizations, daily and weekly newspapers, digital only newsrooms, TV and radio stations. They're in nearly every state, Washington, D.C., Puerto Rico and Guam.
On the Ground: Reporter Dispatches
These articles provide 'ground truth'—a sense of place, a feeling for life in the community and a view from the ground.
ON THE GROUND IN LAKE SUPERIOR
Great Lakes pollution threatens Ojibwe treaty rights to fish
ON THE GROUND
Queering the family farm: Despite obstacles, LGBTQ farmers find fertile ground in Midwest
ON THE GROUND IN MADISON, WIS
Listening to LGBTQ farmers helped me reconsider my place in the heartland
ON THE GROUND IN LEBANON, OH
Supreme Court decision means battles over abortion rights are coming to a city near you
On the Ground with Report for America Podcast
L isten now!
Pandemic. Protests. America is on a journey into the unknown. Let our corps members guide you on this voyage. Be sure to subscribe to the GroundTruth Podcast and listen here .
Meet our Corps Members
Report for America recruits bring skills, new perspectives and passion to participating newsrooms.
Get great local public service journalism from our Report for America journalists
We're committed to keeping your information safe. View our privacy policy .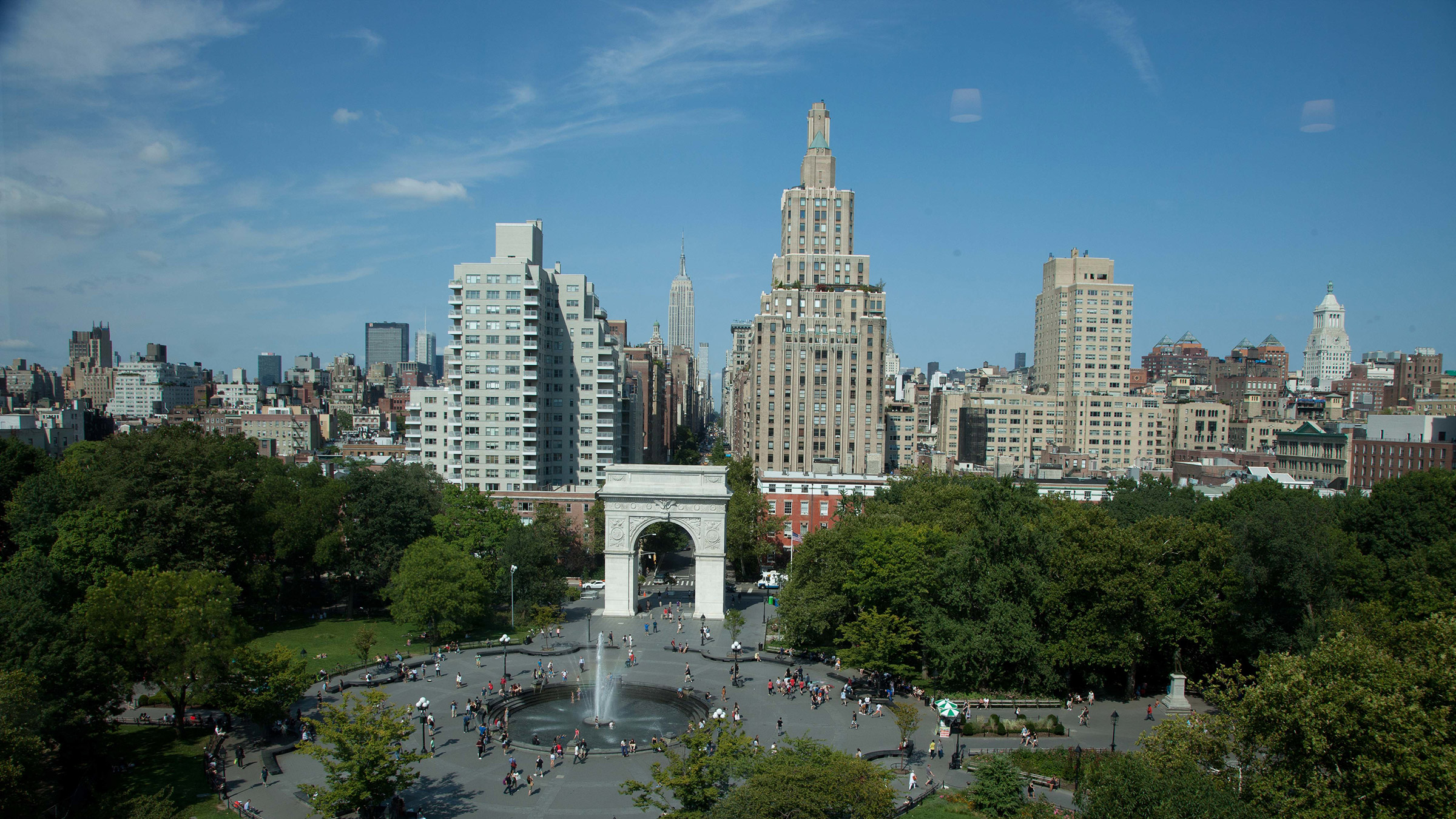 Reporting the Nation & New York in Multimedia
Start Reporting Now
Shaping Agile Reporters for the Future of Journalism
Our reporters cut through the noise and gain the trust of audiences through accurate, responsive multimedia reporting. In the Reporting the Nation and New York program at NYU's Arthur L. Carter Journalism Institute, New York City—with all of its energy, history, and resources—is your laboratory. Journalists in our program learn by doing, creating multifaceted pieces in the city, and then they take their skills on the road to report the stories of the nation.
Reporting the Nation & New York in Multimedia
About RTN / RNY
Internships/Jobs
Student Work
Special Reports / Travel
Produce Multimedia Journalism from Day One
Video, audio, and print. Social media, data visualization, and photography. The Reporting the Nation and New York curriculum is designed to help you build a broad base of skills and prepare you to innovate and evolve ahead of the field. It also breaks down the walls of your discomfort, getting you out into the city and nation to produce clips from the very beginning, until conducting interviews with strangers becomes second nature. And national reporting is a crucial piece of the experience: previous cohorts have traveled to Puerto Rico to cover the aftermath of Hurricane Maria, New Hampshire to cover its primary, and more .
Our Curriculum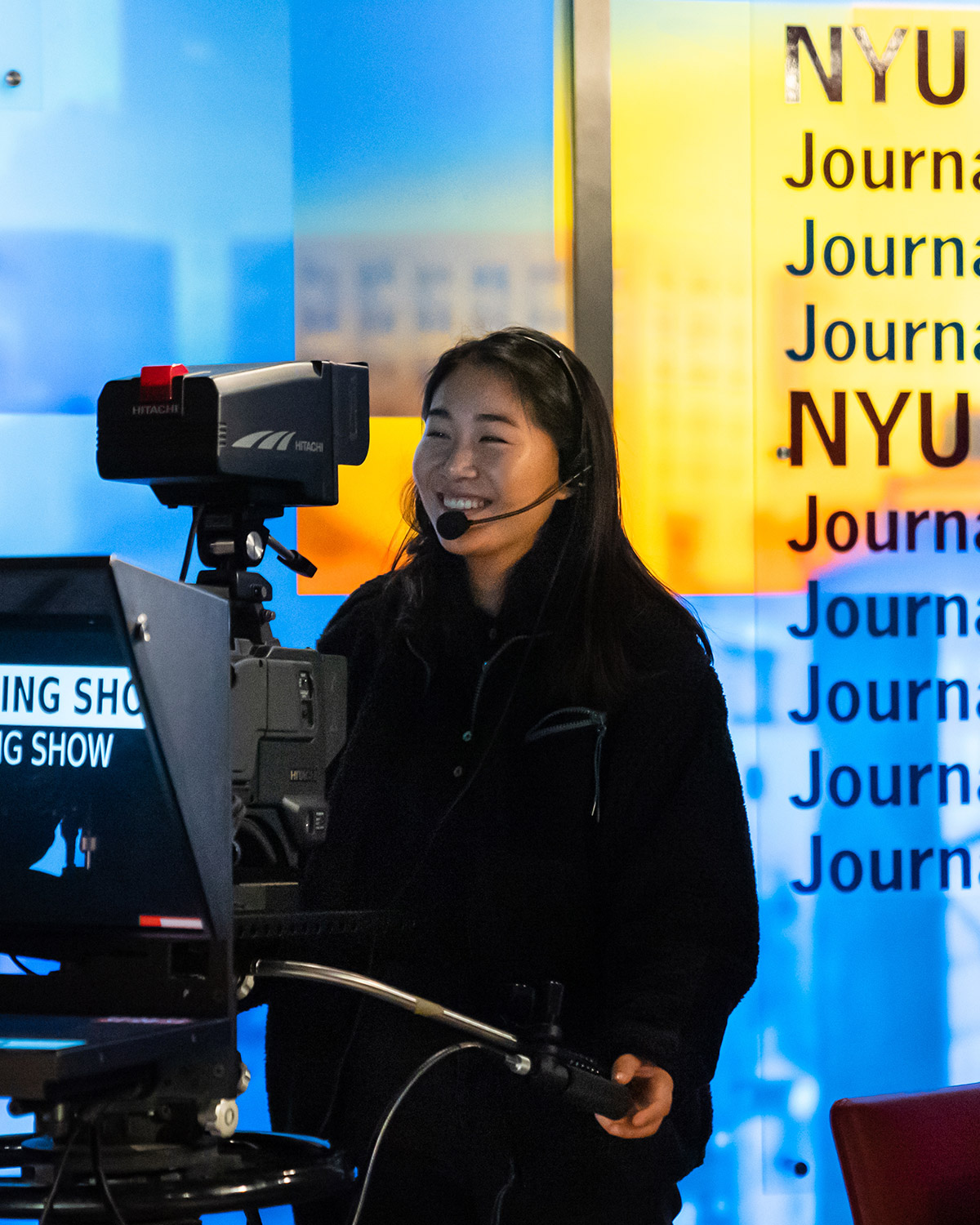 Associate Professor | New York/Nation, Director
David J. Dent, an Associate Professor of Journalism and Social and Cultural Analysis at New York University, is author of In Search of Black America: Discovering the African-American Dream. He has lectured on the "invisible black majority" at universities across the country and has twice won NYU's College of Arts and Sciences Golden Dozen Award for Excellence in Teaching. He contributes regularly to Vice.com on politics and has written for many publications including The New York Times Magazine, Book Review and Education Life sections, PBS Newshour.com, Psychology Today,, Inc. Fortune Small Business, GQ, Playboy, Essence and The Washington Post. He and his wife, Valerie, are founders of Write for the Future, an organization committed to using the tools of journalism to help high school students improve their writing skills. He has also led nonfiction writing workshops across the country. He is a graduate of Morehouse College and Columbia University Graduate School of Journalism.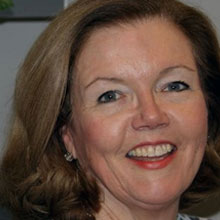 Mary W. Quigley
Clinical Professor | Associate Director, Arthur L. Carter Journalism Institute
Mary W. Quigley is a journalist who writes about millennials as well as women and work issues. She writes two blogs, AARP's Parenting 2.0 and www.mothering21.com , both which tackle parenting emerging adults and beyond. She contributed a chapter on millennials for Understanding Y (Wiley 2014). Her other books include Going Back to Work: A Survival Guide (St. Martin's Press, 2004). She is also the co-author of And What Do You Do? When Women Chose to Stay Home. (Wildcat Canyon press, 2000). She has freelanced for numerous magazines and newspapers, ranging from More magazine to Newsday. She teaches research, reporting and writing courses on both the graduate and undergraduate levels.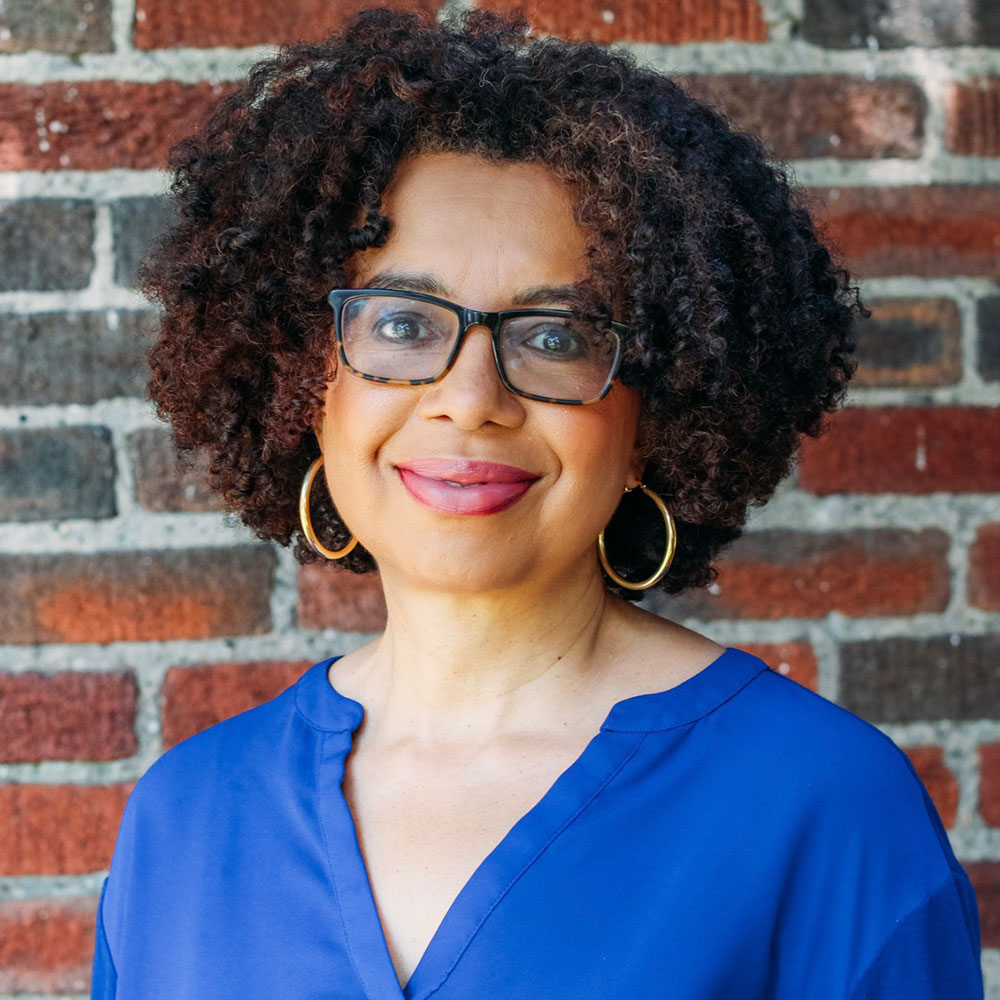 Rachel L. Swarns
Associate Professor
Rachel L. Swarns is a journalist, author and associate professor of journalism at NYU, who writes about race and race relations as a contributing writer for The New York Times. Her articles about Georgetown University's roots in slavery touched off a national conversation about American universities and their ties to this painful period of history. Her work has been recognized and supported by the National Endowment for the Humanities, the Ford Foundation, the MacDowell artist residency program and other institutions.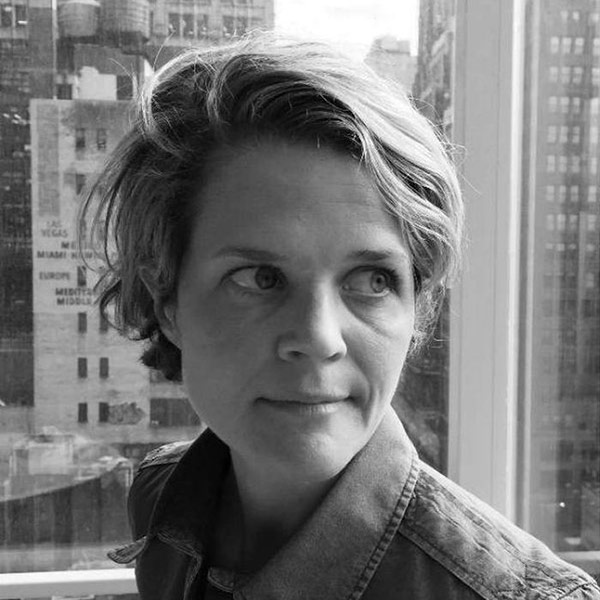 Eliza Griswold
Distinguished Writer in Residence
Eliza Griswold is a contributing writer to the New Yorker and the author of 2019 Pulitzer Prize-winning  Amity and Prosperity: One Family and the Fracturing of America,  a 2018 New York Times Notable Book and a New York Times Critics' Pick, and The Tenth Parallel: Dispatches from the Fault Line Between Christianity and Islam, which won the 2011 J. Anthony Lukas Book Prize. Her translations of Afghan women's folk poems, I Am the Beggar of the World , was awarded the 2015 PEN Award for Poetry in Translation, and her original poetry won the 2010 Rome Prize from the American Academy of Art and Letters in Rome. She has held fellowships from the New America Foundation, the Guggenheim Foundation, Harvard University and the Harvard Divinity School. Her second book of poems,  If Men, Then , will be published by Farrar, Straus & Giroux, in 2020. Griswold is a contributing writer at the New Yorker and a Distinguished Writer in Residence at New York University's Arthur L. Carter Journalism Institute.
(Photo by Kathy Ryan)
View All Faculty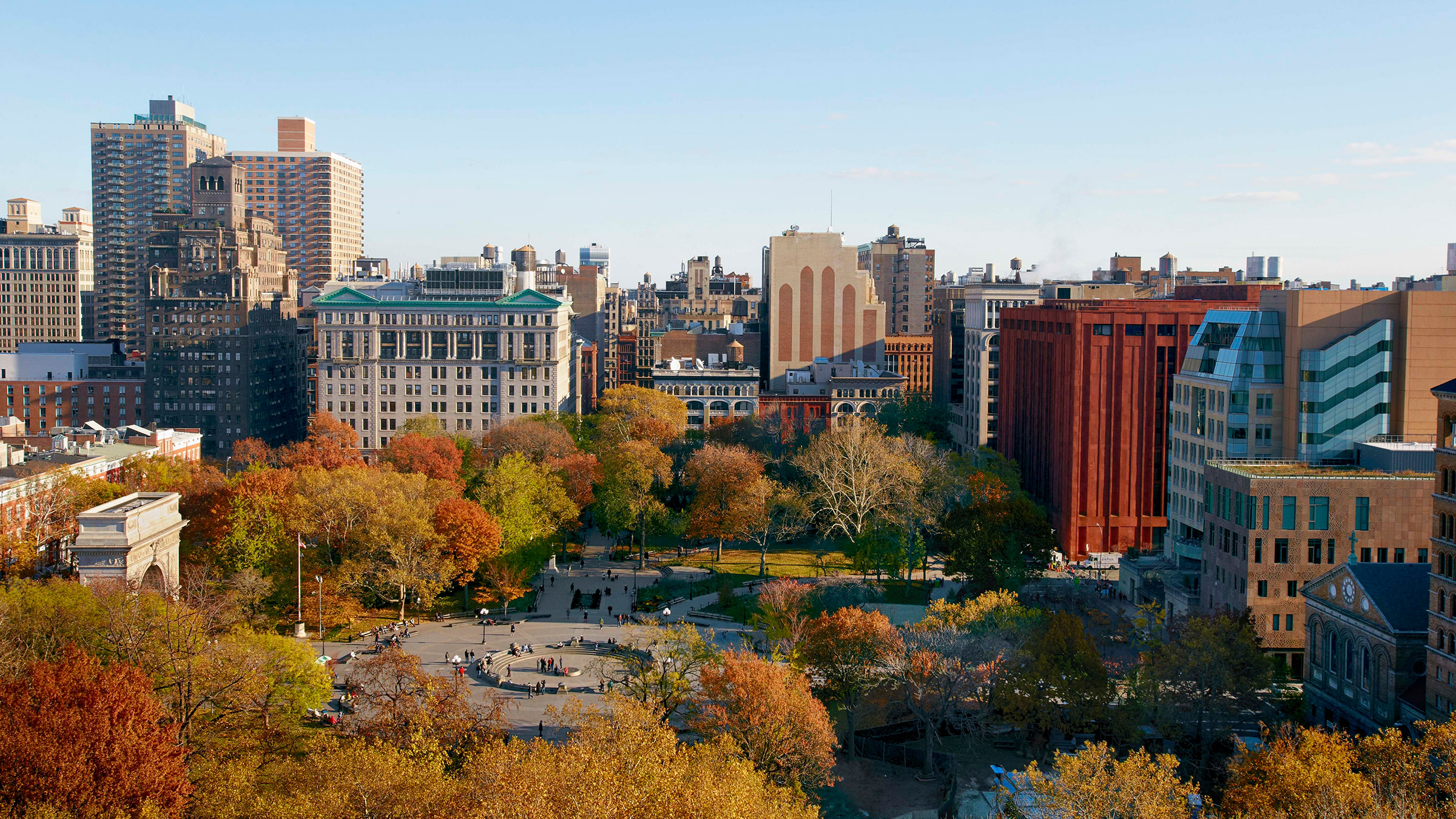 Graduate with a Portfolio and the Skills for Success
Our journalism students contribute to Pavement Pieces throughout their time in the program, graduating with an impressive array of clips and an ideal spread of skills they honed along the way. Our curriculum also requires you to complete at least one—and up to three—internships, which means you will finish the program with on-the-job experience in addition to your portfolio. For these reasons, Reporting the Nation and New York journalism students are in demand in the industry. Recent graduates have landed full-time jobs at NBC News, Vice Media, the New York Daily News , and more.
Internships & Jobs
Recent Published Work
In addition to Pavement Pieces and our special reports and travel pieces , our students, faculty, and alumni are frequent contributors to podcasts, magazines and news outlets. Check out our latest pieces to learn more about how we report.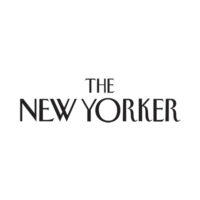 View Published Work
Program News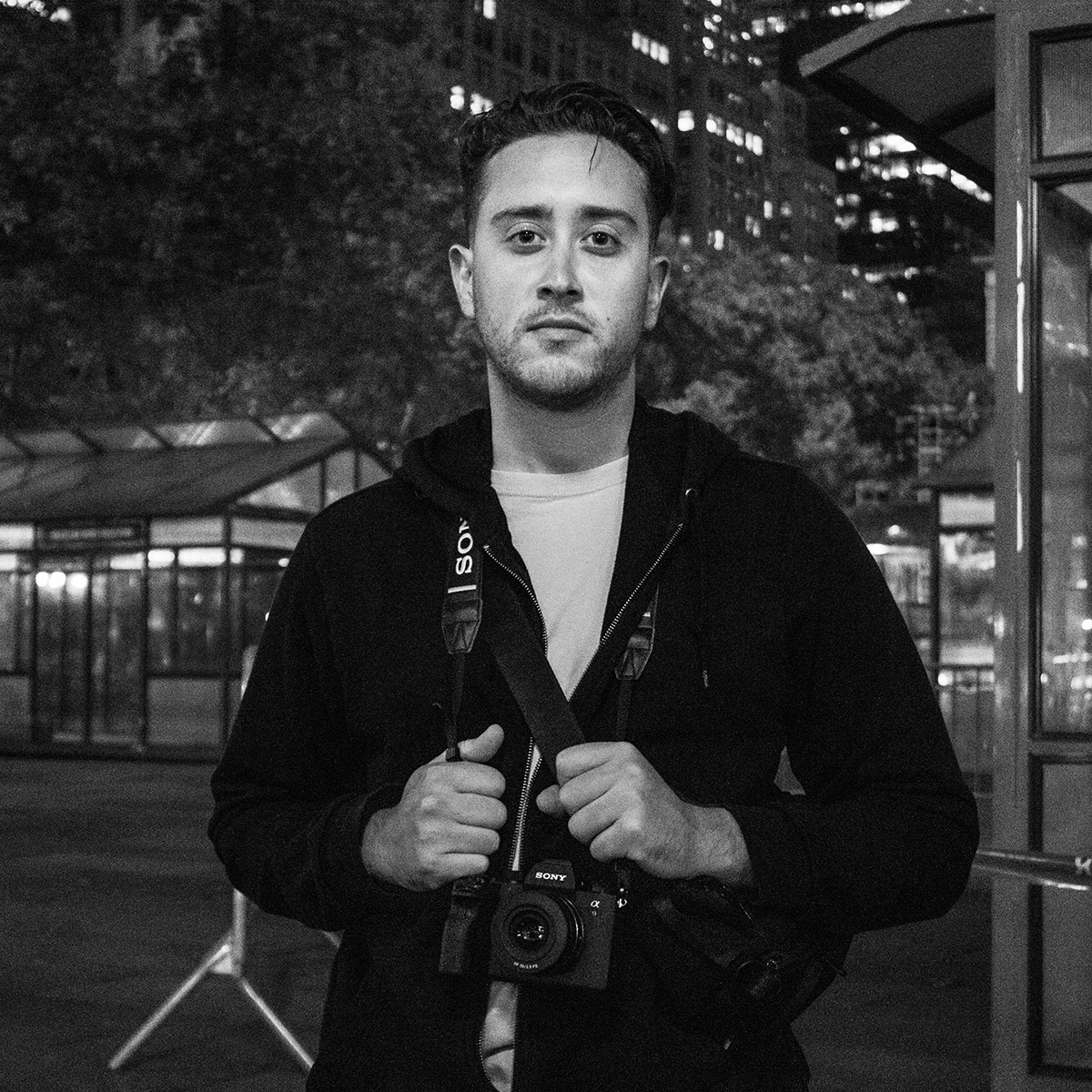 Reporting the Nation & New York Student Thomas Hengge Wins EPPY Award for Best Photojournalism on a College Website
Hengge was awarded an Editor and Publisher's EPPY Award for best college photojournalism on a college website for his work on PavementPieces.com.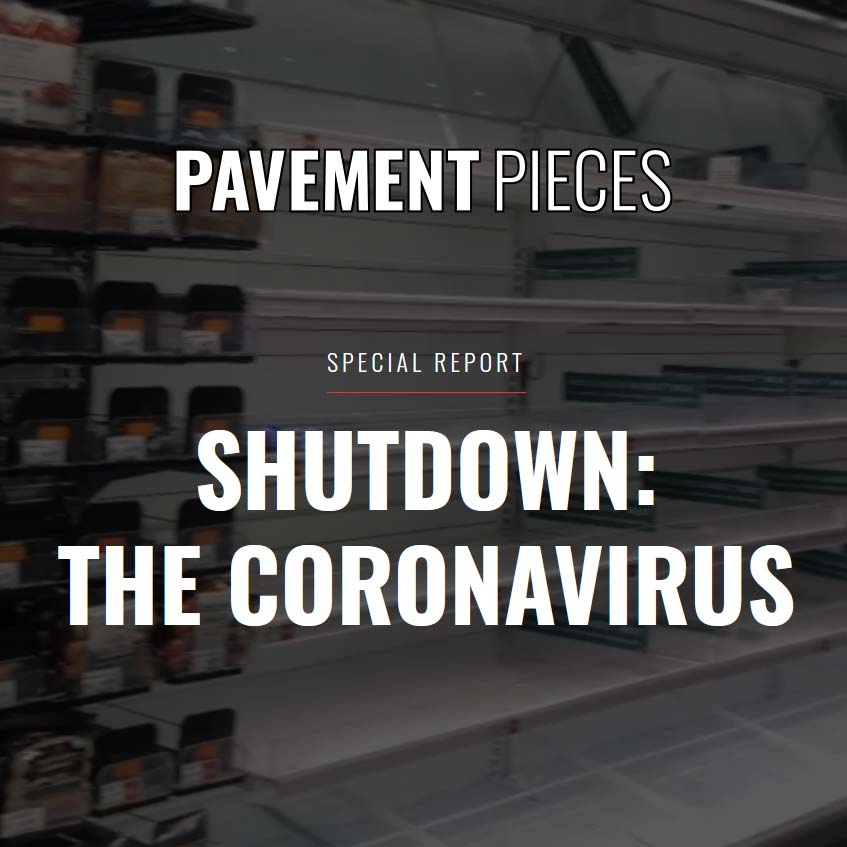 Reporting the Nation & NY students produce special report "Shutdown: The Coronavirus" on Pavement Pieces
The students are reporting on the nation as it copes with an international pandemic that has shut down the country.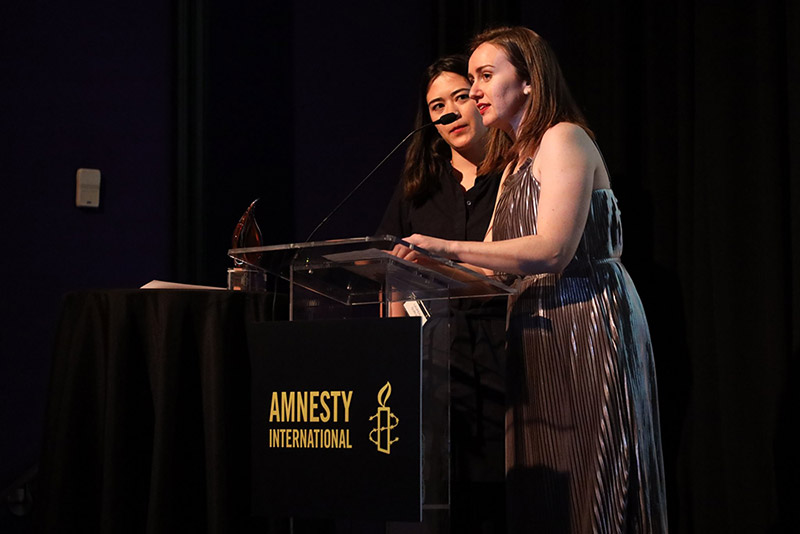 RTN/RNY and GloJo alums win Amnesty International Award
Claire Tighe (RTN/RNY) and Lauren Gurley (GloJo) win in Student Journalism for their story "Official Reports of Violence Against Women in Puerto Rico Unreliable After Hurricane Maria"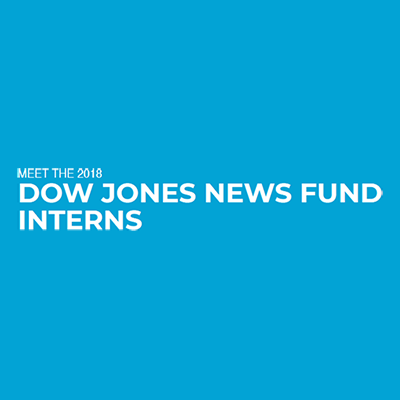 Four NYU students selected for Dow Jones News Fund internship program
Two NYU undergraduates, Taylor Rogers and Kaitlyn Wang, as well as two NYU graduates, Alexandra Garfinkle and Justin Hicks, were chosen as Dow Jones News Fund interns for this summer.
View All News
We're sorry, this computer has been flagged for suspicious activity.
If you are a member, we ask that you confirm your identity by entering in your email.
You will then be sent a link via email to verify your account.
If you are not a member or are having any other problems, please contact customer support.
Thank you for your cooperation
National Center on Disability and Journalism
Resources for journalists in the reporting phase of a story. Click on the title of the resource to access.
You can find a helpful tip sheet for interviewing people with disabilities here .
Experts list A list of sources with expertise in a range of disability issues. They have agreed to respond to reporters' questions and make themselves available for interviews. Find the experts list here.
Using data to cover disability issues A list of resources developed by data reporter Jennifer LaFleur for gathering disability data. Find the list here.
Why the disability community matters An overview of recent facts, statistics and trends within the disability community that could spark story ideas for journalists and newsrooms. This presentation is by Erica McFadden, executive director of the Arizona Developmental Disabilities Planning Council. Find the presentation here.
Investigating disability issues A tip sheet that explains important federal disability laws, plus methods reporters can utilize in investigative reporting. Find the tip sheet here.
Writing well about disability This primer from website The Open Notebook outlines the common pitfalls journalists fall into when writing about disability and how to avoid them by finding a newsworthy story. Find the primer here.
How journalists can better cover disability A Columbia Journalism Review article by Wendy Lu offers more advice on how journalists can — and should — avoid so-called "inspiration porn." Find the article here.
Disability through media advocacy This comprehensive course developed by Beth Haller, unit by unit, takes students through important disability and media history, and examines how you can use advocacy to raise awareness for disability issues. Find the course here.
Resources for reporters writing about blindness and vision loss This comprehensive reporters' guide from the American Foundation for the Blind includes helpful tips for interviewing and reporting about people who are blind.
Donald W. Reynolds Journalism Institute Resource Toolkit for Covering Disability