Insert PDF file content into a PowerPoint presentation
Content from a PDF file might be what you need for your presentation, but it's not as easy to get content out of a PDF file as it is from many other document types. There are two options, which depend on how you want to use the PDF content:
To show content from a PDF on a slide     Take a picture of the part of a PDF that you want, and paste it on your slide.
To keep a PDF file as a support document for your presentation     Insert the entire PDF into the presentation as an object that you can open and view during your presentation.
Note:  Unfortunately, inserting PDF content is not possible when editing a presentation in PowerPoint for the web. You need PowerPoint 2013 or a newer version to follow these steps.
Insert PDF file content as a picture
Open the PDF that you want to insert a picture of, and then switch to PowerPoint.
Do not minimize your PDF window, and make sure it's the last window you have open before moving to the next step.
Make sure everything that you want to capture as a picture is visible in your PDF window. You may need to decrease the zoom level in your PDF to see everything you want to capture.
In PowerPoint, select the slide that you want to add the content to, and then, on the Insert tab, in the Images group, click Screenshot .
Note:  Depending on your window size, the Screenshot button may appear different.
Your PDF file should be the first thumbnail image in the Available Windows list.
Below the thumbnail images, select Screen Clipping . PowerPoint minimizes and shows the window with the PDF file.
When you stop dragging, the selected area appears on the PowerPoint slide as a picture. You can move it, resize it, crop it, and format it as you like by selecting it and using the Picture Tools Format tab.
Insert a PDF file as an object
Make sure the PDF file that you want to insert is not currently open on your computer.
In PowerPoint, select the slide that you want to add the file to, and then select Insert > Object .
In the Insert Object box, select Create from file , and then enter the PDF file location; or, click Browse , find the PDF file, and then select OK .
This makes the PDF file part of the presentation file. The quality of the PDF file is reduced with this method, but you can open the full PDF file by double-clicking the image when viewing or editing in Normal view.
Note:  If you receive an error when trying to insert your PDF file as an object, make sure you do not have the PDF file open.
Open the PDF from a Slide Show
To open the inserted PDF file during a Slide Show, attach an action to it.
In Normal view, on the slide with the PDF file, click the PDF file's icon or image, and then on the Insert tab, in the Links group, click Action .
In the Action Settings box, select the Mouse Click tab if you want to open the PDF with a click, or the Mouse Over tab if you want it to open when you move the pointer over the PDF file icon.
Select Object action , and select Open in the list.
Top of Page
Insert a vector graphic instead
Microsoft 365 subscribers can insert scalable vector graphics (.svg files) in PowerPoint. For details see Edit SVG images in Office .
Save PowerPoint presentations as PDF files
Insert a screenshot or screen clipping
Need more help?
Want more options.
Explore subscription benefits, browse training courses, learn how to secure your device, and more.
Microsoft 365 subscription benefits
Microsoft 365 training
Microsoft security
Accessibility center
Communities help you ask and answer questions, give feedback, and hear from experts with rich knowledge.
Ask the Microsoft Community
Microsoft Tech Community
Windows Insiders
Microsoft 365 Insiders
Was this information helpful?
Thank you for your feedback.
Adobe Document Cloud
Online Tools
Convert PDF to PowerPoint
https://main--dc--adobecom.hlx.page/dc-shared/fragments/shared-fragments/frictionless/verb-footer/verb-footer-shell
Compress PDF
Convert to PDF
WORD to PDF
POWERPOINT to PDF
EXCEL to PDF
HTML to PDF
Convert from PDF
PDF to WORD
PDF to POWERPOINT
PDF to EXCEL
PDF to PDF/A
Organize PDF
Remove pages
Extract pages
Scan to PDF
Optimize PDF
Add page numbers
Add watermark
PDF security
Protect PDF
Wordpress Plugin
Bahasa Indonesia
Bahasa Melayu
Legal & Privacy
Convert POWERPOINT to PDF
Make ppt and pptx slideshows easy to view by converting them to pdf..
Converting POWERPOINT to PDF...
How to save a PowerPoint presentation as a PDF to lock in formatting and allow anyone to view it
You can save a PowerPoint presentation as a PDF to lock its content and formatting in place, so that other people can view the file but can't make changes.
Converting a PowerPoint deck into a PDF allows people who don't have PowerPoint to view the slides.
You can save a PowerPoint as a PDF whether you are using PowerPoint on a Mac or a PC, or if you want to download it as a PDF from the web.
Visit Business Insider's Tech Reference library for more stories .
Microsoft PowerPoint presentations remain one of the best ways to share information in a manner that's visually clear and digestible.
That is, so long as no one alters the formatting and content of that deck you worked on for hours, ruining the slides critical for helping you communicate your Q3 initiative or messing up that interactive family photo album.
When you save a PowerPoint as a PDF , you lock the document so no further changes can be made. This is ideal for ensuring the content remains as you wanted it. And as PDFs can be viewed almost universally regardless of what software or operating system someone has, a PowerPoint presentation saved as a PDF can be viewed even by someone who doesn't have PowerPoint.
Check out the products mentioned in this article:
Microsoft office (from $149.99 at microsoft), apple macbook pro (from $1,299.00 at apple), windows 10 (from $139.99 at best buy), how to save a powerpoint as a pdf on mac.
1. Open the PowerPoint to be converted, then click "File."
2. Select "Export" from the dropdown menu.
3. Then choose the file name, destination, and change the file format to PDF. Then click "Export."
On a Mac, you can also choose to "Save As…" and then set the File Format as a PDF to get the same result.
How to save a PowerPoint as a PDF on Windows
1. With the PowerPoint deck to be converted open, click "File" then "Export." You can also opt to save only select slides from a deck as PDFs.
2. Click "Create PDF/XPS" on the menu, then hit that again on the window that pops up.
3. Choose the destination for the PDF and change the name if you wish, then hit "Enter."
How to save a PowerPoint as a PDF from the web
Saving a PowerPoint as a PDF from the web is simple. Just click the "File" tab, then choose "Download As" from the dropdown and select "Download as PDF." The language of the "Save As" or "Download As" option differs slightly depending on your OS.
Related coverage from Tech Reference :
How to convert a jpg file to a pdf on a windows 10 computer using the default photos app, how to convert a powerpoint to google slides in two different ways, how to convert google slides to a powerpoint presentation in 4 easy steps , how to copy or duplicate a powerpoint slide and put it anywhere in your slideshow, how to convert a jpg image to a pdf document on your mac computer using the preview app.
Insider Inc. receives a commission when you buy through our links.
NOW WATCH: We compared the $1,200 MacBook Air with the $500 Surface Go, and the results were a mess

How To Insert PDF Into PowerPoint

When used effectively, PowerPoint can be a highly versatile tool when conducting a presentation. The application is easy to learn and can do many different things to give your presentation a boost.
One problem is trying to do more with your presentation, including working in PDF content into your slides. Can you put PDFs in PowerPoint? The answer is yes, you can.
We covered how to attach a PDF file into Word documents before, and the process here is similar. So take a look at how do this in MS PowerPoint, along with a couple of other ways to give your presentations the edge over everybody else when you need to work with PDF content.
Insert Your PDF File Using The Insert Menu
If your presentation is published online and is posted up as an information source, you may be looking to include a PDF as reference for anyone that's viewing your presentation. To insert a PDF into PowerPoint without losing quality, follow the steps below:
1. Open PowerPoint and create a new presentation (or open an existing PPT file).
2. Select the slide which you want to insert the PDF.
3. Go to Insert>Object in the Insert menu at the top.

4. Select Create from file > Browse. Select your PDF document.
5. Put a checkmark in the Display As Icon to display an icon instead of the first page of the PDF document.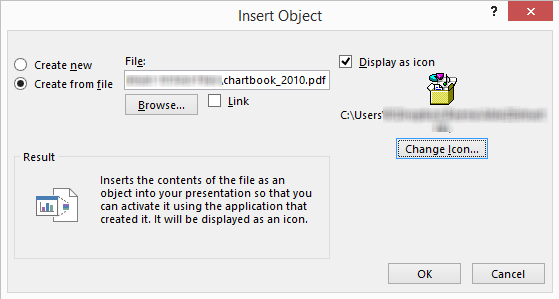 6. Click on OK .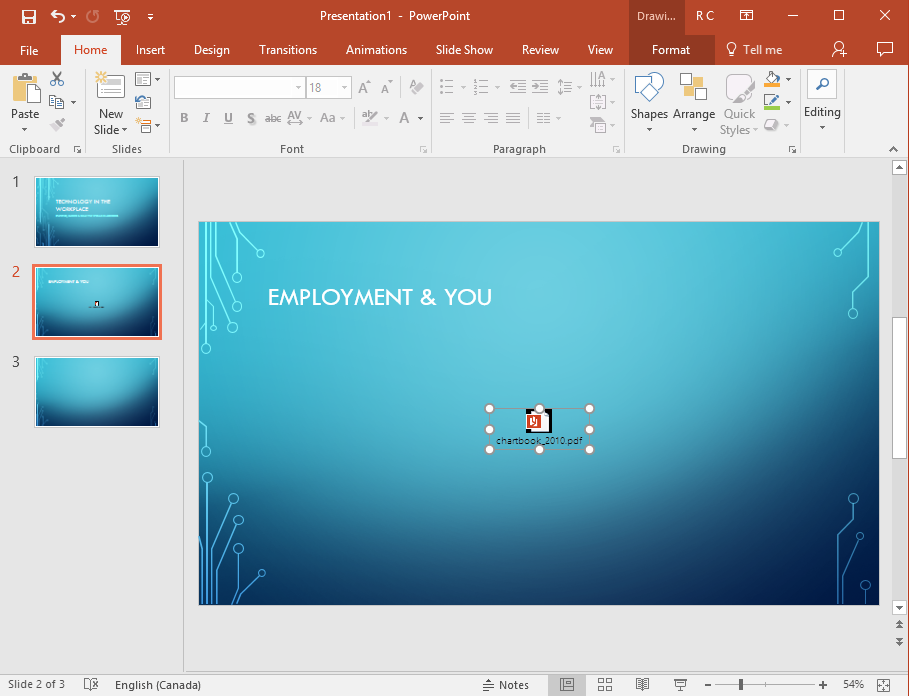 Drag And Drop Your PDF Into PowerPoint
As mentioned we had a quicker way to insert PDFs and that's by dragging and dropping your PDF content into MS PowerPoint directly onto your slide.
1. In MS PowerPoint, create or open a presentation.
2. Select the slide you want to insert the PDF. Then adjust the PowerPoint application window size so you can drag the file in.
3. Open Windows' file manager on your computer.
4. Search for and locate the PDF file you want to insert.
5. Left click on it and drag the PDF file onto the slide to insert it into PowerPoint.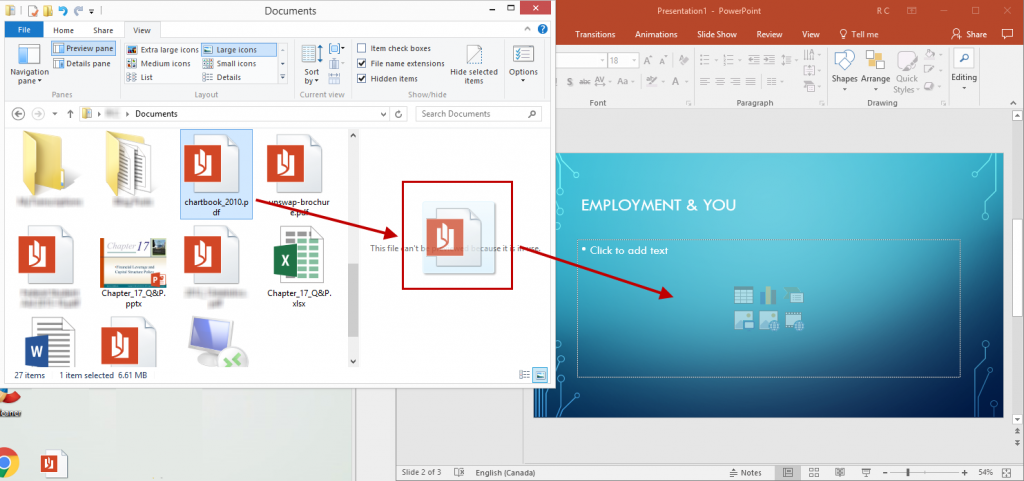 Convert PDF Content Into PowerPoint
Because presentations are highly visual, you may want to insert the actual PDF information, images or page content into your slide rather than the file itself. Depending on your content, this could be a more direct and effective way to present your information.
Here's where being able to convert PDF to PowerPoint comes in handy. To do this:
1. Open your PDF in Able2Extract Professional .
2. Select the PDF content or pages you want in your PowerPoint presentation.
Note: By default, the entire document is selected for conversion, but you can use the selection options in the right-side panel to select a specific part of it.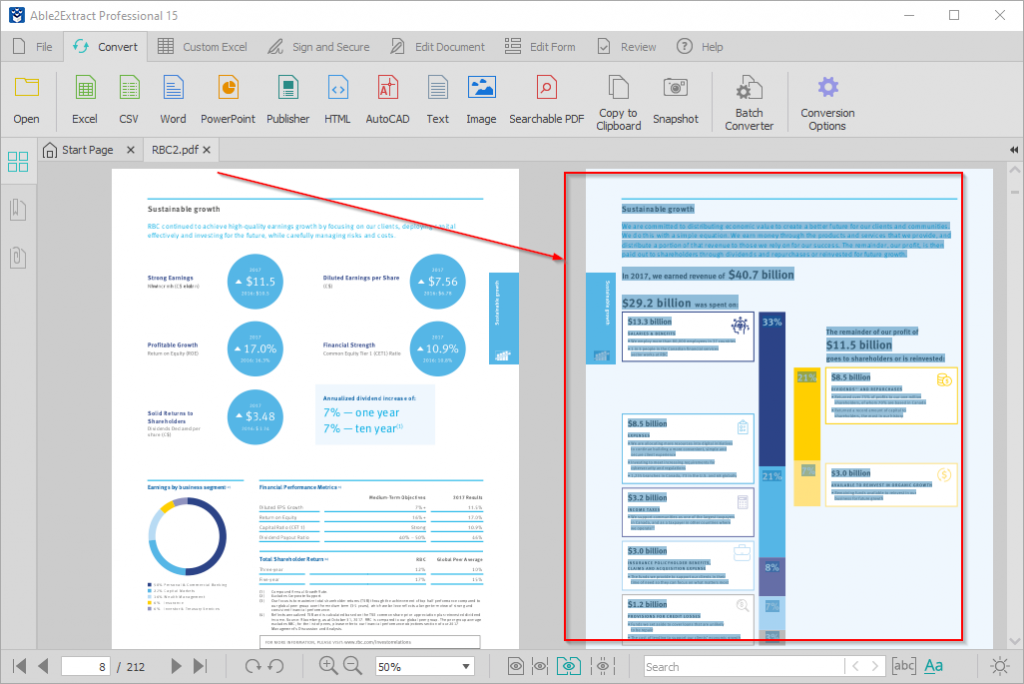 3. Click on the PowerPoint icon on the toolbar.

4. Name and save your file. Able2Extract will then convert PDF to PPT. You can then work around and edit your slides and the already converted PDF content.
Whether it be for the classroom or for a webinar demo, MS PowerPoint is the number one tool everyone turns to. Now when you deliver a presentation and need to refer to some PDF content, you can do it directly and smoothly without having to switch back and forth between a PDF viewer and PowerPoint.
Download Able2Extract Professional free trial below to start transferring your PDF data into PowerPoint slides hassle-free.
Insert a PDF into PowerPoint: 5 Easy Ways
Looking to insert PDF content into your PowerPoint presentation but not sure how? You've come to the right place.  We'll show you 5 easy ways to do it .
PDF files are read-only . That means once created, they are difficult to edit. Read on to find out how you can still insert and edit PDF content in your PowerPoint presentation.
What is a PDF?
The Portable Document Format was developed in 1993 by the Adobe System company. A PDF file can be an image and/or text. To open these documents, you need to a compatible program, e.g., Adobe Acrobat Reader. This program must be purchased.
But there are some free-of-charge alternatives, such as PDFCreator . This installs itself as a printer driver – when you click on it, any program that has access to printer options will create a PDF file for you instead of a printout. The freeware BullZip, also creates PDF files using the printer dialog option. You can find more free alternative programs here .
A characteristic feature these file types is that they retain the original author's layout. This means that a PDF can't be easily edited after it's been saved, so it looks the same on any computer system . That's why many government agencies and companies rely on them.
Insert PDF files into PowerPoint: your options
You can insert a PDF file into PowerPoint in the following ways:
As a picture
As an object
With the Snipping Tool
Convert online
All these options are explained in more detail below.
Option 1: Insert as a picture
Using the screenshot function, you can quickly insert sections of your file as images into your PowerPoint presentation. This is how you do it:
1. Open your PDF file.
2. Make sure the file is the most recent open window before proceeding to the next step. Don't minimize the window.
3. Make sure everything you want to capture as an image is visible in the window .
4. Now select the slide in PowerPoint where you want the PDF content to appear.
5. Click on the Insert tab and then select Screenshot in the Images group.
6. Your PDF will be the first thumbnail in the Available Windows gallery.
7. Select Screen Clipping to add a selected portion of your PDF.
8. Your window will now appear white and the pointer will appear as a cross.
9. Hold the left mouse button down and drag it to select the part of the screen you want to capture . When you finish dragging, the selected area will automatically appear as an image in your PowerPoint slide.
10. To edit your new screenshot, use the tools in the Picture Format tab.
Option 2: Insert as an object
Follow these steps to embed your file as an object in your PowerPoint presentation :
Note: The quality of the file will be reduced with this method. However, if you double-click on the PDF file image in Normal View, you will see the entire PDF.
Select the PowerPoint slide where you want the content to appear.
3. A new window will open. Select Create from File in the Insert Object box.
4. Click Browse to search for your file then confirm with OK .
Option 3: Add a link
Insert a link to access the PDF file easily during your presentation. Here's how to do it:
1. Enter the text that will serve as a link to the file in your presentation.
2. Now go to Insert > Link > Insert Link .
3. Enter the address for your file. Alternatively, click the File Folder icon to search for your file or enter the file name. Click Open .
4. When you press Ctrl + Click on the selected text, your document will open in a PDF reader (e.g., Adobe Reader).
Option 4: Use a snipping tool
If you use Windows , Snipping Tool, or Snip & Sketch, is pre-installed on your computer. This tool allows you to create screenshots easily . You can use this tool to copy, crop or save snippets of your PDF file. Here's how it works:
1. Open the file you want to screenshot.
2. Find the Snipping Tool, or Snip & Sketch, on your computer and once the program has opened, select New in the upper left corner.
3. You screen will now appear white. Use the mouse to drag the area you want to snip .
4. Save the image section as a PNG image by clicking on the Save icon in the upper-right corner of Snipping Tool. Save the file in a place where you can easily find it.
5. Go to Insert > Pictures to add it to your presentation.
Option 5: Convert online
With this method, you can convert your document directly into a .pptx document . To do this, you'll need the right (online) software . For the following steps, we're using with the paid, online converter Smallpdf .
1. Go to the Smallpdf.com
2. Select the PDF to PPT tile.
3. Click on Choose Files and select your PDF file. Confirm with Open .
4. It may take a moment for your file to be converted. Click Download to save the converted PDF document.
5. In the new window, select Save File and confirm with OK . The file will now be in your computer's download folder .
6. When you open the converted file, you'll have a PowerPoint presentation that contains all your document's data . Now you can create the rest of your presentation.
Final tip: Show your PDF file with a mouse click
1. Insert your file as an object as described above in option 2 .
2. Go to Insert > Action which is found in the Links group.
3. This will open the Action Settings box. In the Mouse Click tab, enable the option to open your file using mouse click .
Inserting a PDF into PowerPoint is easy
As a PowerPoint presenter, your goal is to deliver high-quality information on your business topics . This often involves PDF files, which, when saved, are read-only and can't be easily modified.
We've given you 5 ways to insert your PDF into PowerPoint quickly and easily . Try one of them for your next presentation!
Do you have questions about inserting PDF's into PowerPoint? Don't hesitate and contact our expert: [email protected]
These articles might also be interesting for you:
Insert GIF in PowerPoint
Insert Videos in PowerPoint
Leave a Reply Cancel reply
Your email address will not be published. Required fields are marked *
Save my name, email, and website in this browser for the next time I comment.