Recommended pages
Undergraduate open days
Postgraduate open days
Accommodation
Information for teachers
Maps and directions
Sport and fitness
Creative Media
New team. new approaches to delivering outstanding creative work. for full information on our services and facilities, visit our full intranet content ..
On any given day, you'll find our team of designers ideating and crafting extraordinary work, from banners, animations, and reports, to full-scale promotional campaigns and much more.
Our new integrated media team deliver outstanding video projects, from scripting/storyboarding, to production, to editing and delivery.
Creative Media's digital offering includes web building (from UX to design and site management), e-comms and VR.
Need a catchy slogan or zippy copy for your project? Copywriting and proofreading services are available from editorial .
Our dedicated Print team will make your project tangible. Whether you need simple flyers, brochures, or t-shirts for your campaign; or large-format installations for events or building dressing; Print will find a solution.
Creative Media provides a range of facilities for hire. Our state-of-the-art film studio provides the backdrop for your video or photography needs. Our audio suite is the destination for podcasting. We also offer a meeting room for hire.
Plus, as part of the University we will ensure your project meets our shared responsibilities such as on accessibility, GDPR and brand.
Let's collaborate. Get in touch .
Web: www.creative-bham.co.uk
You can keep in touch and follow us on social media: Like us on Facebook Follow us on Twitter
Culture and collections
Schools, institutes and departments
College of arts and law.
Birmingham Law School
English, Drama and Creative Studies
History and Cultures
Language, Cultures, Art History and Music
Philosophy, Theology and Religion
College of Medical and Dental Sciences
Applied Health Research
Biomedical Science
Birmingham Medical School
Cancer and Genomic Sciences
Cardiovascular Sciences
Clinical Sciences
Graduate School
Immunology and Immunotherapy
Inflammation and Ageing
Metabolism and Systems Research
Microbiology and Infection
Nursing and Midwifery
College of Life and Environmental Sciences
Biosciences
Geography, Earth and Environmental Sciences
Sport, Exercise and Rehabilitation Sciences
College of Engineering and Physical Sciences
Chemical Engineering
Computer Science
Engineering
Mathematics
Metallurgy and Materials
Physics and Astronomy
College of Social Sciences
Birmingham Business School
Social Policy
See all schools, departments, research and professional services
Liberal Arts and Natural Sciences
Services and facilities
Conferences and Events
The Exchange
Birmingham Day Nurseries
Guild of students
Facilities search
University of Birmingham School
UoB Sport and Fitness
Online Shop
Freedom of Speech
Accessibility
Canvas Learning Environment
Publication Scheme
Information for Applicants
Freedom of information
Charitable information
Cookies and cookie policy
Website feedback
Recommended pages
Campus maps
Student digital services
Staff Digital Services
Student support
Exam results
Core systems
Staff directory
Staff development
Online registration
Creative Enquiries
Our friendly Account Management will be the first people to address your creative enquiry. There may be a specific Account Manager best suited for your project:
Monica Gregory and Ashley Miranda
For any of the following, please contact Monica Gregory (via Teams or email ) and Ashley Miranda (via Teams or email )
Finance Office
Postgraduate
Reputation & BrandInternational Reputation
Careers Network
Business Engagement
Ben Lowe and Mona Bharat Pahuja
For any of the following, please contact Ben Lowe (via Teams or email ) and Mona Bharat Pahuja (via Teams or email )
Undergraduate
Birmingham Global
Outreach (Aim Higher/A2B etc.)
Academic Services
Student Services
Research & Innovation Services
Planning Office
CoSS/Business School
POD & IT Services
Internal Comms
Library Services
Educational Enterprise
Global Innovation
Public Affairs
For more general creative enquiries, please contact Laura Airston (via Teams or email ).
Print & Distribution Enquiries
Your ideas turned into reality! Speak to the Print team for the following:
Litho and digital
Wide format
Signage and POS
Distribution
Merchandise
Want to know what else they can do? Contact the Print team via email to discuss your project.
You may also contact Toby Middleton (via +44 (0) 121 4147265) or Nathan Shwalbe (via +44 (0) 121 4146727) for print enquiries.
Facilities Hire
Creative Media has a range of facilities for hire, including a film studio, audio suites, and a meeting room.
For hiring enquiries, please contact Charlotte Fuller via Teams or email .
Pop in and see us sometime!
Creative Media, Lower Ground Floor, Aston Webb Building, University of Birmingham, B15 2TT
We're proud of what we do. Follow us for updates and insights.
creative-bham.co.uk
facebook.com/UoBcreative
twitter.com/UoBcreative
instagram.com/creativemediauob
youtube.com/UoBcreative
College of Arts and Law
College of Engineering and Physical Sciences
College of Life and Environmental Sciences
College of Medical and Dental Sciences
College of Social Sciences
Professional Services
Campus Services (formerly HAS)
Development and Alumni Relations
Executive Support
External Relations
Human Resources
IT Services
Legal Services
Stay in Touch
Subscribe to our newsletter to hear stories about our work, find out about our latest offerings and to inspire your next project.
Publications
Data & Surveys
Campaigning
Climate and Environment
DEL Tracker
Development Cooperation
Development Finance
European Union
Experiments
Global Health
Human Rights
Humanitarian Aid
Migration and Refugees
Organization for Economic Cooperation and Development
Sustainable Development Goals
United Kingdom
United Nations
United States
Creative Media at the University of Birmingham
More information, related blogposts.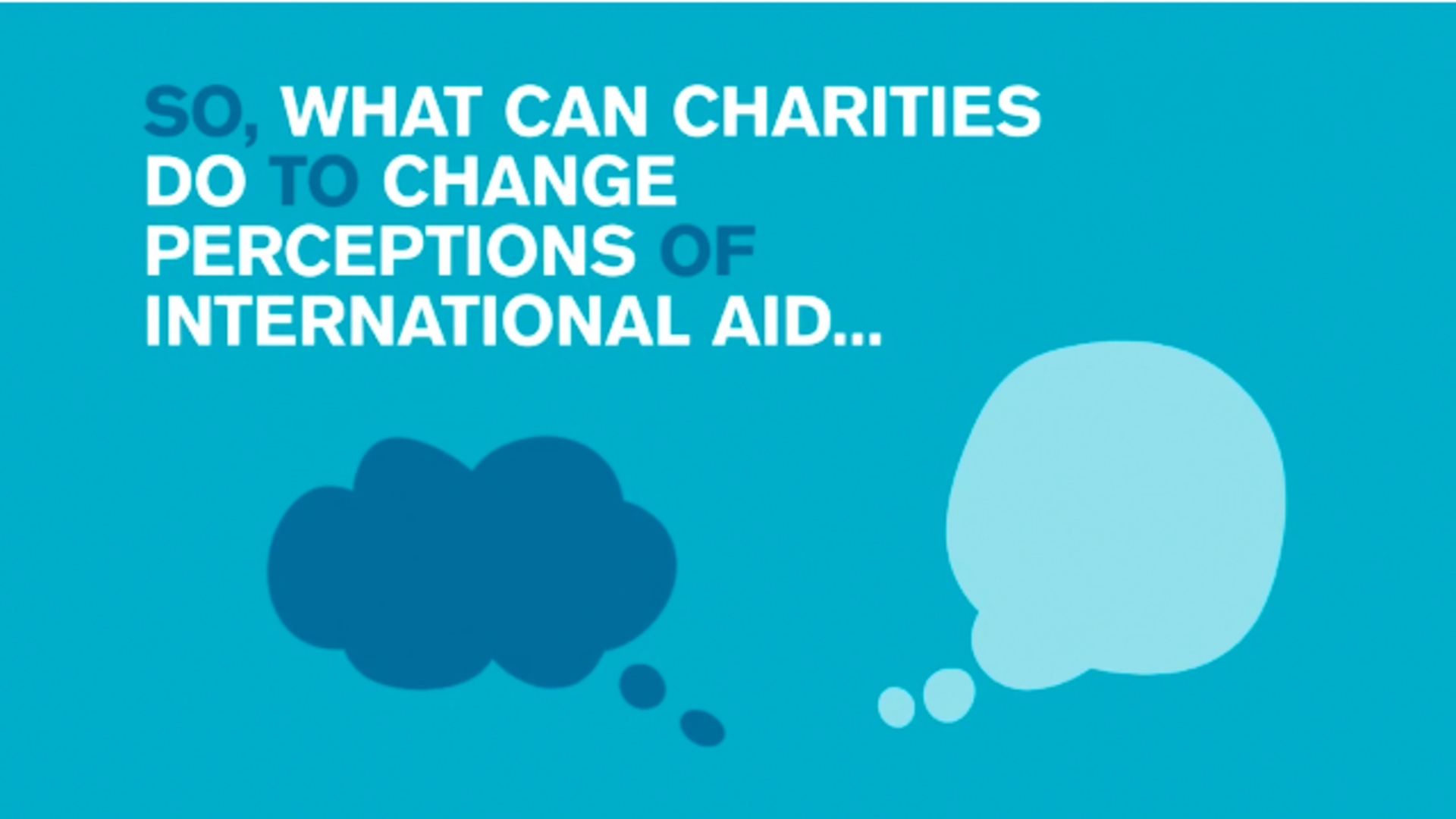 Are Charities Doing Enough to Tackle Public Skepticism?