Customer Service Problem-Solving Techniques to Improve Your Sales
Customers have numerous issues, with varying degrees of sophistication or viewpoint. They are running out of time. They have an almost unlimited number of product options to choose from. They are wooed by product reviews. 
In such situations, a customer may not be aware of the best solution to an issue. You as a service provider, however, can step into their shoes, come to grips with the problem, work out the solution and gain the customer's trust. 
The ability to solve a customer's problem is what makes all the difference between churn and loyalty.
What is Problem-Solving in Customer Service?
Problem-solving in customer service is a skill that entails
Knowing how to handle a conflict
Being able to calm an agitated customer using tone of voice and true empathy
Listening and speaking while maintaining a strong grip on problem-solving techniques.
How does bad customer service affect your business?
Customer service issues must be resolved because they affect other parts of the business. Businesses must become more customer-centric and coordinate their services in order to delight clients by effectively solving their problems.
You may have the ideal product and competitive pricing, but if your customer service is poor, your business can falter.
Let's look at some of the ways in which bad customer service can impact a business.
Harms Brand Reputation
Customers like to share their stories. As a result, when people have a poor experience, they turn to their favorite media to express their feelings. A single poor review on Twitter or Facebook can defame your brand image.
"It takes 20 years to build a reputation and five minutes to ruin it. If you think about that, you'll do things differently." -Warren Buffett
Lesser Conversions and Loss of Customers
Inefficient solving of customers' problems , slow response times, and frequent negative experiences make prospects less likely to become customers and make current customers less likely to stay loyal.
"53% of customers are likely to stop buying from a brand after a poor customer service experience." – source
Dip in Customer Lifetime Value (CLV)
Companies that consistently provide bad customer service eventually fail. Customers today have so many options that when they have a negative service experience, they will go to a competitor. 
It's widely known that one-time customers are expensive, whereas recurring customers bring a steady source of income. 
Customer lifetime value is a measure that is computed by adding up all of a customer's revenue over the course of their engagement with a company. 
You can increase the lifetime value of your customers by delivering outstanding service. This means you can make more revenue by spending less money on customer acquisition.
Steps of Customer Service Problem-Solving
Here is a 5-step process for customer service problem-solving and troubleshooting when you come across a customer issue.
1. Ask, Ask and Ask
Ask the proper questions to learn what is upsetting your customer. You won't be able to remedy your customer's problem if you can't place it. 
For example, ask questions such as, 
"Have you been dealing with this issue for a long time?"
Asking relevant questions will help you identify customer needs while also assisting you in determining an appropriate solution.
2. Identify the Problem
After having a question session with your customer to discuss their pain areas, you can restate or explain the situation as you have come to terms with it. 
You must describe the problem precisely and do so from the customer's perspective. Get the customer's approval that you've grasped the problem.
Before you move on to the next phase, ask whether there is anything else that is bothering them.
3. Formulate Solutions 
After a thorough examination of the problem, develop various solutions and present the best solution to the customer or prospect. 
Your solution must be focused on the specific problem , and not ambiguous.
4. Deliver the Solution
Deliver the solution as promised. Take advantage of these opportunities to strengthen your customer relationships and demonstrate that you are worthy of their trust.
5. Follow up with Customers
It's critical to check in with your customers to see how they feel about the solution and confirm that the issue has been fixed. This step demonstrates to customers that your organization values customer service and is committed to providing a better customer experience .
It's important to ask some of these challenging questions when checking in with present customers in the hopes of upselling, cross-selling, or renewing their contracts. 
"How satisfied are you with our product on a scale of one to ten?"
"How did you come up with that score?"
"What is it about our product/service that you enjoy?"
"Do you think you've experienced excellent customer service?"
This will keep you from overlooking warning signs that they're dissatisfied and might begin to consider switching to a competitor.
In an era where 'Customer is King" , happy customers are the secret to growth. As a result, customer satisfaction is a direct reflection of the effectiveness of your service team.
"The probability of selling to an existing, happy customer is up to 14 times higher than the probability of selling to a new customer, according to Marketing Metrics" – source
To improve customer experience and increase cross-selling and upselling opportunities, forward-thinking companies link their sales and customer service teams .
9 customer service problem-solving techniques
Customer service exists to assist customers with their demands or any issues that may arise while they are using your product or service. It is, therefore, necessary to train your staff on how to properly resolve customer complaints or problems.  Learn about the methods a service representative can take toward customer service problem solving to deliver superior customer service!
Ask for the Customer's Needs
Ask probing questions to get to the heart of the matter and uncover unmet customer needs. The answers to these questions can be used to create a workable solution, and this is a consultative approach that will strengthen customer relationships.
Listen to the Customer
Listen to the customer to prod deeper into the issue to determine the underlying cause. Only then will you be able to solve the problem at its core. You could even be assisting your company in developing stronger SOPs or regulations or eliminating a rigid process that is preventing you from running smoothly during the course.
The more you know about your customer and their company, the more you'll be able to influence their bottom line.
Don't argue
When we are offended or proven wrong, we have an inbuilt propensity to react in a defensive manner. In customer service, this is a no-no.
To go through the situation unscathed, here are two tips that you can use.
Tip 1: Allow customers to talk
You should let your customers talk until they are able to release their frustrations and calm down. 
Tip 2: Show that you care
The least you can do is support them and be empathetic toward the situation while customers go on explaining their tales. Use consoling phrases to comfort them.
Send Lightning-Fast Response
Every customer is strapped for time and expects a timely response from your support agent, 
Kapture's omnichannel help desk software can help you streamline how you manage customer inquiries across multiple channels.
Image: Kapture's omnichannel dashboard
You can route inquiries from a certain channel to a dedicated team. This helps ensure a smooth customer experience and swift resolution of customer inquiries.
Another way around is to add a live chat feature to your website. It is a tool that helps customers instantly connect with your agent and work out solutions. Kapture's live-chat tools embedded in your website can deliver faster responses.
Follow Solutions to the Conclusion
Once you've committed to providing the resolution, it's in your best interests to see it through to completion.
The standard customer problem-solving process includes following up with clients and providing them with updates to keep them informed.
Sending follow-up emails is the most effective technique to keep in touch with them about the solution's progress.
Kapture's help desk software allows you to send emails from the same system that you use to respond to customer queries. You really don't need to use traditional mail services for this. Likewise, the merits of a single sign-on help desk are many.
Use Visual Content
Your customer service representative can solve customers' problems in a more comprehensible and exciting manner by offering them visual troubleshooting guides. 
The best options are videos, graphical flow diagrams (depicting step-by-step instructions), or screenshots to resolve some of the very minor yet frequent issues. 
Kapture's knowledge base feature allows you to store and manage information in just about any format, which includes videos, images, and documents, that can be accessed via self-help tools.
This not only saves your time but also gives customers a quick and intelligible solution to their problems.
Offer an Incentive to Customers
Just to make sure that the recent product or service issue your customer faced did not bring any scar to your relationship, it is a supersmart way to butter up the bond with incentives. 
Offering incentives to clients can help you gain their loyalty, and they may decide to wait until you fix their problem rather than looking for solutions elsewhere.
Incentivizing clients to compensate for the inconvenience encourages them to stay loyal.
Consider presenting a coupon or voucher, for instance, on the next transaction if you want to motivate a customer to use your service again.
Self-Help Option For Your Customers
Provide self-help capabilities such as AI chatbots, knowledge base, or interactive discussion forums so that customers can search, find and resolve problems on their own. AI-powered chatbots offer responses to customer queries contextually.
Do not undermine the convenience of a self-service. This is the most preferred channel of help by customers as revealed by many surveys.
Kapture's AI and Machine Learning-powered self-serve tools are a fantastic approach to support your tech-savvy customers.
Image: Chatbot powered by Kapture
Customers that are happy with your service will stay longer, become repeat customers, and recommend your service to their friends and colleagues.
That's why it's critical to cultivate a customer-centric culture within your organization.
Remember to go the customer problem-solving way to create exceptional customer experiences.
Kapture's AI-based solutions can assist you in effectively managing the entire customer service process and wowing your clients with customer delight factors such as
Work-flow automation capabilities
Omnichannel communication
Self-help features
Run automatic surveys
Generate survey reports
Our solution is easy to use and integrates with other services like cloud telephony, social media, eCommerce, ERP, and others making it easy to collate the information at a centralized location.
Kapture, a customer service automation platform helps your team on how to serve and delight customers right from any touchpoint- and translate those efforts into building a loyal customer base.
Finally, follow the sound and systematic c ustomer service problem-solving techniques outlined in the blog t o win your customer's hearts.
customer problem solving
customer service problem solving techniques
customer service problems and solutions
customer-based approach
handling customer complaints
problems in sales
productivity
troubleshooting customer service
Leave a Comment Cancel reply
Recent posts.
Top 11 Reasons Your Business is Losing Customers
Identifying and Addressing Customer Pain Points
Why Customer Feedback is Important To Your Business
CX: How to Measure it the Right Way
Customer Support Automation without Losing Personalization
Stay updated with tips and best practices
Book a demo.
Too much to take in?
Subscribe to our newsletter and read it at your own time.
Intercom Alternative
Zendesk Alternative
Lead Generation & Sales
Customer Engagement
Customer Support
Shared Inbox
Knowledge Base
Email Marketing
Mobile Apps & SDK
Integrations
Success Stories
JavaScript API
Android SDK
7 Customer Service Problem-Solving Techniques with Examples
Problems themselves are not scary. What really makes our blood freeze is the lack of frameworks in mind of how to solve them. Lists, step-by-step instructions give us a roadmap to troubleshooting and reducing the barriers to success.
Scary situations stop being such if you have the tools to solve them, believe in yourself and in what you are doing.
Ok then, let's assume it's not your first day in customer service and you know how to act in case of clients' complaints. How to stand out from the crowd? How to solve problems more effectively?
Well, that's where the list of 7 customer service problem-solving techniques can come in handy. I've selected the most original and efficient examples. But first things first.
What is problem-solving in customer service?
Solving customers' problems is more than just fixing the bugs or providing detailed instructions. It's about being prompt, patient, polite, and staying by their side all the way through. Basically, you need to say what consumers want to hear while not instilling false expectations.
In customer service , clients expect something more meaningful than just a financial solution if the issue has occurred. Survey results suggest that only 43% of respondents are satisfied with refunds. And 50% said they enjoyed the feedback that involved an apology, empathy, or other compensation unrelated to money. Unsurprisingly, 60% stated that they were happier when received both.
How does bad customer service damage your business?
Poor customer service is like an illness that, if left untreated, affects all parts of the business until complete destruction.
Let me elaborate here. Imagine, a client faces a problem with a product, turns to customer support, doesn't get proper help, gets annoyed, leaves a bad review, and discourages people from buying from this specific company. Slowly but surely the brand loses its reputation, fewer leads convert, employees leave for competitors, loyal customers also switch to alternatives, and eventually, revenue decreases irretrievably. Pretty grim scenario, isn't it? But it's exactly what happens if you provide poor customer service and do nothing to improve things.
To make it a lot simpler to understand, here is an infographic.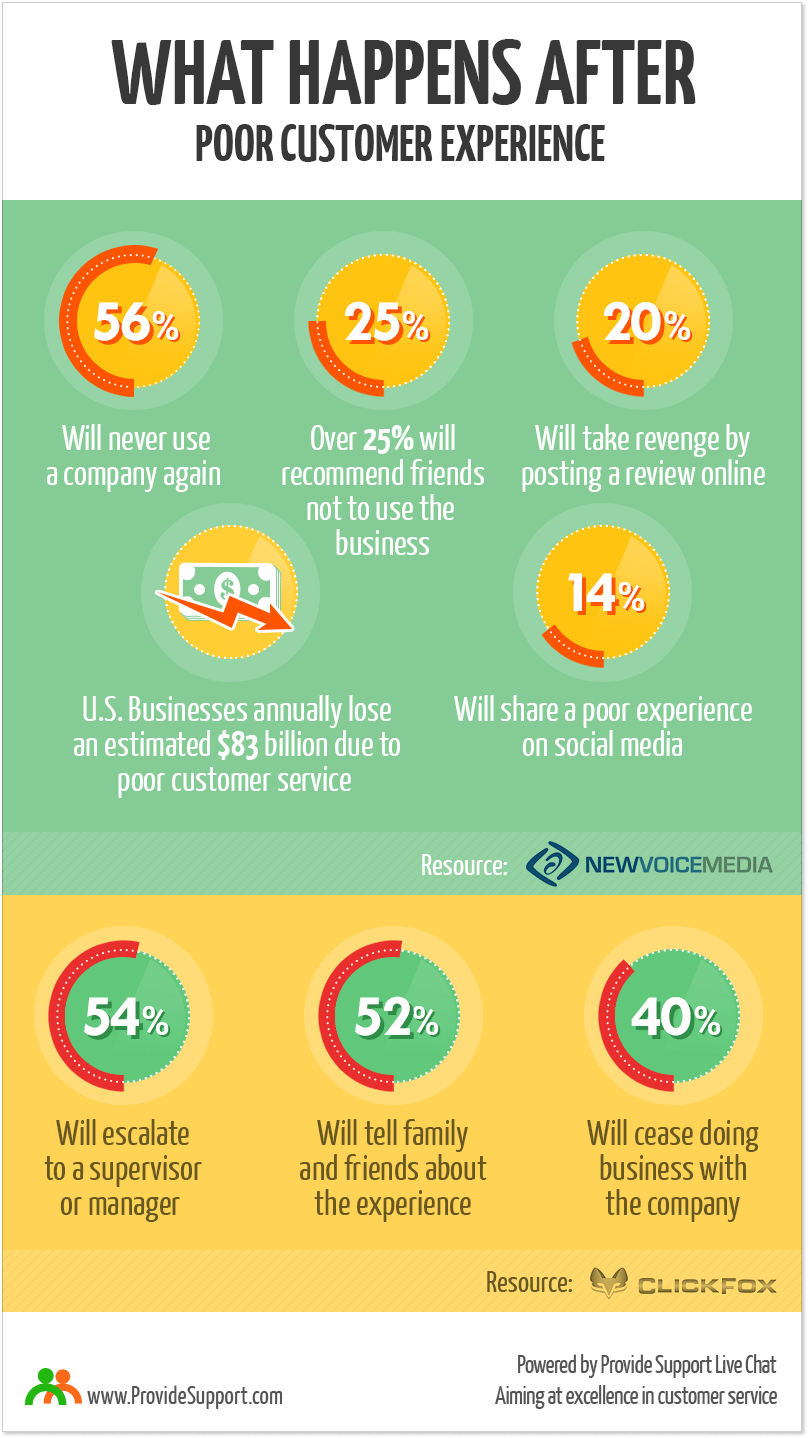 Basic customer service problem-solving steps
Acknowledging the importance of good customer support , some companies provide special training to their agents. What they learn among other things is a four-step process of solving problems. It's 4 simple steps that a representative should follow.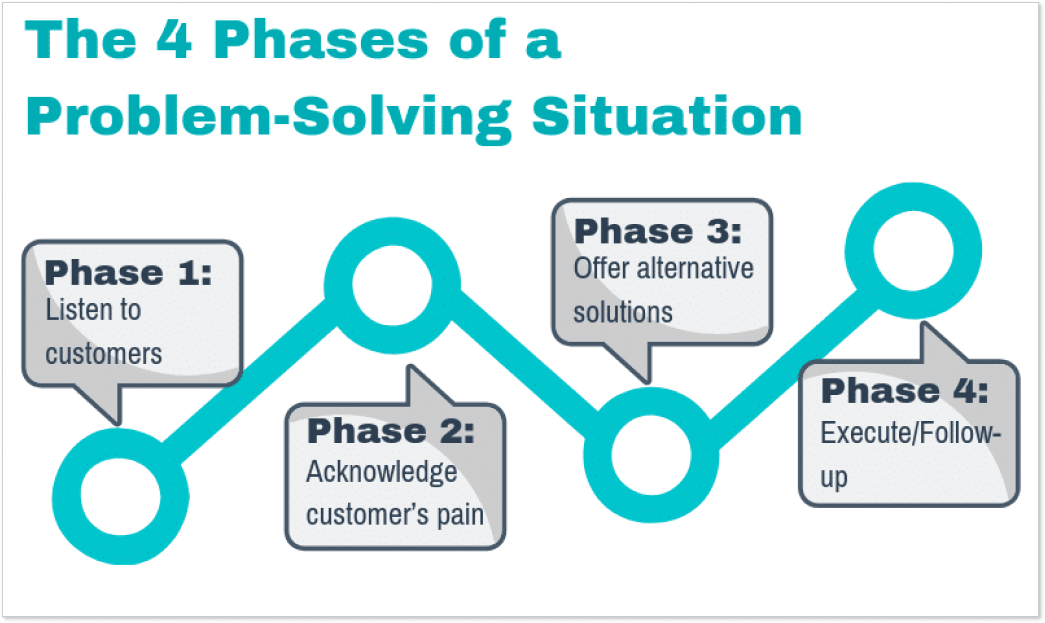 Listen to a customer. No doubt, this step is the most crucial one. Ask all the questions about the unpleasant situation to give a complete answer that matches the problem. Don't interrupt the customer and let them express their feelings if they need to. Be that empathetic ear we all strive when being sad or angry.
Acknowledge a client's pain. This step implies agents being understanding of the client's struggle and admitting it. It's also a time to paraphrase the problem back to a user to show that you understand it. It proves to the customer that you both are on the same page.
Offer alternative solutions. "It's not a desperate situation and we can fix this". That's a message you have to convey to a client. Offer an efficient solution and make sure it fits the customer's needs. It'd be a nice practice to offer some compensation in form of a voucher, discount, or free item.
Follow-up. It's the step you can't go without in customer service otherwise all previous steps may lose any sense. So, make sure that the customer ended up happy and satisfied with the solution. If they still feel unhappy, find a way to gratify them (that's your job in the end!)
7 customer service problem-solving techniques
In the race for happy, and therefore loyal customers, creativity and the ability to think outside the box will help a lot. Here are some original customer service problem-solving examples that you might want to apply at your company.
1. Don't argue, simply start with an apology
It's a natural instinct to defend ourselves when someone insults us. But fighting with customers is a 'red flag' that results in an even bigger brawl.
In most cases, angry clients will be annoyed with something that is not even your fault. However, this won't stop them from blaming you for all the issues they are facing. In fact, you would often come across clients who have troubles because of their own fault.
But you cannot point it out directly. Otherwise, you will shake their faith in your brand. The best problem-solving technique is to apologize first and ask for more information to investigate the problem. Because it doesn't really matter whose fault it is if it's your responsibility to fix it and reduce possible negative consequences.
When apologizing, try to be creative. Instead of using a canned response "Sorry for the inconvenience" , send a more human reply.
Brief first-response phrases to extinguish the fire:
"Thank you for reaching out! I totally 'feel' for you. Here is what I'm going to do to turn things around"
"Wow, I am so sorry to hear that. No wonder, you feel this way. Let's get things right asap"
"I appreciate you letting me know about the issue! I definitely will make sure that it gets sorted"
"Ohh, it sounds like a serious issue. I am so sorry you have to go through this. But you've come to the right place to get this resolved."
2. Send a lightning-fast response to the complaint
Our First Aid Basics school teacher used to tell us that in most cases a fire can be dealt with with a cup of water during the first 1-2 minutes. If the moment is missed, only a troop of firefighters can save the situation.
I feel like this principle applies also to customer service problem-solving. Once you get a complaint, there is a small window of around 2-5 minutes to reply. If you miss it, it's going to take much more effort to calm down an angry customer. Because with every minute of your silence, they get even more irked.
There are a few ways to provide speedy customer service.
Add live chat software to your website. It's a communication tool for instant messaging with users. Some platforms like HelpCrunch , for instance, also offer tagging, assigning, sneak peek, and whatnot features on top of that. This way customer support agents can handle up to 5 chats simultaneously.
A complaint we often saw, as consumers, about online stores was the lack of help that is easily available to you. When we created our e-commerce website, we wanted to resolve that issue by incorporating a live chat directly on our site. Live chat is great because it gives consumers accessibility straight from your website without having to abandon to seek support elsewhere. © Shares William Schumacher of Uprising Food .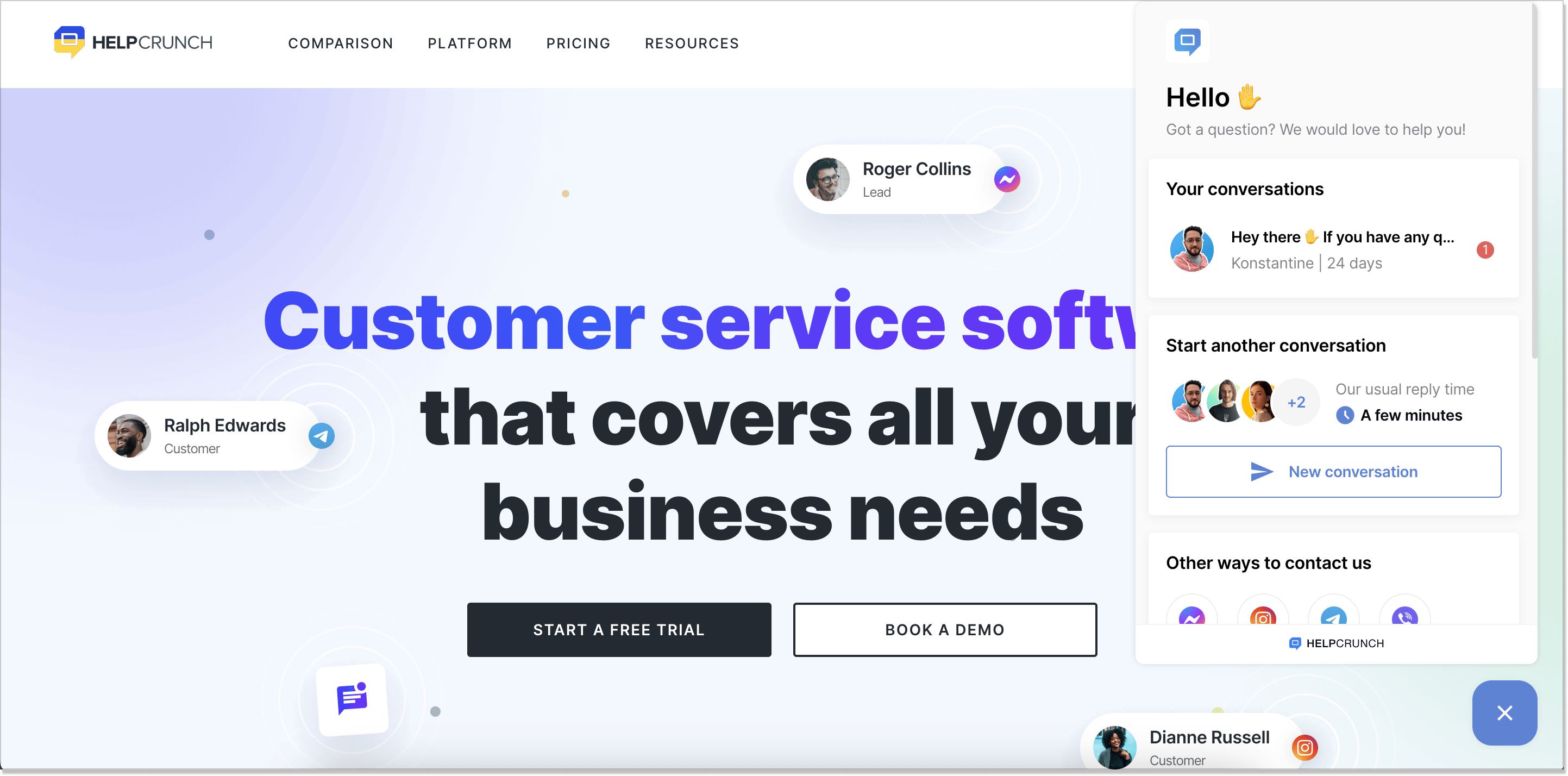 Leverage AI chatbots. Bots can significantly reduce the chat load on agents. Besides, this way you will be able to keep assisting your visitors even after office hours. Prompt responses are also an important benefit that comes with chatbots. But be careful, if a client experiences massive issues, they might not be in the mood to talk to a robot. Considering that in some complex cases they are not very helpful.
Hire more staff. To deal with a growing number of customer queries, you might want to add more people to your team. Once newcomers master the guidelines policy (it might take up to a few months), they would be able to respond promptly. I suggest using the best tools to reduce wait time while gradually increasing staffing.
One quick and polite reply can save the day. Even if the issue will take longer to fix, don't worry. Your immediate reaction calms the user down because they know "you are on it".
3. Use visual content to win back customers
Why are images more trusted than text?
As studies suggest, humans can process images up to 60,000 times faster than plain text. It means that with a single picture you can convey more information than with 100 words for that matter. In fact, images have the ability to transmit abstract notions such as facial expressions or emotions.
Since we are visual creatures by nature, why not take advantage of this to enhance data processing and communication effectiveness?
So, when you send a message to a client saying "We are on it", add an image to your reply. It can be anything depending on the product/service you sell. For instance, a selfie from the back-end developer fixing the issue or a screenshot showing that you added this task to the team's to-do list with high priority. This way your reply looks more trustworthy.
Especially if it comes to problem-solving on social media, pictures are extremely effective. They increase audience engagement, draw attention, and help users to remember your message. On average, Tweets with photos receive a 35% boost in Retweets.
You can also use visuals when sharing step-by-step instructions with customers. At HelpCrunch, we rely on images frequently to educate our users on how to make the most out of the platform. Recently one of our clients turned to us asking for help with the Zapier integration. We included a screenshot with notes to our reply which helped to resolve the issue faster.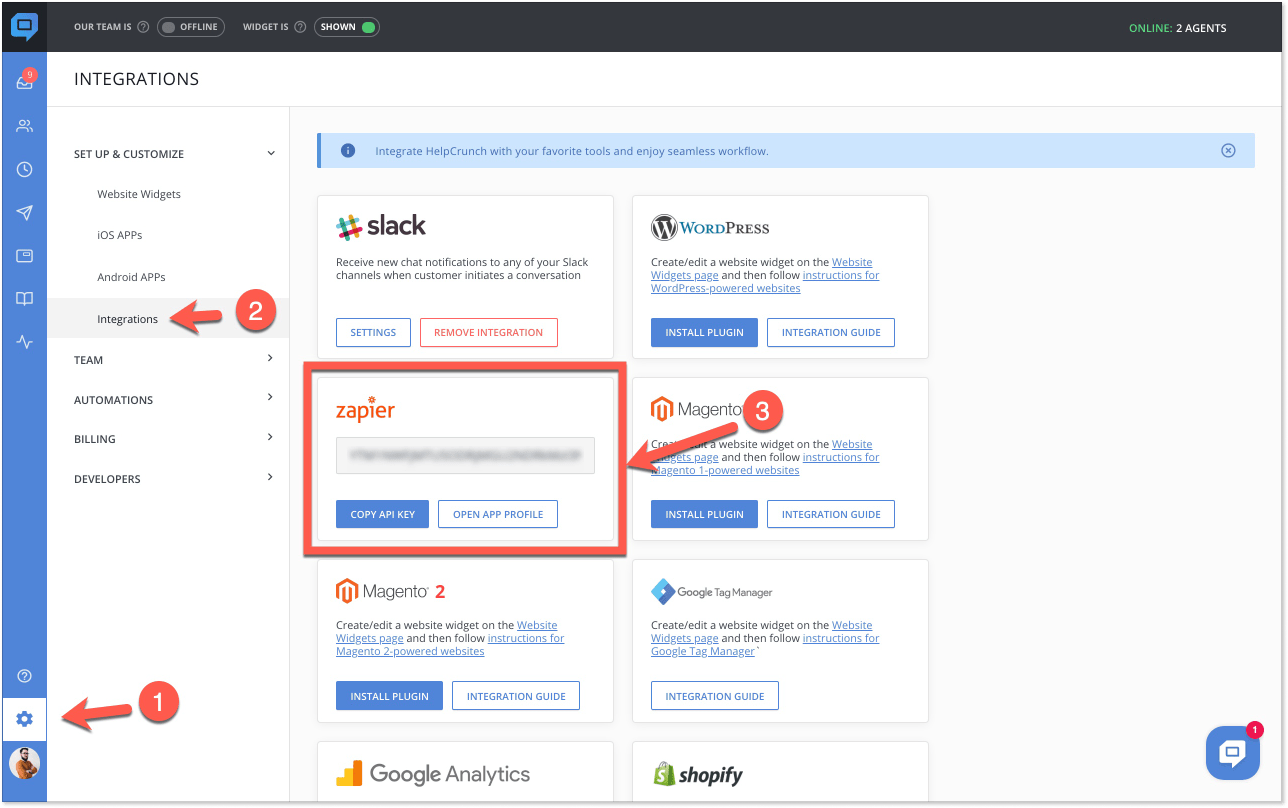 4. Add a pinch of humor to the reply
As they say, "Laughter is the closest distance between two people".
If you want to close the distance and become more human with the client, try to add a little humor to your answer:
– You made me really sad I must say.
– Yes, John, we are very sad too. Hopefully, we will be able to return you to a better shape soon.
But with jokes, you need to be on the alert. While some clients appreciate the humor, others may perceive it as disrespectful to themselves.
Let's talk about Skyscanner's sarcastic response in customer service that I personally found hilarious and quite brilliant.
James Lloyd, a company's user, got a suggested itinerary from the app saying he would have a layover in Bangkok lasting 413,786 hours, or 47.2 years. He immediately complained about the glitch and wanted to reproach the brand with this.
But the customer service agent was not taken aback and responded quite creatively, which made the answer memorable and viral.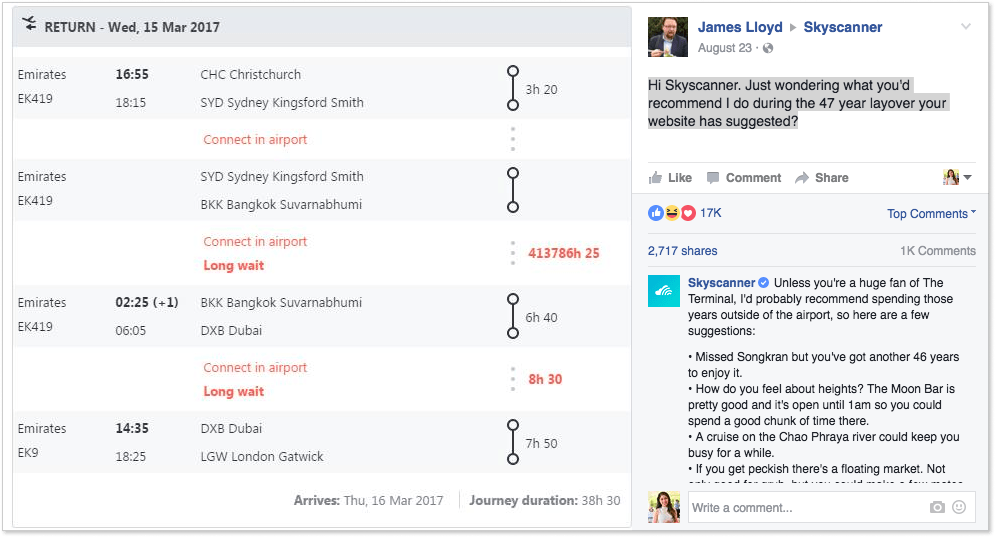 Don't forget about funny gifs and memes that could definitely turn things around and make your customer smile.
5. Offer a generous compensation
I'd say this is the most intuitive technique. When we make someone feel bad, the immediate reaction is to compensate for the damage and give something in return. This approach immediately defuses a potentially problematic situation.
Discounts, free items, or other bonuses direct the customer's attention to the benefit they've just received. So instead of being angry about an issue, they feel happy with the gift you've given them.
However, there is a downside of such a tactic – it doesn't guarantee that a client will return. They can just take a free item and never come back.
If you want to attract a customer to use your service again, then consider offering a coupon or voucher for the next purchase. This way it's more likely your unhappy client will return, giving your company the chance to earn back their trust and loyalty.
Not for nothing, KFC gives vouchers to dissatisfied customers (because it really works magic). Let's say, a client ordered delivery from the restaurant, receives a package, and realizes that a caramel milkshake is missing. The customer went furious because this milkshake has been the most wanted item. They text the support department with a complaint. A friendly support representative apologizes sincerely, makes a refund, and offers a voucher for a free milkshake. The customer's anger has gone away. Now they are calm and satisfied again.
6. Take your apology offline
There are those customers you just can't lose because they form the backbone of your revenue. In such circumstances, it might be necessary to take your apologies to a new level namely offline. Such a technique allows your unhappy clients to feel special and appreciated.
For instance, invite the customer to come to your office and talk properly about the issue and what you can offer them as a better solution. It shows that their complaint is being taken seriously.
I can think of another more creative way to say sorry – send your angry customers a gift in a branded packaging. Include some things that most people enjoy like sweets, tea collection, branded stationery items, etc. The gesture is what counts the most here.
There are some firms (Sorry As A Service, for instance) that can help you with that. When your company fails the client in any way, you turn to such a company for help. You list what your "sorry" package should include and the guys take care of the rest.
7. Empower your customers to help themselves
If you had two options, either resolve an issue by yourself or with the assistance of a customer representative, what would you choose? Interestingly, 67% of respondents go for self-service instead of communication with a support agent.
That's why we cannot fail to mention this problem-solving technique since it's the most preferred way for many users. It's especially true if you target millennials, a tech-savvy generation who got used to research answers online. Human interactions are only necessary if all the existing ways of troubleshooting failed.
In case young users feel that it's too complicated to find the answers online, they will complain. And, most probably, they won't text your support agents about their displeasure. Instead, they will go to social media directly to share their negative experience. Twitter, Facebook, Instagram, and now Tik Tok are today's users' weapons against your poor product quality or service.
How to ensure a self-help option for your customers?
Deploy a knowledge base feature . It's a 'help yourself' functionality that allows users to find answers without a hint of your assistance. If a customer wants a refund, they can chat with your agents and ask 'how to' for the thousandth time. Or, they can read a step-by-step help article in your knowledge base.
If you decide to go with the HelpCrunch software, you can in-build the knowledge base feature into a live chat widget so that customers don't have to look for it across the website.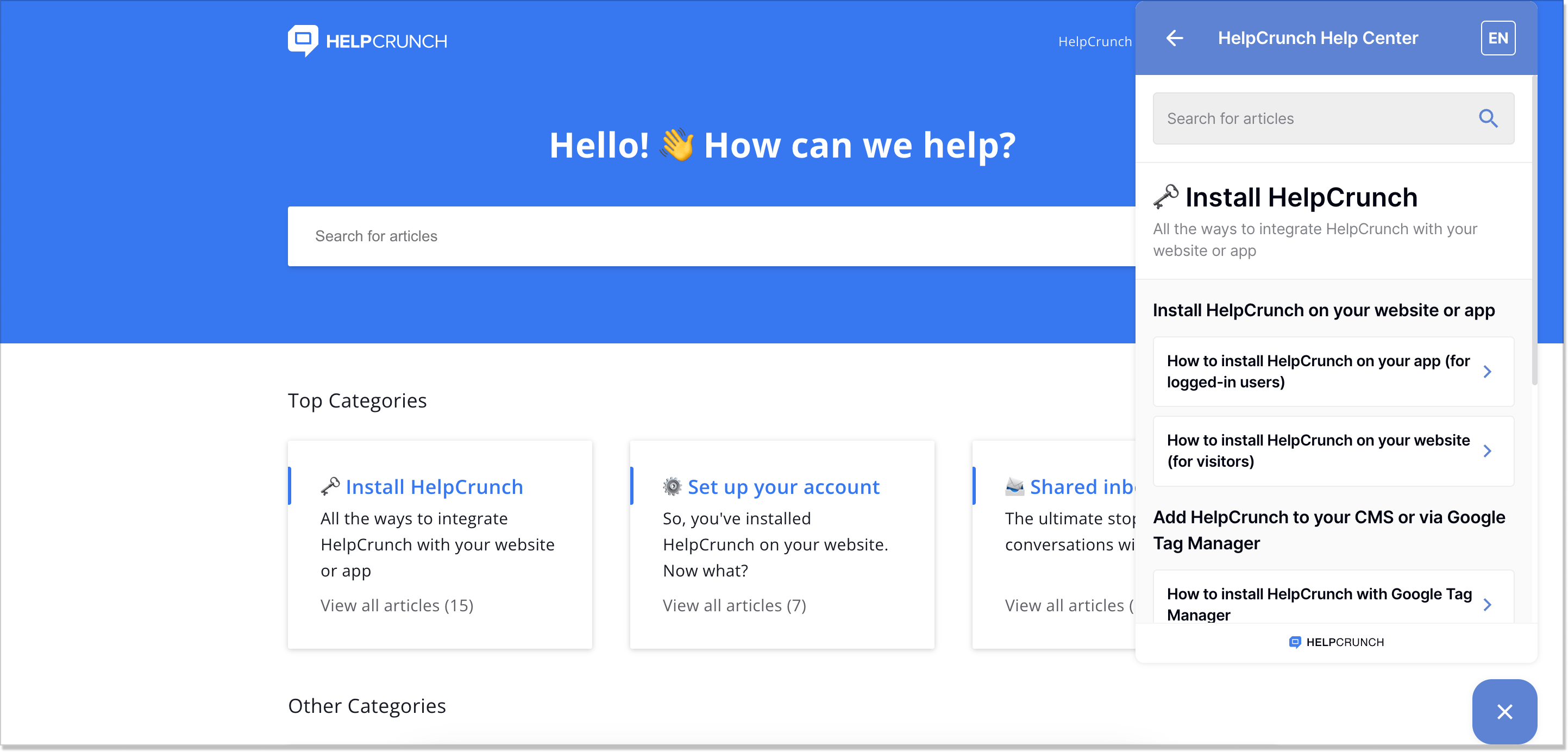 Prompt and empathetic responses are the key factors for high-quality customer service. Once users know you are taking care of their issues, they can get back to their daily activities. While the most damaging thing in problem-solving is silence. In the long term, it can ruin your brand and the company as a whole. Try to reply with an apology message during the first 2-5 minutes after the complaint has been sent.
The question is how to ensure high responsiveness? For that, savvy companies usually leverage special communication tools, like live chat, chatbot, or knowledge base. And I happen to know the one that might be just the thing. Thanks to its rich functionality, the HelpCrunch software allows your agents to handle up to 5 chats simultaneously. You can test the tool for free for 14 days now.
HelpCrunch articles delivered straight to your inbox 🚀
All the latests posts. One email per month No strings attached
10 Brilliant Self-Service Portal Examples You'll Want to Follow
Developing a self-service portal is no easy task. However, things may get a lot easier if you see the vivid examples first. So comb through these 10 self-service portal examples to drive inspiration.
The Customer is Always Right. Or are They?
Who first said that the customer is always right, and what did they mean by it? Should you follow the concept or forget it once and for all? We explain the origins of this saying and give you the long-awaited answer...
Customer Service Knowledge Base: The Definition and Lifehacks for Building One
A customer service knowledge base can give an easy win to a business if it's built smartly. The only question is HOW to build it? This is what we are talking about here.
Leave a Reply Cancel reply
Your email address will not be published. Required fields are marked *
This site uses Akismet to reduce spam. Learn how your comment data is processed .
We're sorry, this computer has been flagged for suspicious activity.
If you are a member, we ask that you confirm your identity by entering in your email.
You will then be sent a link via email to verify your account.
If you are not a member or are having any other problems, please contact customer support.
Thank you for your cooperation
University Human Resources
8-step problem solving process, organizational effectiveness.
121 University Services Building, Suite 50 Iowa City , IA 52242-1911 United States
Step 1: Define the Problem
What is the problem?
How did you discover the problem?
When did the problem start and how long has this problem been going on?
Is there enough data available to contain the problem and prevent it from getting passed to the next process step? If yes, contain the problem.
Step 2: Clarify the Problem
What data is available or needed to help clarify, or fully understand the problem?
Is it a top priority to resolve the problem at this point in time?
Are additional resources required to clarify the problem? If yes, elevate the problem to your leader to help locate the right resources and form a team. 
 Consider a Lean Event (Do-it, Burst, RPI, Project).
∙Ensure the problem is contained and does not get passed to the next process step.
Step 3: Define the Goals
What is your end goal or desired future state?
What will you accomplish if you fix this problem?
What is the desired timeline for solving this problem?
Step 4: Identify Root Cause of the Problem
Identify possible causes of the problem.
Prioritize possible root causes of the problem.
What information or data is there to validate the root cause?
Step 5: Develop Action Plan
Generate a list of actions required to address the root cause and prevent problem from getting to others.
Assign an owner and timeline to each action.
Status actions to ensure completion.
Step 6: Execute Action Plan
Implement action plan to address the root cause.
Verify actions are completed.
Step 7: Evaluate the Results
Monitor and Collect Data.
Did you meet your goals defined in step 3? If not, repeate th 8-Step Process. 
Were there any unforeseen consequences?
If problem is resolved, remove activities that were added previously to contain the problem.
Step 8: Continuously Improve
Look for additional opportunities to implement solution.
Ensure problem will not come back and communicate lessons learned.
If needed, repeat the 8-Step Problem Solving Process to drive further improvements.
+33 (0)1 55 37 30 50

Outbound dialing
Social Media & Messaging
Supervision
Quality Management
Satisfaction Surveys
Universal CRM Connectors
Salesforce call center
Speech analytics
API & Webservices
Chatbot & Voicebot
Smart pairing
High availability
Security & Compliance
Customer Service
Sales & Telemarketing
Collections
Hermes Digital Journey
Hermes Universal CRM Connectors
Salesforce Edition
Professional Services
Banks & Financial Services
Leisure & Travel
Outsourcing
Retail & Services
Telecommunications
Blog & News
Ebooks & Studies
Customer Stories
Events & Replays
Worldwide Presence & Partners
7 Steps to Fixing Customer Service Issues
Customers want a great experience, and part of that experience means not losing time, money, and patience. Brands similarly value their time and money, but they must always have the patience to deliver their customers a great experience. Even with the best efforts, however, d ifficult customer situations are sure to arise, and how companies handle these situations can mean the difference between customer churn and long-term loyalty. How can brands effectively address difficult customer service situations?
Listen to the customer and show genuine empathy
The first step is to simply listen to the customer. Regardless of the channel on which they contact a business, an agent must patiently welcome a full explanation of the issue and then show genuine empathy for the customer's frustration. It's critical to show customers that a brand values their customers as people, not just buyers.
Assess the situation
Once the customer has finished explaining the issue, the agent should repeat the main points, asking for clarification where necessary and if there's any other important information the customer would like to share.
Ask for the customer's needs and preferences
A customer may not necessarily know the best solution to the problem, but many customers do have an idea of what they need and may even take their concern a step further and request some sort of compensation for their issue. For example, if a billing error has been made, not only should it be fixed but any penalty fees that were charged when the customer was not at fault should be waived immediately. This is also a chance for agents to be proactive: they can wait to hear that a customer wants to switch from one subscription to another or that they are frustrated to have lost time with an issue, or the agents can quickly offer waivers or discounts as goodwill gestures before the customer even asks. Being proactive in these situations is extremely critical to winning the trust of the customer.
Offer a solution and give options whenever possible
Once the situation has been properly assessed, agents should offer the most appealing solution to the customer and offer options whenever possible. When customers have difficult issues to resolve, they may feel they made a poor choice in trusting a certain brand. Giving them options for better service (better deals, delivery service, etc.) will make them feel in charge again-and more likely to support the brand.
Deliver the solution
Of course, the next step is to deliver the solution, but this must be done exactly as promised. When a customer actually takes the time to contact a brand over an issue, they are giving the brand another chance. For that reason, companies should always value these issues as opportunities to improve their service and show customers that they are worthy of their trust.
Follow up with the customer
It's very important to follow up with the customer to see how they feel about the resolution and to make sure the problem was indeed resolved. This step shows customers your company does value them and is working hard to deliver better customer experience.
Address the issue within the company
Customer service cases should never be considered one-time problems to fix and forget. Companies need to make sure these cases are well analyzed, shared across departments, and then worked on to prevent such issues from occurring again. Different ways to address issues could range from updating FAQs on the company website and agent scripts to taking bigger measures such as changing marketing strategies and improving communication on different channels.The old saying that the "customer is always right" rings true to this day, as brands need to meet the challenge of customers who have more choices than ever and may easily switch when they're unsatisfied. With the right balance of quick action, sincere empathy, and strong follow-up, companies can satisfy and retain customers in even the stickiest of situations.
Learn about Vocalcom contact center software solutions for excellent customer service .
Interested in our solutions?
888-636-1222
Make a Payment | Contact Us

How to Improve Problem Solving Skills in Customer Service
Keeping customers happy pays off.
Happy customers buy more, generate positive word-of-mouth advertising, and create great referrals.
Unhappy customers complain, and they do it loudly. What's worse, for every customer that complains, 26 stay quiet .  
Delivering great customer service can be challenging, but why?
According to Jeff Toister of Toister Performance Solutions and author of three customer service books , there are five reasons why customer service is so hard:
It's not instinctive
Our customers see what we don't
It's sometimes hard to be friendly
We aren't good at multitasking
Directed attention fatigue
So how do we overcome these challenges ?
Problem-solving.
"Every problem has a solution. You just have to be creative enough to find it." Travis Kalanick
One of the main reasons our customers do business with us is because we solve a problem for them.
Depending on your product or service, your business can help customers:
experience something new
feel comfort
become healthier
What problem does your business solve for your customers?
Problem -solving skills is vital to Customer Service
Solving a customers' issue should be the goal of every one of your people.
But typically in the past, when an issue escalated to a certain point, help desk service or customer service reps (CSRs) were told to escalate these calls to a supervisor or manager.
More and more companies are asking customer service reps (CSRs) to handle these types of issues, not managers.
That's a big change for many CSRs.
It's also a task CSRs can get right with the proper problem -solving skills training . Failing is not an option for CSRs. It's just too costly.
What is the impact of poor customer service?
Companies lost $75 billion in 2017 from customers switching to competitors because of bad service. That's up $13 billion from 2016. With customers demands increasing each year, it doesn't take much to disappoint customers with poor customer service. Obviously, CSRs need to be at the top of their games to keep customers happy.
This guide offers tips on how to help your people solve customer service problems quickly, efficiently, and cost-effectively.
The guide covers the following topics:
Critical thinking in customer service
Rules to help customer service people think critically
Basic customer service problem-solving scenario
Concrete steps to solve a customer problem
Keeping customers happy can boost customer loyalty, corporate productivity , and business profitability—goals for every company out there.
"Fall in love with the problem, not the solution." Uri Levine
Critical Thinking in Customer Service
Delivering epic customer service is essential these days. But that's easier said than done, given today's more demanding customers.
Identify critical thinkers
To manage demanding customers requires someone highly skilled in troubleshooting—someone with the creativity to solve difficult problems.
All while under the pressure of the customer.
So, look for customer service people that are creative problem solvers when hiring new workers. These people have a penchant for thinking outside the box to solve problems.
That includes not just the ability to think rationally , but also the need to question the information given. Put simply, critical thinking is never taking anything for granted.
Build critical thinking skills
Customer service people can develop critical thinking skills with practice. In a post by Ransom Patterson on CollegeInfoGeek.com reveals seven ways people can improve critical thinking skills:
ask basic questions
question basic assumptions
be aware of your mental processes
try reversing thing
evaluate existing evidence
think for yourself
remember you are not perfect
Apply these tips encourages critical thinking.
Another critical thinking technique CSRs can use is constructive controversy. A proven problem-solving method, constructive controversy helps you decide if a decision we're making is the right one for you. Here's more on this technique .
Basic Customer Service Problem-Solving Scenario
Savvy businesses aren't afraid to provide employees with customer service problem-solving training.
One aspect of this training is learning the four phases of a problem-solving situation and what to do during each phase. See below:
Listen to customers
Listening is the first step in solving customer's problems. It's also the most critical. But customer service people often need training to do it well.
If customer service reps don't listen, they won't know the nature of a customer's problem and its impact on him or her.
Sometimes, all customers want is for CSRs to lend a sympathetic ear. Other times, they need more.
Also, CSRs need to let customers vent without interrupting them.
Acknowledge customer's pain
During this phase, CSRs need to acknowledge they heard customers and "feel" their pain.
Paraphrasing the problem back to a customer says you've done that. It also makes sure everyone is on the same page. If CSRs don't fully understand the issue, they may end up providing the wrong solutions. Saying something like "I'm sorry you had to call us to deal with this issue" also helps.
Offer alternative solutions
If the issue is merely an oversight on the customer's part, no remedy is needed.
But if the situation is the company's fault or a product or service fails, you may need to offer alternative solutions.
Resolution is critical.
In this case, the customer not only didn't get what he or she wanted but also were inconvenienced. That's a bad combination no matter how you look at it. Going above and beyond by resolving the issue and offering a free product or service, a special coupon, or a gift voucher goes a long way with customers.
Execute/Follow-up
After agreeing on a solution, CSRs need to execute. Then, you need to follow up. That ensures that customers end up happy with the resolution and are satisfied with the outcome. If they're not, then customer service people need to find a way to satisfy them.
Understanding these phases of a successful issue resolution is crucial when dealing with unhappy customers. It's the "secret sauce" to keep buyers happy.
Extra: Be prepared
In addition to this approach, you may want to have some prepared responses to seven stock questions customers ask. They're questions that almost every company gets:
Why don't you have it in stock?
Why didn't you or your company tell its customers?
Why did I pay less the last time I was here?
Can I have a refund because of this problem?
You did it last time I was here?
You said the problem/product was fixed?
You said you'd call me when the problem was fixed.
Providing stock responses to these questions not only helps customer care people follow company guidelines but also keeps customers happy.
How to Handle Customer Service Issues: 9 Steps
Problem-solving often seems straightforward, but that's not always the case. Sometimes, it's complicated. Having workers well-versed in problem-solving skills and techniques for customer care representatives helps. Approaching issues in a systematic way simplifies the problem-solving process.
Below is a 9-step process that can help CSRs resolve even the most complex customer service issues:
Identify the problem
The key to doing this is to ask the right questions. Below are some customer service problem-solving interview questions:
What is this call really about?
Is there an underlying issue causing the problem the customer isn't aware of?
What does the customer want us to do?
Is the issue being made worse by a known problem or bug?
Is this issue identifying a repeated customer service problem or is it a new issue?
These questions can help CSRs pinpoint the real problem. It's not always what customers think. Acknowledging the customer's pain, as we said above, also helps.
Find out what customers need
Try to understand how customers see the issues involved and try to get a solid understanding of his or her needs. If appropriate, ask customers what they've done to resolve the issue.
Find out how the issue impacts the customer
Understanding how an issue affects a customer is crucial. It helps CSRs not only connect with the customer but also prioritize tasks.
Clearly define the root of the problem
Having identified the problem in steps 1 to 3, you now need to understand what caused the problem. By identifying the cause of the problem, you will have a better idea of how to solve it. Also, you will know how to avoid a simialr problem in the future.
Produce possible solutions
Knowing the problem, your customer care person needs to start brainstorming solutions. They also need to find out what solutions other co-workers may have used to solve the problem. CSRs can then generate a list of potential solutions.
Evaluate each solution and pick the best
Evaluate all the solutions. Decide if you have the resources to implement it, how much the solution costs, how long it will take to execute it, will it resolve the issue, and if it follows company policy.
Plan the solution's implementation
Some solutions are easy to execute. Others are harder. For harder solutions, think about who will execute the solution, what will it costs, when and where you will execute it, and how will it be implemented. Also, double check out the benefits of the solution.
Discuss the solution with customers
Having nailed down the solution's details, discuss it with the customer. Walk through it with him or her step by step and ask for feedback. Be ready to adjust the plan. Execute the solution — After the customer approves the solution, it's time to execute it. Follow up to certify the progress of the solution, that you're meeting any deadlines and where you stand with the budget. Re-work your plan, if necessary.
Analyze the results
Having finished the implementation, analyze the results. Use quantitative and qualitative data, if available. Can you improve the solution? Also, ask the customer if the resolution met their expectations. That's critical.
This ten-step process may seem a bit much for call center agents, technical support people, and customer care representatives to tackle. But using it works.
Having customer care people go through it step by step helps your CSRs quickly resolve customer issues the first time that customers call. Track resolution time to see how your CSRs are doing.
Resolving issues when customers contact your business keeps them happy.
Happy customers buy more, generate positive word-of-mouth advertising, and create outstanding online referrals. On average, a happy customer tells nine people about their experience with you.
Keeping customers happy is the secret to boosting customer loyalty, increasing profitability, and differentiating you from competitors. Doing those things can take your company to the next level.
Unicom Teleservices
Related posts.
How to Measure Customer Support Success
7 Tips for Improving Skills And Abilities For Customer Service
How to Create Awesome Customer Service Goals for Success
About Problem Solving
Related Topics
Problem Solving Resources
Case studies, problem solving related topics.
Brainstorming
Continuous Improvement
Eight Disciplines (8D)
Fishbone Diagram
Nine Windows
Shainin System™
Total Quality Management (TQM)
Quality Resources /
Problem Solving
What is Problem Solving?.
Quality Glossary Definition: Problem solving
Problem solving is the act of defining a problem; determining the cause of the problem; identifying, prioritizing, and selecting alternatives for a solution; and implementing a solution.
The problem-solving process
Problem solving resources
Problem Solving Chart
The Problem-Solving Process
In order to effectively manage and run a successful organization, leadership must guide their employees and develop problem-solving techniques. Finding a suitable solution for issues can be accomplished by following the basic four-step problem-solving process and methodology outlined below.
1. Define the problem
Diagnose the situation so that your focus is on the problem, not just its symptoms. Helpful problem-solving techniques include using flowcharts to identify the expected steps of a process and cause-and-effect diagrams to define and analyze root causes .
The sections below help explain key problem-solving steps. These steps support the involvement of interested parties, the use of factual information, comparison of expectations to reality, and a focus on root causes of a problem. You should begin by:
Reviewing and documenting how processes currently work (i.e., who does what, with what information, using what tools, communicating with what organizations and individuals, in what time frame, using what format).
Evaluating the possible impact of new tools and revised policies in the development of your "what should be" model.
2. Generate alternative solutions
Postpone the selection of one solution until several problem-solving alternatives have been proposed. Considering multiple alternatives can significantly enhance the value of your ideal solution. Once you have decided on the "what should be" model, this target standard becomes the basis for developing a road map for investigating alternatives. Brainstorming and team problem-solving techniques are both useful tools in this stage of problem solving.
Many alternative solutions to the problem should be generated before final evaluation. A common mistake in problem solving is that alternatives are evaluated as they are proposed, so the first acceptable solution is chosen, even if it's not the best fit. If we focus on trying to get the results we want, we miss the potential for learning something new that will allow for real improvement in the problem-solving process.
3. Evaluate and select an alternative
Skilled problem solvers use a series of considerations when selecting the best alternative. They consider the extent to which:
A particular alternative will solve the problem without causing other unanticipated problems.
All the individuals involved will accept the alternative.
Implementation of the alternative is likely.
The alternative fits within the organizational constraints.
4. Implement and follow up on the solution
Leaders may be called upon to direct others to implement the solution, "sell" the solution, or facilitate the implementation with the help of others. Involving others in the implementation is an effective way to gain buy-in and support and minimize resistance to subsequent changes.
Regardless of how the solution is rolled out, feedback channels should be built into the implementation. This allows for continuous monitoring and testing of actual events against expectations. Problem solving, and the techniques used to gain clarity, are most effective if the solution remains in place and is updated to respond to future changes.
You can also search articles , case studies , and publications for problem solving resources.
Innovative Business Management Using TRIZ
Introduction To 8D Problem Solving: Including Practical Applications and Examples
The Quality Toolbox
Root Cause Analysis: The Core of Problem Solving and Corrective Action
One Good Idea: Some Sage Advice ( Quality Progress ) The person with the problem just wants it to go away quickly, and the problem-solvers also want to resolve it in as little time as possible because they have other responsibilities. Whatever the urgency, effective problem-solvers have the self-discipline to develop a complete description of the problem.
Diagnostic Quality Problem Solving: A Conceptual Framework And Six Strategies ( Quality Management Journal ) This paper contributes a conceptual framework for the generic process of diagnosis in quality problem solving by identifying its activities and how they are related.
Weathering The Storm ( Quality Progress ) Even in the most contentious circumstances, this approach describes how to sustain customer-supplier relationships during high-stakes problem solving situations to actually enhance customer-supplier relationships.
The Right Questions ( Quality Progress ) All problem solving begins with a problem description. Make the most of problem solving by asking effective questions.
Solving the Problem ( Quality Progress ) Brush up on your problem-solving skills and address the primary issues with these seven methods.
Refreshing Louisville Metro's Problem-Solving System ( Journal for Quality and Participation ) Organization-wide transformation can be tricky, especially when it comes to sustaining any progress made over time. In Louisville Metro, a government organization based in Kentucky, many strategies were used to enact and sustain meaningful transformation.
Certification
Quality Improvement Associate Certification--CQIA
Certified Quality Improvement Associate Question Bank
Lean Problem-Solving Tools
Problem Solving Using A3
NEW Root Cause Analysis E-Learning
Quality 101
Making the Connection In this exclusive QP webcast, Jack ReVelle, ASQ Fellow and author, shares how quality tools can be combined to create a powerful problem-solving force.
Adapted from The Executive Guide to Improvement and Change , ASQ Quality Press.
Featured Advertisers
Success in your inbox
Get monthly insights handpicked by our editorial team. Act on it.

Connect with customers
LiveChat is a complete customer service platform that delights your customers and fuels your sales.
Trusted by 36,000+ companies

LiveChat helps you delight your customers and fuels your sales.
Showing top 0 results 0 results found, 4 steps to effective customer service problem solving with examples.
Post on Twitter
Share on Facebook
Post on LinkedIn
Post on Reddit
copy-button#copy track#send" data-controller="track" data-track-category="Success" data-track-action="Share" data-track-label="Copy link" > Copy link to clipboard Link copied to clipboard https://www.livechat.com/success/customer-service-problem-solving/
Recently, I've read an interesting customer service story.
An American Express customer has made a decimal mistake while making a payment and paid thousands of dollar instead of hundreds (ouch!).
He called AmEx to inform them about the mistake and ask for advice. He was assured by a representative that the problem won't affect his account and all charges will be refunded. But it turned out to be just the beginning of his problems.

A few days later customer has noticed that all his debit cards are suspended . But when he checked his account, he didn't find anything suspicious, not even a note that the account is blocked, so he called AmEx once again for clarification.
To his surprise, the representative he reached, asked why he didn't stop the payment and accused him of a fraud attempt. When customer responded that a previous rep didn't advise him to do so and assured that there will be no negative effects of his mistake.
Do you know what was the rep's response?
That's what customer service does. They tell you what you want to hear.
This quite nasty customer service story inspired me to write about the real purpose of customer service . Which is not "telling customers what they want to hear", but helping customers and resolving their problems . You'll also learn a couple of troubleshooting techniques that should make your job easier.
One representative can save the day
You might wonder how the story of the AmEx customer ended.
Well, the customer gave the company a last chance. He canceled the payment and got back to the customer service asking if there is anything else he'd have to do. But this time, he reached a different representative.
However this time... she is willing to listen. It was like night and day. I explain the situation to her. She is immediately understanding. She looks at my account, puts me on hold, then comes back on and says that her supervisor has authorized my card to be reactivated. I'm shocked... and happy.
Two reps working in the same customer service team for the same company and two entirely different customer experiences, a great one and a terrible one.
It's hard to tell what led to the bad experience: maybe the rep was not the right person to work in customer service, perhaps management failed to train and motivate them properly. The bottom line was that the customer called for help and did not get it.
In many cases, problem-solving is so difficult because you need to maneuver between company policies and the interest of a customer . That's what happened here. But it turned out that while the first rep was not able to deal with such a situation, the second had the right problem-solving skills to address the problem.
Four troubleshooting steps
Here's something that should be helpful for any customer service representative: a path that you should follow to provide satisfying solutions to customers.
1. Understanding the customer's point of view
So, here's the customer.
They contact you and ask for something impossible to do. Let's say that they were informed that your company will be cutting their phone line for non-payment. Now, this customer is asking you to credit the last couple of invoices because they don't have money (this is a real request I've got when I was working in call center).
A regular person's first thought would be: "Are they nuts?" But you are not a regular person. You're a Support Hero and it's your job to save the customer's day . Negative thinking won't get you any closer to the solution.
Maybe a customer is a fraud, but maybe they are in a very bad situation and desperately need help. You can't tell what's right and what's wrong at this stage, so you should assume that the customer is not a fraud and you should assist them.
It's not your job to judge their motives.
You need to listen actively to understand the problem and find a way you can help.
2. Identifying a problem
Sometimes customers are not able to clearly explain what is wrong and it's completely normal. They don't know your processes or your jargon; they just know that they've had expectations towards your product or services and are disappointed now .
It's your job to restore their faith in your company, but first, you need to find out where the problem is.
Here are few questions that can help you troubleshoot. Sometimes thanks to these simple questions you're able to see that there is an outage or that a faulty batch of products was sent out by a manufacturer!
Can you describe exactly the problem you're having?
When did the problem begin?
Has the problem occurred before?
And now ask yourself:
Are all users affected or only one?
Has anyone had this problem before?
Once a customer replies to all your questions, summarize answers back to them. It will let them know that you understand them and will help you to verify the facts.
If you haven't heard about such a problem, or you're not sure what to do, apologize briefly and inform that you need to discuss this case with your colleague or supervisor. Try to sound self-confident and don't be afraid to ask a customer to hold on a minute.
Customers appreciate getting the correct answer, even if it will take a bit longer.
But instead of saying an awful "sorry but I'll have to transfer you to the other department", try to say:
We're going to resolve this case for you. I will transfer you to a specialist who's the best person to answer your question.
3. Find a solution
Make a good use of your analytical thinking and try to find out a solution that will suit your customer the best.
Here are a few questions that should help you to plan a solution:
is there an adequate staff to carry it out,
who will be involved in solution,
how much time will a solution take (time frame),
what is needed to make it happen,
who should be informed about the planned solution,
how will a customer be notified about the solution.
Even if you're dealing with a case that's not going along with your company's policy, there is always something you can suggest.
Let's take the example with a customer asking for a refund .
Even if your company's policy won't let you credit these charges, there is still something you can do.
you can inform the customer that you cannot credit the bill, but you can split the payment into a couple of smaller payments so that the customer could afford it,
you can postpone the suspension of the account so the client can use the phone,
you can check the customer's account and suggest changing price plan to a cheaper one.
One unreasonable request and three possible solutions that depend on your creativity!
But what will happen if you are not the one who can solve the problem?
First of all, you might need to open a ticket .
You need to make sure that this ticket doesn't get lost in your CRM's oblivion, so you need to assign it to yourself and monitor if it's resolved in time. If the problem is not solved in 24 hours, you might want to contact the customer and inform them that you're still working on a problem.
Sometimes the problem cannot be solved at all. Your company stopped selling the particular product, you don't have a gluten-free option in your restaurant's menu, a customer wants to use a feature that doesn't exist...
It doesn't mean that you can't still find a possible solution!
If you're not selling these gear bags, let the customer know who does it. If you don't have anything gluten-free in your menu, ask the customer if they want something from the nearest shop.
Making an extra mile can translate into customer happiness even if you don't solve the problem the way customer expected you to do .
Here's an example from our experience. My colleague, Justyna , has received a chat from a customer upset with the fact that our application doesn't have an in-built screen-sharing and screenshot-making tool.
After taking a few deep breaths, I told Aline that even though the tools that she needed doesn't come with LiveChat itself, she can set up an integration allowing her to have screen-sharing sessions with her clients, and use a free screenshot tool like Jing. That did the trick! She was very happy with the solution, so my mission was accomplished.
4. Fix the problem and follow up on the solution
At last! The customer has agreed on a solution. You've briefly apologized for the problem and now you can fix it and close the case, right?
Unfortunately, it's not that simple.
Sometimes your solution will not resolve the cause of the problem. Let's say that customer had an issue with the application and you've suggested restarting the device. It is possible that it will resolve the problem, but it's more likely that this customer will come back to you. And it's more probable that they'll be upset that the solution you gave them did not work.
I know, when working in customer service, you hardly have time to go for a break and I'm asking you to follow up your customer's problems, right?
But there are positives of spending a bit of your time on contacting these customers back.
you show that you really care about them and create an awesome experience,
you make sure you won't get a call or chat from a furious customer,
you check if your solution worked and will be sure of it next time.
And if you don't have time to make any calls or send any emails, there are two things you can do. The first thing is, some apps allow you to send automatic emails after a ticket is solved (LiveChat does that, for example, you can test it and try ).
But your team can also make use of an automatic survey that will tell you how happy the customer was and if you've helped to solve his problem. You can use SurveyMonkey, Typeform, or you can simply send a template of a message asking two questions:
did we help you to solve your problem?
can you rate your overall experience (1-10)?
Customers will appreciate it!
Problem solving is a mindset, not an ability
If you've read my post about problem solving skills , you remember the golden rule of customer service. Even when the problem does not concern your product, you can still create an amazing customer experience by suggesting a possible solution.
Because this is what is customer service for. For solving problems, not for telling what customers want to hear.
So as long as you don't give up, use the advice I've shared with you and think positive – there will be no problem you can't solve.
You might want to check " 5 Common Customer Service Problems and How to Resolve Them ."
Get a glimpse into the future of business communication with digital natives.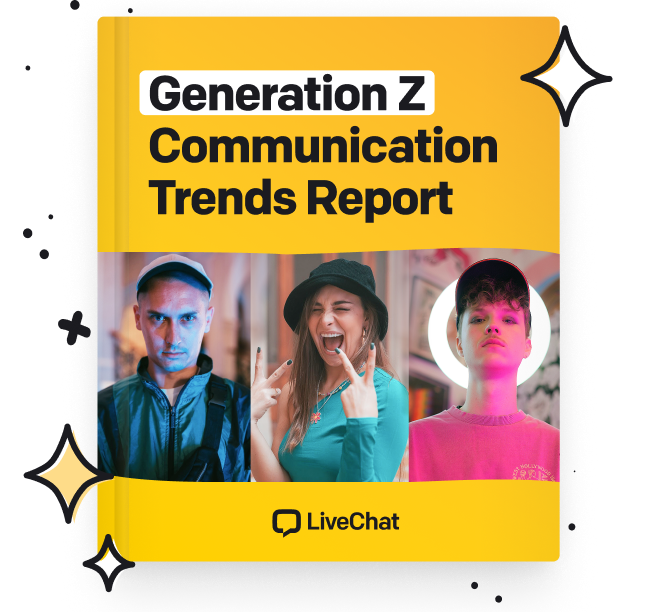 Keep the conversation going
copy-button#copy track#send" data-controller="track" data-track-category="Success" data-track-action="Share" data-track-label="Copy link" > Copy link Link copied to clipboard https://www.livechat.com/success/customer-service-problem-solving/
Thanks for your comment!
It will go live straight after moderation. Come back soon!
Something's wrong
We are sorry! Please try again in few moments
Server error
Something went wrong. Please try again in few moments.
Related topics
LiveChat is a complete customer service platform that delights your customers and fuels your sales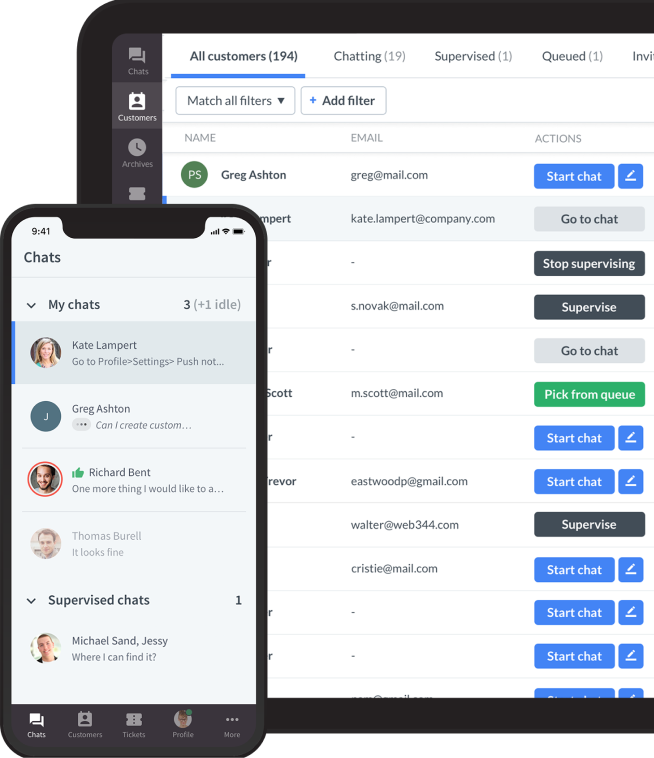 You may also like
6 min read | Jul 03 | Olga Rogacka
6 Steps to Effective Problem-Solving
Problem-solving is a crucial skill to have for success in business. It makes you more... read more
7 min watch | Nov 16 | Kaia Madalinska
The Netflix Effect
In this episode, we will be discussing Netflix's amazing customer experience, and what you... read more
29 min watch | Nov 16 | Marcos Bravo
The CEO Journey. With Matt Tarczynski
In the second part of our chat, we asked Matt Tarczynski what it takes not only to build a... read more