Skip to main content
Skip to primary sidebar
Skip to footer
Career Connectors
Connecting professionals in career transition with hiring companies and quality resources
How To Write a Career Mission Statement For Yourself
Apr 13, 2021
What is your career mission statement? What tip would you offer to someone looking to craft a personal mission statement? To help you craft your personal mission statement, we asked business leaders and HR experts this question for their own mission statements as examples to help you with yours. From establishing your values to never stop improving, there are several examples of mission statements that may help you craft your personal career mission statement.
Here are seven ideas to help you craft your personal mission statement:
Establish Your Values
Effectively communicate it through video, lead with internal drivers, select word choice carefully, culture of empowerment, never stop improving, keep it tangible and short.
The short version of my career mission statement is; To be a knowledgeable, trusted, and reliable person who can be counted on to solve problems for my client and do whatever it takes to do right by them. In order to achieve this, I will continue to read articles, listen to podcasts, attend webinars, frequent conferences, and seek out leaders in my field to further understand the field that I am in and become a lifelong learner. A great tip to crafting a personal mission statement is to establish your values, determine what your interests are, and set SMART goals.
Noah Downs, American Pipeline Solutions
Make sure that the personal mission statement can be effectively communicated via video. With video interviewing here to stay, it's important that your mission statement be short, concise, and convincing in a video format. Many employers are automating recruiting tasks to better screen candidates, including initial video interviews. By practicing your career mission statement via video, you can ensure that you'll be able to handle any interviewing format that lies ahead.
Josh Zywien, Paradox
I learned the hard way that the best career mission statements have to start with how I wanted to feel, contribute, grow, experience, and learn. My early statements often lead with external factors like titles, income, and financial rewards. This often led to feeling empty and unfulfilled in my work. Now, when I focus on what makes me internally satisfied, I find myself exactly in the right seat on the right bus.
Jenn Christie, Markitors
A career mission statement should feature your goals, personal values, and previous success. Most importantly though it should showcase your personality. This statement should serve as a differentiator that enables you to stand out from other professionals who work in the same area of expertise. Select language that evokes emotion or is synonymous with your own vernacular. Using linguistics that people assimilate to you will serve to enhance the connection made between you, your way of speaking and those you communicate with, and the career mission statement. Ideally, you'd like for this statement to easily identify you as the professional being described, without needing to be directly identified.
Tyler Butler, 11Eleven Consulting
My personal career mission statement has been to, "Create an environment where everyone is empowered to do their best quality work." My mission was born from my past experience with poor leadership. Find a passion from your past to craft your future. When I became a leader for the first time I was focused on creating a positive environment to work in. The increased sales and better customer experience were a byproduct of taking care of the team. So ask yourself, what is something you want to change, impact or make better?
Steven Brown, DP Electric Inc
I believe there's always an area for improvement, no matter what you do. Even if you think your outputs' quality can't get better, you can always do it faster, use fewer resources, or scale it. When setting career mission statements, it's crucial not to anchor them around specific job market conditions. They should be universal, so you can still use them when the economic climate changes.
Michael Sena, Senacea
"To recruit, retain, train, and develop the most qualified individuals, for companies whose products/services align with my values." This is my personal career mission statement. It is my "north star" that reminds me on a daily basis why I chose this career path and why it intrinsically refuels my motivation to continue. When crafting one for yourself, try to keep it as tangible and short as possible. Some of the most memorable mottos are the shortest ones for a reason. The legendary – "Just Do It", "Think Differently" or "Open Happiness" just to reference a few. More than two sentences is a no-no in my book. At the same time, it shouldn't be too vague and abstract. Make it personally relatable – to YOU. Ideally, it's measurable too, so that your "career compass" has some solid footing to stand on.
Jagoda Wieczorek, ResumeLab
Terkel creates community-driven content featuring expert insights. Sign up at terkel.io to answer questions and get published.
Socialize with us!
Testimonials.
I own a Leadership Company, and have enjoyed attending the Career Connector events. With gratitude I listen to the speakers you line up… they offer phenominal and practical information. What has struck me each time has been the audience. My heart hurts for them. They are in a desperate place in their lives. I have had the opportunity speak with a few of the people in attendance, and they have shared their stories… I walk away thankful to God for the opportunity to meet these people and they … Read more
I wanted to take the time to write you to express my sincerest gratitude for all that you and those who work with you do for so many of us!I lost my job due to our medical office being closed. Your company came highly recommended by an HR person who worked with us as employees to help give us a hand up to become employed again through a very generous program provided by my employer. I am employed again in a job that I really love. It came with wonderful, kind, encouraging management and coworker… Read more
Career Connectors is dedicated to bring the job seeker to reputable employers in the valley. I appreciate their professionalism and their consistency to continue to provide great leads.
A good friend told me of her success using Career Connectors networking.  She landed an interview and later, a job in her field, after attending one networking event.  So, when it was my turn, I had to check it out. I was starting to get the blues about being unemployed but the speaker lifted me out of the dumps and put my life back in perspective. So many people were there to help and offer support!   Just by networking that day, I was given a job lead that has led to two interviews and a… Read more
I just wanted to reach out to you and say Thank you to you, Career Connectors and the whole Team! So let me explain why, while I've known of Career Connectors for many years, I never thought that I would need employment services or guidance before. On September 19th 2019 I found myself being let go from my job. I later the next day saw the Career Connectors event at Central Christian Church Gilbert Campus coming up on Facebook and signed up for it. While attending my first Career Connectors even… Read more
I just want to thank you and compliment you and your organization, all the people involved, for providing this free service to the people in the Phoenix area. Last August found me in the unforeseen, unplanned position of being without a job. This circumstance, anytime but especially being a single mom, is very unsettling, sometimes downright frightening and anxiety inducing. I began attending many of your weekly meetings through November, when a job opened for me. I found solace and guidance at … Read more
I just wanted to let you know that there's a reason why I haven't come to any recent Career Connectors events. It's because I found a job! This past week, I started working as a data scientist for a technology startup in the financial services space that's based in downtown Phoenix. It's an ideal opportunity for me to break into the data science industry with an exciting company. I wanted to thank you and your staff for putting together all of your fantastic networking events and bringing … Read more
I want to follow up with you about the position I had hoped to get. I got it! And thanks to Jack Milligan's Salary Negotiation talk, for the first time I didn't feel like an idiot when I accepted a job. No one else offers that kind of information.   Thank you for all you do. I appreciate your efforts to bless others.   May you and yours be blessed every day. Thank you for everything,
Navigating the world of career transition can be an overwhelming experience.  In addition to the mechanics of transition (updated resume, career search strategies), there is the deeper need to connect to people who are in the same situation as you are.   For me, all of this was answered by Career Connectors!  Had it not been for this organization, I might still be sitting in my house, wondering what to do next!  At just one Career Connectors meeting you can be inspired by great speakers, … Read more
When I was laid off last year from the company I'd worked with for over 14 years, I actually found I had an even BIGGER job ahead of me. With an outdated resume, no interview skills, and a huge feeling of displacement, I went searching for help. Career Connectors was my savior. The program and its' leaders were instrumental in rebuilding my confidence, providing the necessary tools and resources, and ultimately responsible for my landing a great position with a company that was featured at o… Read more

The blog for passionate planners

Leadership , Project Management
How to Create a Mission and Vision Statement for Your Career
If you manage projects for an organization, you work hard leading teams and working with others to meet your company's grand mission and vision. And working toward a clear vision that you can get behind makes your job exciting, motivating, meaningful and fun—even during the challenging periods.
But do you have a mission or vision for your career? Even if you work for companies your entire life, you are in the process of building your own personal industry complete with core values, dreams and financial goals. Successful people know this, and they establish mission and vision statements throughout their professional lives. These statements act as a recognition that each of us, in the end, is the real nurturer and driver of our working lives.
A personal mission and vision statement gives you something to strive for at every stage of your career. Consider these statements inner beacons that tell you whether you're on the right path or not—and whether the values of an organization align well enough with yours.
So how do you go about creating a mission and vision statement? (And what's the difference between each one?)

We turned to Project Manager Coach and LiquidPlanner blog contributor Susanne Madsen to take us through the steps. This Q&A is set up to help you create a mission and vision statement that can turbocharge your career goals and aspirations.
LiquidPlanner: What is a vision and mission statement?
Susanne:  A vision and mission statement is a paragraph that encapsulates everything you would like to be, do, and have in your career.
It defines what success and excellence look like to you. It expresses your vision for where you want to be in the future and it reflects your values, goals, and purpose and how you want to operate.
Everyone's will look different, but here's an example:
"My vision is to be an honest, empathetic and impactful project leader and to be recognized internationally within my industry. I am committed to growing as a leader and delivering value-added projects to the end users. My mission is to create and lead a dream team where everyone is playing to their strengths."
Q: What's the difference between a vision and a mission statement?
A: Vision and mission statements are very similar but they have their differences. Let's take a deeper look:
A vision statement:
Describes what you want to achieve in the  future .
Answers the question  "Where do I want to be?"
Defines the optimal desired future state—the mental picture—of what you want to achieve over time, say in five, ten or more years.
Inspires you to give your best and shapes your understanding of why you are doing what you do.
Example:   "My vision is a world where everyone is contributing with their full potential; where each person uses their intrinsic genius and leadership to deliver outstanding value-added projects."
A mission statement:
Describes what you want  now  and  how  you will achieve your long term aspiration.
"What do I do?"
"How do I do it?"
"Who do I do it for?"
"What makes me different"
"What is the benefit?"
It talks about the present leading to the future, and how you will get to where you want to be.
Examples: "My mission is to help project managers transform into impactful project leaders."
In order to get the most value from this exercise I suggest you combine the two into a vision  and  mission statement. Define the overall essence of what you want to achieve and then look at what you are doing to achieve it.
Q: What makes a good vision and mission statement? A: Here's a list of what goes into a combined vision and mission statement.
A good vision and mission statement is concise and motivating.
It's easy to memorize and repeat.
It should be clear, engaging, realistic, and describe a bright future.
It should furthermore state your intentions, summarize your values, and demonstrate your commitment to living up to these values.
When you're in the right job, your vision and mission statement should align with the values, culture and possibilities of the organization you currently work for. If not, you'll have to be honest and assess if the job is still a good match for you. With a strong vision and mission statement, it's easier for you to evaluate in which industry and company you should invest your time and energy.
Q: So, how do I go about writing a mission statement?
A: Find quiet place where you feel at ease and where you will not be interrupted. Then follow the below steps and guiding questions.
Step 1: Answer the following questions as honestly as you can.
What personal qualities do you most want to focus on?
How can you use and display these qualities in a working environment?
What are the most important values you want to express at work?
Step 2: Imagine yourself five years from now.
Imagine that you are managing and leading the project of your dreams. Envision that everything is exactly the way you want it to be: the type of project you are running, its size and complexity, the people involved, and your own capabilities as a project manager and leader. Imagine that you are every bit as successful as you want to be. Feel it and see it.
Keep picturing yourself in the future, and be as specific as possible in your observations. Where exactly are you? What are you doing? Who are you interfacing with? What does the project look like? How big is it? How are you feeling? Why do you want to be exactly where you are? What is the bigger impact you are having?
Draw a picture of yourself and your surroundings five years from now. Draw the elements you see, feel and hear. Use as many colors as you want and be as detailed as possible.
Step 3: Sum up your vision and mission.
How can you sum up your vision and mission as a project manager?
What are the things you ultimately want to achieve?
Who do you want to be? What do you want to do?
What is the  impact  you would like to have and how would you like to be perceived?
What will need to happen in order for you to feel proud of your progress as a project manager in five years' time?
Now, take everything—the envisioning, writing, drawing, dreaming—and use the language and imagery to write your own vision and mission statement. Give yourself as many drafts as you need to refine it. Remember it should express the values that you would like to live and work by, and that above all you must feel excited and inspired by it when you read it out loud.
Review your vision and mission statement.
As your view of yourself and the future changes, it is important that you review, update and refine your vision and mission statement at least once every six months. If you feel really inspired, you may even want to expand it with more detail and turn it into a personal development plan.
There's almost nothing you can do for your career success than give yourself a clear roadmap for where you want to go and how to get there!
Looking for more project management tips? Read our eBook, How to Manage Chaos: Advice on Project Management and Workplace Conundrums .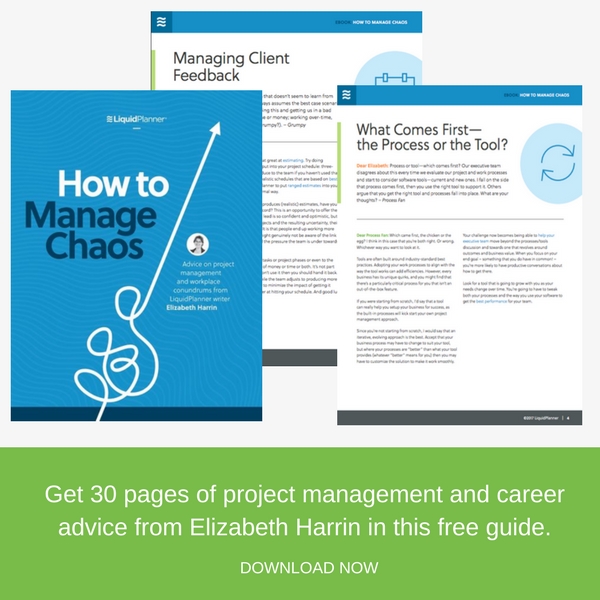 REQUEST DEMO
Get a live walkthrough with a Product Advisor
Experience all the features for 14 days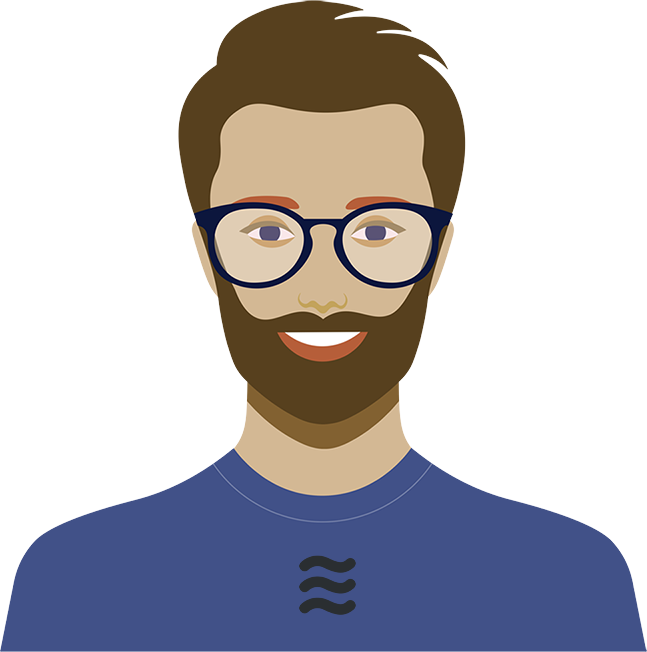 More Articles
Feature Tip Videos , Liquidplanner 101
Blog Featured Post , Collaboration , Project Management
You control your data
We use cookies to tailor the experience of creating resumes and cover letters. For these reasons, we may share your usage data with third parties. You can find more information about how we use cookies on our Cookies Policy . If you would like to set your cookies preferences, click the Settings button below. To accept all cookies, click Accept.
Cookie settings
Click on the types of cookies below to learn more about them and customize your experience on our Site. You may freely give, refuse or withdraw your consent. Keep in mind that disabling cookies may affect your experience on the Site. For more information, please visit our Cookies Policy and Privacy Policy .
Choose type of cookies to accept
These cookies allow us to analyze our performance to offer you a better experience of creating resumes and cover letters. Analytics related cookies used on our Site are not used by Us for the purpose of identifying who you are or to send you targeted advertising. For example, we may use cookies/tracking technologies for analytics related purposes to determine the number of visitors to our Site, identify how visitors move around the Site and, in particular, which pages they visit. This allows us to improve our Site and our services.
These cookies give you access to a customized experience of our products. Personalization cookies are also used to deliver content, including ads, relevant to your interests on our Site and third-party sites based on how you interact with our advertisements or content as well as track the content you access (including video viewing). We may also collect password information from you when you log in, as well as computer and/or connection information. During some visits, we may use software tools to measure and collect session information, including page response times, download errors, time spent on certain pages and page interaction information.
These cookies are placed by third-party companies to deliver targeted content based on relevant topics that are of interest to you. And allow you to better interact with social media platforms such as Facebook.
These cookies are essential for the Site's performance and for you to be able to use its features. For example, essential cookies include: cookies dropped to provide the service, maintain your account, provide builder access, payment pages, create IDs for your documents and store your consents.
To see a detailed list of cookies, click here .
This site uses cookies to ensure you get the best experience on our website. To learn more visit our Privacy Policy

Career Advice
Personal Mission Statement (30+ Examples & Writing Guide)
Personal Mission Statement (30+ Examples & Writing Guide)
If you don't have a personal mission statement, you're probably wasting a lot of time. See why and how to write a personal mission statement that'll make all your choices easy.
As seen in:
A personal mission statement isn't just a good idea—it's the most powerful tool for reaching your goals.
It shows you what to say no to . It saves you time and energy for what matters most. It aligns your every moment in service of your goals. Plus, it isn't hard to write. It comes down to asking yourself a few questions. And we'll show you exactly what.
This guide will show you:
How to write a personal mission statement in five steps.
30+ great personal mission statement examples from visionaries and CEOs.
Career goals statement examples for professionals and students.
How to use your mission statement to reach goals faster.
Want to save time and have your resume ready in 5 minutes? Try our resume builder. It's fast and easy to use. Plus, you'll get ready-made content to add with one click. See 20+ resume templates and create your resume here .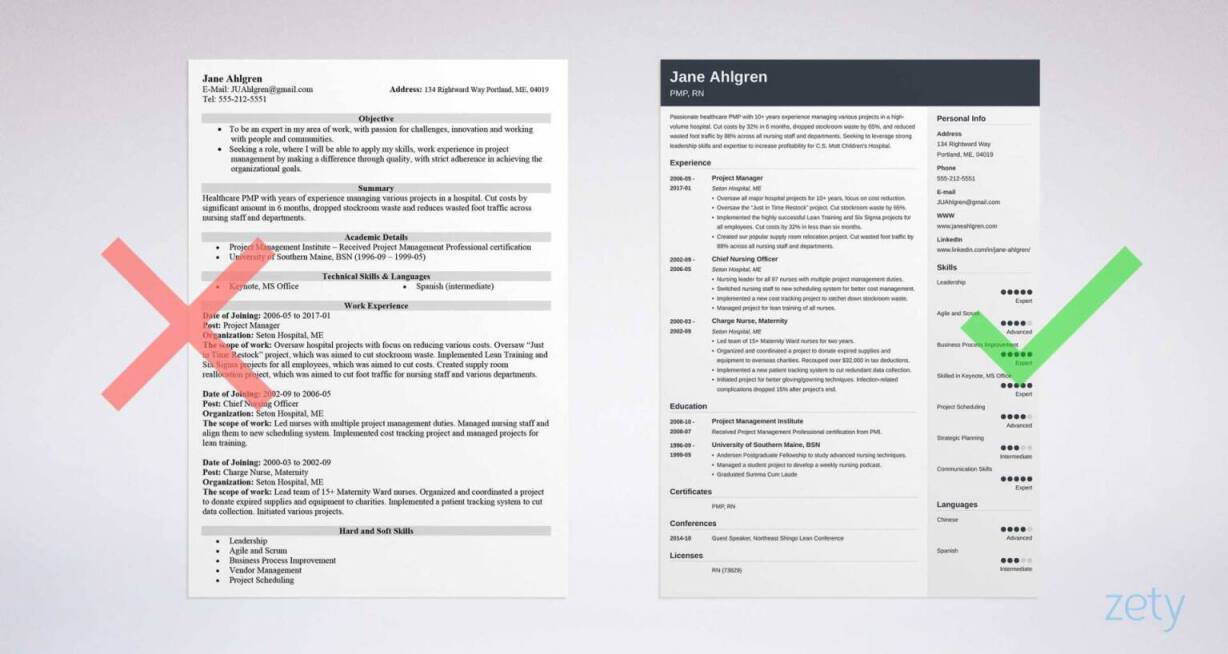 Sample resume made with our builder— See more resume samples here .
Personal Mission Statement Examples
"To simplify the complicated"
"To inspire success through teaching"
"To create the best version of tomorrow"
"To be kind to others and myself"
"To improve lives through better healthcare"
"To help as many people as possible as much as possible for as long as possible"
Those are great examples of personal mission statements.
What makes them tick?
They cut to the core. They create a shining star that slashes thousands of yearly decisions.
What is a Personal Mission Statement?
A personal mission statement is a 1-2 sentence motto that shows how you define yourself as a person or a team member. It identifies your personal or professional purpose and presents why it is important to you.
It's a "reason to be." Many experts think it can turn someone from a "rudderless ship" into a goal-focused success. Mission statements save time by cutting out unneeded tasks.
Think of it like this:
Successful people have the same number of hours in a day. Their #1 strength? They don't let their time get sucked away by non-goal pursuits.
A personal or career mission statement is like a sword. It slices away the "good ideas" keeping your dreams from reality.
Here are 15 personal mission statement examples from CEOs, founders, and artists:
15 Examples of Personal Mission Statements from Visionaries
1. "To make people happy" –Walt Disney
2. "To serve as a leader, live a balanced life, and apply ethical principles to make a significant difference." –Denise Morrison, Former CEO of Campbell Soup Company
3. "To have fun in my journey through life and learn from my mistakes." –Richard Branson, Founder, Virgin Group
4. "Not merely to survive, but to thrive; and to do so with some passion, some compassion, some humor, and some style." –Maya Angelou
5. "My life purpose, to love and honor God, is foundational. My professional purpose is to be a 'Builder' of a future that transcends ways of working for the wellbeing of people and businesses throughout the world." –Miles Everson, Former Vice Chairman, PwC US
6. "If something is important enough you should try, even if the probable outcome is failure" – Elon Musk, CEO of Tesla
7. "To be a teacher. And to be known for inspiring my students to be more than they thought they could be." –Oprah Winfrey
8. "Treat people how you want to be treated." –Lou Gerencer, CEO one of the top ten Harley dealerships in the US
9. "To do well by doing good while supporting and elevating those around me." –Scott Shuda, Chairman of Infusystem, Inc.
10. "I shall not fear anyone on Earth. I shall fear only God. I shall not bear ill will toward anyone. I shall not submit to injustice from anyone. I shall conquer untruth by truth. And in resisting untruth, I shall put up with all suffering." –Mahatma Gandhi
11. "Love God and others." –Joel Manby, CEO of Herschend Family Entertainment
12. "I want to serve the people. And I want every girl, every child to be educated" –Malala Yousafzai, Nobel Prize laureate and activist
13. "To use my gifts of intelligence, charisma, and serial optimism to cultivate the self-worth and net-worth of women around the world." –Amanda Steinberg, Dailyworth.com
14."Embrace something bigger than yourself. Continually improve your skills. Inspire others to achieve great things and make the world a better place. This is how the quiet humble person leaves their mark." –Jeffrey Madden, Senior VP and Portfolio Manager at RMB Capital
15. "To help people find hope after loss" – Gloria Horsley, Founder of Open to Hope
Those are inspiring personal mission statements.
They're easy to remember and they keep their visionaries pointed "true north."
Now let's write yours.
Pro Tip: The personal and career mission statement examples above can inspire you. Refer to them as you make your own statement with the tips below.
Do you need a mission statement for yourself because you're in a dead-end job? See our guide: I Hate My Job. I Hate My Boss. Here's What to Do *Now*
How to Write a Personal Mission Statement
How do you write a personal mission statement?
It's not hard.
It's actually fun.
This is where you dream big. Paint a picture powerful enough to get you out of bed each morning with energy and joy.
1. Identify the value you want to create.
What value do you want to bring into the world? What's important to you? Pick a dream big enough to power your inner fusion reactor for life.
2. Choose who you want to create it for.
Who will you help? Everyone? Children? Women? People who've lost hope? Pick recipients of your talents to sharpen your focus.
3. Point out core skills you'll use to create it.
What's your superpower? Mine is explaining complex things clearly. Yours might be teaching, compassion, creating, or design.
4. Add what you want for yourself.
Don't skimp on your needs. Some of the best personal mission statements are self-focused. Richard Branson just wants to learn and have fun.
5. Cut the specifics. Save details for your goals list.
Want to run a restaurant? Go to the moon? Make $10 million? Save specifics like that for your personal career goals .
But how do I do it?
Still not sure how to write a personal or career mission statement? Use the personal mission statement template below.
Personal Mission Statement Template
To use [XYZ SKILLS] to [HAVE XYZ POSITIVE OUTCOME] for [XYZ GROUP OF PEOPLE] with [XYZ DETAILS].
That's a comprehensive template for a personal or career mission statement. But—
You don't need to use every part of it. Be creative.
You can drop the "skills" part and the "details" part. The "group of people" can just be you.
You could use all the parts like this example...
To use my coaching skills to help teens realize their dreams and grow into caring, confident adults.
...or strip it down to one "positive outcome" like this:
To spread happiness.
Pro Tip: Keep your mission statement for yourself short. Make it easy to remember during everyday crises. Make it catchy enough that people remember it.
After you write your personal or career mission statement, plot your goals. See our guide: What Career Is Right for Me? What Job Should I Have? How to Choose
When making a resume in our builder, drag & drop bullet points, skills, and auto-fill the boring stuff. Spell check? Check . Start building a professional resume template here for free .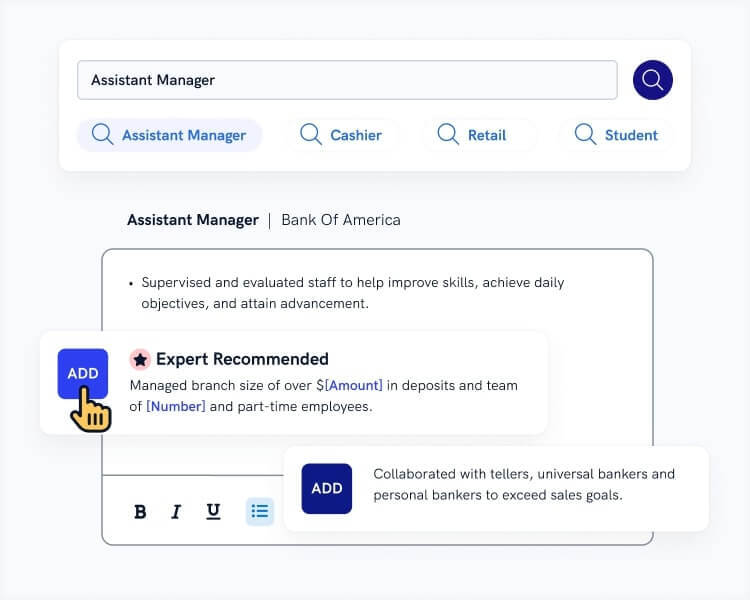 When you're done, Zety's resume builder will score your resume and tell you exactly how to make it better.
Personal Mission Statement Examples for Students, Careers, and Resumes
Need more personal mission statement examples?
Mission statements are different for students, careers, and resumes.
"To make people happy" is a great life goal. But it won't build the best academic career or look good in your professional resume summary .
Use the examples below to write your career goals statement, student mission, or resume personal statement.
Career Goals Statement Examples
"To save lives"
"To pursue lifelong learning and growth"
"To create visual stories that educate and entertain"
"To use my medical skills to do no harm and to extend quality of life"
"To give students every chance to grow into confident, effective adults"
Those career goals statements will inspire you, and inspire employers and clients to hire you.
Personal Mission Statement Examples for Students
"To learn and grow"
"To gain the skills to make the world a better place"
"To build a network that will carry me through life"
"To discover the magic and mystery of life"
"To grow into someone who can save the planet"
The student mission statements above will keep your eyes on the prize in your educational journey.
Resume Personal Statement Examples
"Use my project management skills to deliver efficiency and productivity"
"Create powerful software solutions that make users' lives easier"
"Provide the best possible care to patients with maximum efficiency."
"Defend client rights against those who would subvert them"
"Save time and money for my clients"
Did you notice?
Those five resume personal statement examples are a bit different.
They're more detailed. Why?
Because they show off central skills to potential employers.
You can add them to your resume summary statement like this:
Accomplished accountant, skilled in financial statements and asset management. Seeking to save time and money for [XYZ COMPANY]. At ABC company, spotted recurring issue that created $2.3M annual cost savings...
Pro Tip: Share your personal mission statement with people who are important to you. That means employers, mentors, clients, and networking connections.
Do you need to answer the what are your career goals interview question? See our guide: What Are Your Career Goals: Set & Reach Them
How to Use Your Personal Mission Statement
Congratulations!
You've got a personal mission statement. But—
How should you use it?
Use a personal or career mission statement to streamline your decision-making.
Let's go back to Warren Buffett. He keeps a list of five goals . He puts everything else on an "Avoid at All Costs" list.
Because that keeps him aimed at what's important.
Use your mission statement or career goals statement like that. Every time you face a choice between two options, let your mission statement decide.
Let's say you're a teacher. You're given a choice to teach one of two classes, but you're not sure which to pick.
If your mission is "to inspire success through teaching," choosing will be easy. You'll select the class that brings more success to more students.
Pro Tip: Make your mission statement first. Your goals come next (long term, then short term). Your schedule comes last. Use all three tools to get to your dreams.
Need to write a career objective for a job? See our guide: 50+ Resume Objective Examples: Career Objectives for All Jobs
Bonus: Corporate Mission Statement Examples
Personal mission statements are a great idea, but where do they come from?
Philosophers have sung the praises of mission statements for centuries. In our modern lives, the best mission statements come from big companies.
Businesses use them to steer by. They often spend years and thousands of dollars getting them right.
Get inspiration for your mission statement for yourself, career goals statement, or resume personal statement from the examples below.
State Farm: "To help people manage the risks of everyday life, recover from the unexpected and realize their dreams."
Kroger: "To be a leader in the distribution and merchandising of food, health, personal care, and related consumable products and services."
Verizon: "To enable people and businesses to communicate with each other."
Microsoft: "To empower every person and every organization on the planet to achieve more."
Netflix: "We promise our customers stellar service, our suppliers a valuable partner, our investors the prospects of sustained profitable growth, and our employees the allure of huge impact."
Google: " To organize the world's information and make it universally accessible and useful."
Tesla: "To accelerate the world's transition to sustainable energy.
Apple: "Apple designs Macs, the best personal computers in the world, along with OS X, iLife, iWork and professional software. Apple leads the digital music revolution with its iPods and iTunes online store."
Do those corporate statements give you ideas for your personal mission statement?
Some are short and some are long. All are big dreams.
Pro Tip: Your personal or career mission statement is a living document. Update it as your situation and interests change.
Are you writing a mission statement for yourself to find a job at a great company? See our guide: Job Search Now: How to Find a Job You'll Love Fast
Plus, a great cover letter that matches your resume will give you an advantage over other candidates. You can write it in our cover letter builder here. Here's what it may look like: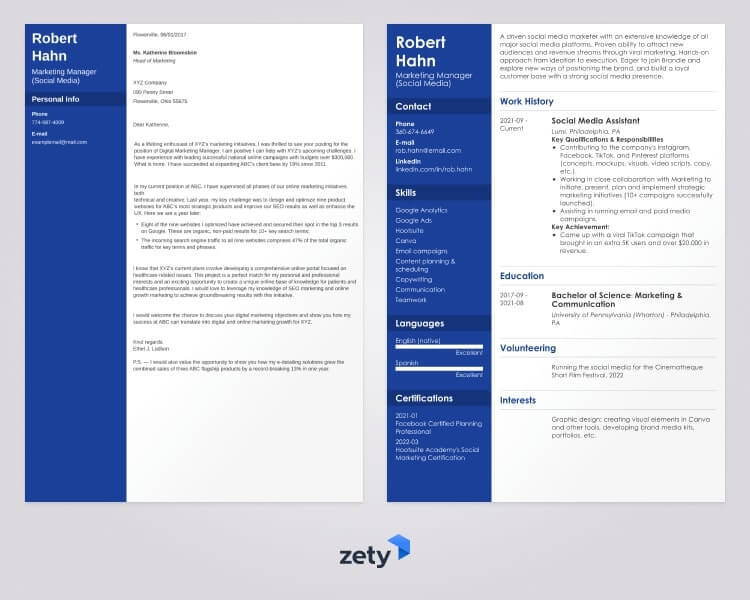 See more cover letter templates and start writing.
Key Takeaway
Summary: How to write a personal mission statement:
Review personal mission statement examples for inspiration.
Identify the value you'll create and who you'll create it for.
Center your mission around your core strengths.
Keep your statement short and focused.
When you finish writing your personal mission statement, would you do me a favor? Please share it in the comments. Let's inspire each other to do more!
Don't miss out on exclusive stories that will supercharge your career!
Get a weekly dose of inspiration delivered to your inbox
Similar articles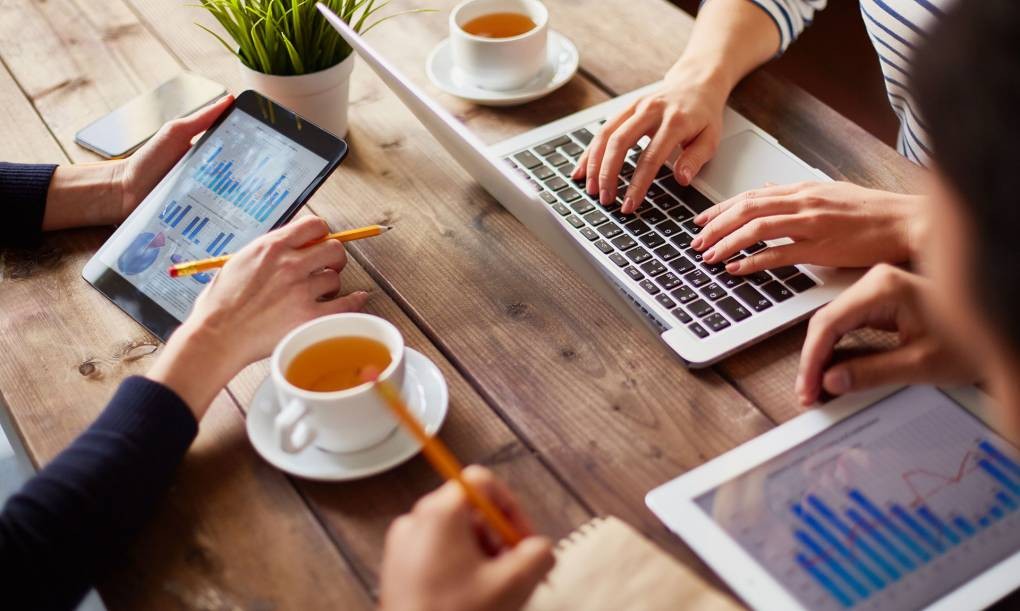 Accomplishments for a Resume: Key Achievements & Awards
On your resume, listing your skills, duties, and responsibilities won't do. To land that dream gig, you need to highlight your achievements. Here's how.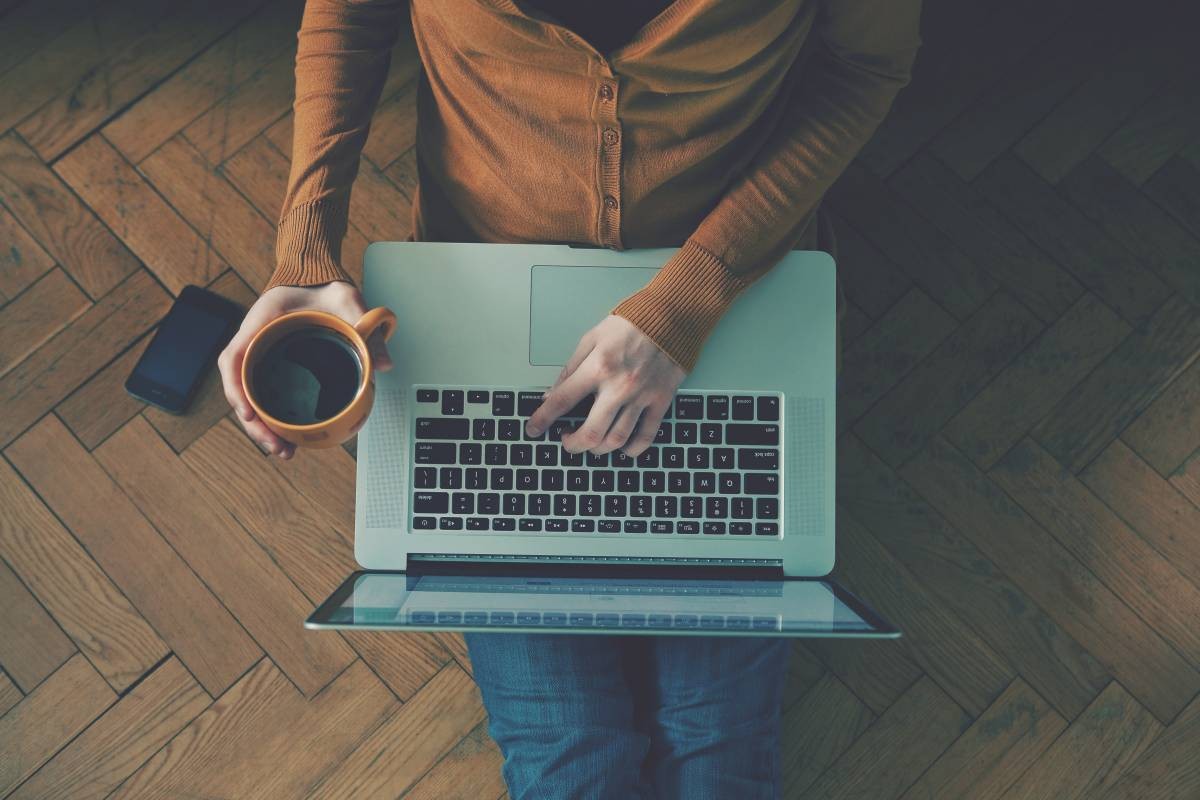 The 3 Best Resume Formats to Use in 2023 (Examples)
How to pick the best resume format to make sure your application stands out? Learn from our handy guide on resume formatting. Read more!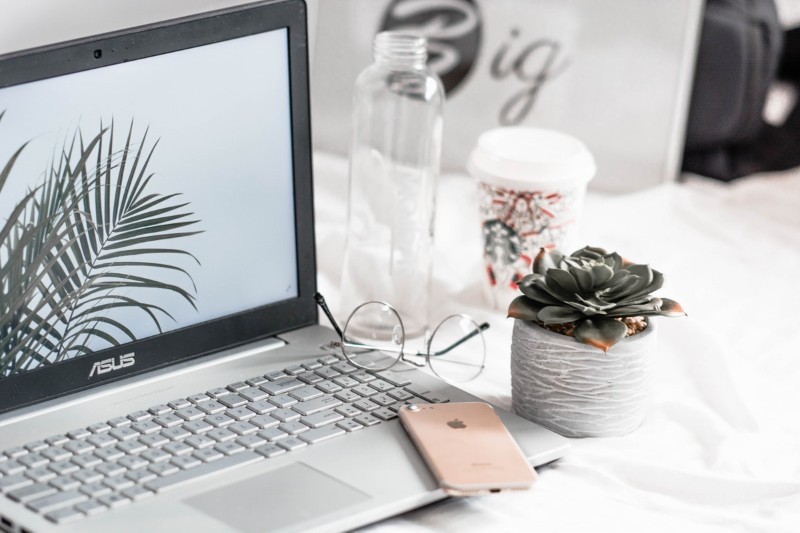 How to Write a Pain Letter to Get Callbacks in 3 Steps
Yikes! 2% of cover letters get interviews. Yet 25% of pain letters get calls. Show the hiring team you're their knight in shining armor with this wow-getting pain letter example.
How to Nail your next Technical Interview
You may be missing out on a 66.5% salary hike*, nick camilleri, how many years of coding experience do you have, free course on 'sorting algorithms' by omkar deshpande (stanford phd, head of curriculum, ik).
How to Write a Personal Mission Statement - With Examples
A personal mission statement plays a crucial role in helping you determine your objectives and beliefs. It essentially helps you understand your professional priorities. It further gives you a chance at making well-versed and informed career decisions. 
A personal mission statement is quite easy to write. In fact, you can write a pleasing personal mission statement in minimal time. This article will help you understand some of the pro tips on how you can write an engaging personal statement.
Here's what this article will cover:
What is a personal mission statement?
Why write a personal vision statement?
Personal mission statement examples
Steps- How to write a personal vision and mission statement
Talk to your peers
Identify the legacy you want to leave
What are good vision and mission statements.
Personal mission statement template
Some Tips To Keep In Mind
Wrapping It Up
What is a personal mission statement? 
A personal mission statement, as previously stated, is a small yet precise statement that includes your core values, the kind of individual you are, and what success means to you. A personal mission statement is a one-stop solution to getting clarity on your goals, making reliable decisions for yourself, and even staying focused and motivated to accomplish your short and long-term goals. A personal mission statement thus helps in defining the line between decision making. 
Why write a personal vision statement? 
A personal mission statement is an extremely vital source of information that you must have to make precise and influential decisions for your career as a whole. It can help you create a strong foundation for your core values and objectives. A personal vision statement, moreover, plays a collective role in helping you distinguish your personal and professional life. From the way you wish and choose to spend your time, how you engage with people in your surroundings, and even how to do your job, a personal mission statement helps massively. 
Personal mission statement examples 
Given below are some of the prime personal mission statement examples. Go through each one of these personal vision and mission statement examples to get clarity on what exactly your personal mission statement should consist of. 
To make a positive impact on every person I meet 
To generate positive energy on every individual I interact with 
To motivate and encourage every individual I come across 
To establish new and developed opportunities for the millennial youth 
To make a positive mark on the lives of people I love 
To inspire people to create a life for themselves that they most desire 
To utilize my writing skills to motivate people to make a change
To inspire children around the world to be better than yesterday
To relish my life's journey and learn crucial lessons along the way
To always be kind to me and others
To be a source of inspiration for others
To be a responsible leader to my team to live a healthy and balanced life
To utilize my gift of speech to boost the self-esteem of others
To always help anyone and everyone
To make vital healthcare policies, so others lead a thriving life
To be an honest and encouraging leader so that our group can formulate technologically advanced solutions
To be a source of  inspiration to my students and impart important values to them through my teaching
To use my privilege to educate women around the world
To bring prosperity and happiness to people across the globe
To be a source of hope for men, women, and children
To create change by means of teaching 
To help others identify their greatest strengths 
To equip everyone around me with essential resources to accomplish their dream goals 
To celebrate and support my loved ones 
To give children the right raw materials and support for growing into their best potential 
To help improve the quality of life of people around me 
To help students become inspired enough to go after their dreams 
To share motivating stories with children to boost their motivation to achieve their goals 
To share essential insights and my knowledge with people to educate them 
To make use of my skills and gifts in the best possible way to improve the lives of the others 
To make use of technology in the best way possible to improve the lives of others 
To leave the world behind in a much better place than I initially found it 
To respect myself enough to reach my highest potential 
To inspire and educate the young youth and make them more empathetic, kind, and efficient individuals
To treat every individual with kindness, love, and compassion
To create an influential impact on the lives of my loved ones 
To help people appreciate every small thing in life. 
To build hope among individuals to push them to achieve their dreams. 
To inspire my friends and family in every way I can 
To spread positivity, optimism, and humility to everyone I go
To offer moral support and motivation to everyone around me
To share my wisdom with others to helps them become considerate and compassionate individuals
To make use of my gifts and skills for enhancing the wealth and self-worth of women across the world
To never stop going after my life goals
To offer my complete empathy and compassion to every individual I encounter
Steps- How to write a personal vision and mission statement 
Now that you know the mission statement definition , let's read more about some essential steps on how to write a personal mission statement. These steps can help you make your personal mission statement as clear as possible. 
Identify your achievements in the past 
Take a significant time off of your schedule to determine your previous achievements. While creating a personal mission statement, keep in mind that you have to write a statement in a way that helps in determining your goals and dreams better. Jot down a few of your recent successes into a paper and ask yourself the following questions- Are you more successful than you were? Did you enjoy your success journey, or was it forceful and stressful? 
Note that this doesn't necessarily have to involve your professional life questions only. Cover even the least essential aspect of your life, starting from relationships, career, health, lifestyle, and so on. This activity is essential to understand your strengths and identify your weaknesses. 
Make Note of the core values and objectives you wish to cultivate 
The next step of creating a personal mission statement is to note down your values as a person. Every individual grows with their values. Values not only shape your life but also help you introspect on who you were as a person and how you've evolved ever since. Your core values and core goals go hand in hand. Most of us don't just aim to accomplish our goals but also to grow our core values to stay mentally and physically healthy. 
Your personal vision statement shouldn't incorporate more than two values. Thus, make a list of all the values that define you as an individual and choose two of them that are more valuable than the rest. 
Write down what's most important to you
Another exceptional and helpful step for writing a personal mission statement is to reflect on the most crucial and vital aspects of your life. Give yourself some time to thoroughly think about who you want to be. Take down some notes on everything that's important to you. This can be anything from your personal as well as professional life. Write about people and things that are most valuable to you and connect them to each other to understand how they make your life better. 
Note down the differences you can make around your surrounding
Coming to the more precise elements, identify how you make an impact on some of the most focal aspects of your life. For instance, these focal aspects maybe your family, community, friends, world, employer, and so on. This is to help you determine how you can impact the lives of people around you and the world in general. This can help build a sense of gratitude for the life you have. Further, it can build your motivation to accomplish your life goals. If you're appreciative and grateful for everything you have, the more impact you'll make on the above-mentioned aspects. 
Articulate your most important goals 
Now that you've determined your imperative goals, it's time to understand a bit more about yourself. Jot down all your prime goals into one single paper. Write about why your goals matter so much to you and how you can accomplish these long and short-term goals. 
Ask yourself questions like where you see yourself five years from now. Questions like this can help you draw clarity between the life you have and the life you want. A few other questions that you should reflect on include, where would you like to see yourself on a professional level? What do you want to accomplish personally? What are some of the qualities that help you stand out as an individual?
Talk to your peers 
Another crucial step on how to write a personal mission statement is to engage with your peers. Your mentors and peers know you the best. They know your greatest strengths and even your potential. Thus, asking them what makes you distinctive from the others and what skills you possess can help you identify your core strengths. Human beings thrive on validation. We all like to be validated by our mentors, friends, and everyone we know. Thus, a great way to boost your confidence and identify your goals is to engage with your peers. 
Each one of us wants to leave a mark behind on the world. If you're one of those people who want to be remembered for all your good deeds, you might want to start determining the legacy you wish to leave behind. Identify how the skills you possess make you an influential individual in this overly competitive world. Given below are some questions you should start asking yourself. 
What do you wish to establish, alter, or regulate for the long term? 
How exactly do you want the world to change when you leave it? 
Which skill set is one of your greatest assets? 
Who would you like to influence with your capabilities and skills, and how? 
What are some of the abilities, personality traits, qualities, and achievements that you possess? 
What vision or mission motivates you the most? 
Prepare your mission statement 
The above-mentioned steps contribute to helping you understand what needs to go into writing a personal mission statement for yourself. Once you confirm your vision, it's time to put it into words. Write down the 'how' for the respective goal. In a nutshell, the most simple way of doing this is to combine everything you learned from the last few steps. Let your achievements and goals create a mission for yourself. Introspect on the above steps and design a purpose for yourself. On doing this, you will have written down a vision mission statement for yourself. 
Review your vision and mission statement
The last and final step of writing your vision and mission statement is to ask for feedback. You can show your statement to someone you feel comfortable with. Get feedback and make relevant changes if any of the suggestions are beneficial. Make sure to avoid going overboard and modifying your vision and mission statement obsessively. Make use of feedback as constructive criticism, but also believe yourself enough not to modify your statement entirely. 
Vision and mission statements shouldn't exceed more than 50 words. As suggested, the statements must be precise, crisp and should summarize your core values and purpose as an individual. An impressive tip to enhance your vision and mission statement is to write a compelling yet realistic vision and mission statement. They should include your values and goals that balance out your personal and professional life. The three chief questions that your vision mission statement should direct include- What are your passions?, What is something that sets you aside from the rest of the people? What are some of your core values?. 
Remember that the very purpose is a personal purpose statement is to inspire you to accomplish your core life objectives. Write a highly inspiring, accurate, and passionate vision mission statement that motivates you to work hard. 
Personal mission statement template 
Along with learning how to write a personal mission statement, you should also take a look at a template so that you can come up with compelling statements. A standard personal mission statement template that might come in handy is as follows- 
'I aim to/ action/ for/ respective audience/ by/ skill sets/ to/ desires outcome' 
Some Tips To Keep In Mind 
Here are some excellent ways to improve your personal purpose statement. Make sure to read the above mentioned personal purpose statement examples and these tips to excel at writing a personal mission statement. You can also make use of a personal mission statement generator to frame a statement for yourself. 
Make it short and precise-
The most vital tip that you should adhere to is to write a short yet relevant personal mission statement. As showcased in the above mentioned personal mission statement examples for work, make sure to write a brief sentence that describes your values and purpose. Short statements are easier and more engaging to read. Thus, they will inspire you to do more in your life. 
Do not, in any way, write falsified information in your personal statement. The statement serves the purpose of boosting your motivation to improve your professional and personal life. Thus, being true to yourself is essential to growing as an individual. 
Make proper use of constructive criticism- 
As previously suggested, feedback can tremendously help you improve your personal statement. Thus, make the best use of it.
Wrapping It Up 
These were some guidelines on how to write a personal mission statement. Use these tips and instructions to formulate a remarkable vision mission statement for yourself. 
Attend our Free Webinar on How to Nail Your Next Technical Interview
Recommended Posts
The complete guide to writing a mailing address, how to write the best career objective in your resume: with examples and tips, productive ways to cope with failure, ready to enroll, next webinar starts in.
Skip to main content
Skip to primary sidebar
The Five-Step Plan for Creating Personal Mission Statements
A large percentage of companies, including most Fortune 500 companies, have corporate mission statements. Mission statements are designed to provide direction and thrust to an organization, an enduring statement of purpose.
A mission statement acts as an invisible hand that guides the people in the organization. A mission statement explains the organization's reason for being, and answers the question, "What business are we in?"
A personal mission statement is a bit different from a company mission statement, but the fundamental principles are the same. Writing a personal mission statement offers the opportunity to establish what's important to you, and can help guide you toward a decision on a particular job, company, or career field. It also enables one to chart a new course when they're at a career crossroads.
Steven Covey (in his book First Things First ) refers to developing a mission statement as "connecting with your own unique purpose and the profound satisfaction that comes from fulfilling it."
A personal mission statement helps job-seekers identify their core values and beliefs. Michael Goodman (in his book The Potato Chip Difference: How to Apply Leading Edge Marketing Strategies to Landing the Job You Want ) states that a personal mission statement is "an articulation of what you're all about and what success looks like to you."
A personal mission statement also allows job-seekers to identify companies that have similar values and beliefs and helps them better assess the costs and benefits of any new career opportunity.
If you find a company that has your values and beliefs and want to apply for a job with the company, put our professional Resume Builder to work. Select a template based on your experience level and get step-by-step instruction on how to write all resume sections.
Related Content
The biggest problem most job-seekers face when it comes to personal mission statements is the actual writing of the statement. So, to help you get started on your personal mission statement, here is a five-step mission-building process.
Take as much time on each step as you need, and remember to dig deeply to develop a mission statement that is both authentic and honest. And to help you better see the process, we've included an example of one job-seeker's process in developing their mission statement.
Steps for Developing a Personal Mission Statement
Step 1: identify past successes.
Spend some time identifying four or five examples where you have had personal success in recent years. These successes could be at work, in your community, at home, etc. Write them down. Try to identify whether there is a common theme (or themes) to these examples.
Step 2: Identify Core Values
Develop a list of attributes that you believe identify who you are and what your priorities are. The list can be as long as you need.
Once your list is complete, see if you can narrow your values down to around five or six of the most important values. Finally, see if you can choose the one value that is most important to you.
Step 3: Identify Contributions
Make a list of the ways you could make a difference. In an ideal situation, how could you contribute best to:
the world in general | your family | your employer or future employers | your friends | your community
Step 4: Identify Goals
Spend some time thinking about your priorities in life and the goals you have for yourself.
Make a list of your personal goals, perhaps in the short-term (up to three years) and the long-term (beyond three years).
Step 5: Write Mission Statement
Based on the first four steps and a better understanding of yourself, begin writing your personal mission statement.
Sample Personal Mission Statement Development
1. past successes:.
a) Developed new product features for stagnant product b) Part of a team that developed a new positioning statement for product c) Helped child's school with fundraiser that was wildly successful d) Increased turnout for the opening of a new local theater company
Themes: past successes all relate to creative problem solving and execution of a solution.
2. Core values:
Hard-working | Industrious | Creativity | Problem-Solving | Friendly | Outgoing | Positive | Family-oriented | Decision-maker | Compassionate | Spiritual | Analytical
Most important core values (ranked according to importance):
Problem-Solving | Creativity | Analytical | Compassionate | Decision-maker | Positive
Most important overall core value: Creativity
3. Identify Contributions:
The world in general: develop products and services that help people achieve what they want in life. To have a lasting impact on the way people live their lives.
My family: to be a leader in terms of personal outlook, compassion for others, and maintaining an ethical code; to be a good father and husband; to leave the world a better place for my children and their children.
My employer or future employers: to lead by example and demonstrate how innovative and problem-solving products can be successful both in terms of solving a problem and successful in terms of profitability and revenue generation for the organization.
My friends: to always have a hand held out for my friends; for them to know they can always come to me with any problem.
My community: to use my talents in such a way as to give back to my community.
4. Identify Goals:
Short-term: To continue my career with a progressive employer that allows me to use my skills, talent, and values to achieve success for the firm.
Long-term: To develop other outlets for my talents and develop a longer-term plan for diversifying my life and achieving both professional and personal success.
5. Mission Statement:
To live life completely, honestly, and compassionately, with a healthy dose of realism mixed in with imagination, and to know that all things are possible if one sets their mind to finding an answer.
Final Thoughts on Developing a Personal Mission Statement
A personal mission statement is, of course, personal. But if you want to truly see whether you have been honest in developing your personal mission statement, I suggest sharing the results of the process with one or more people who are close to you. Ask for their feedback. And develop further from there, if necessary.
Finally, remember that a mission statement is not meant to be written once and blasted into stone. You should set aside some time annually to review your career, job, goals, and mission statement -- and make adjustments as necessary.
About the Author
Randall Hansen
Career Advice Expert
Dr. Randall S. Hansen is the founder of Quintessential Careers, one of the oldest and most comprehensive career development sites on the web, as well CEO of EmpoweringSites.com. Dr. Hansen is a published author, with several books, chapters in books, and hundreds of articles to his name. He is frequently quoted in the media and conducts empowering workshops around the country; he is also an educator who has taught at the college level for more than 15 years.
Ready to build a strong resume?
Create My Resume
*As seen in :
By Job Titles
By College Majors
By Companies
By Location
Job Search Advice
How to Write a Personal Mission Statement (With Examples)
Apply For A Job
Applying To Multiple Jobs At The Same Company
Applying for a Job In-Person
Personal Mission Statement
Corporate Titles
Career Goals Essay
Internal Applicants Only
Vision Statement
Introduce Yourself In An Email
How To End An Email
Email Etiquette
Emailing A Resume
How To Cold Email
Warm Regards
How To Write A Letter Of Inquiry
Best Business Salutations
Letter of Introduction
Close a Business Letter
Job Application Letter
Business Letter Layout
To Whom It May Concern
Letter Of Interest
Letter Envelope
Experience Letter
How To Write A Letter
Interview Confirmation Email
Thank You For Your Time
Follow Up Email After Career Fair
References Available Upon Request
About Me Page
Answering Machine Messages
What To Bring To A Job Fair
Free Job Posting Sites
Email Sign Offs
How Long Does It Take To Become A Doctor
How Long Does It Take To Become A Vet
Government Programs That Help Felons Get Jobs
How Long Does It Take To Become A Dentist
Job Search Spreadsheet
Right To Work States
How To Research A Company
How To Change Careers
What To Do If You Have No References
Working For a Big Company Vs. A Small Company
Writing Sample Format
How Long Should A Writing Sample Be
How To Get A Job Fast
How Many Jobs Should I Apply For
Air Force Pt Requirements
Navy Pt Test
Find a Job You Really Want In
How to Write a Personal Mission Statement
Personal Mission Statement Template and Examples
Tips for writing your personal mission statement, what is a personal mission statement, why is it important to have a personal mission statement, where can you use a personal mission statement.
Sign Up For More Advice and Jobs
Like corporate mission statements, personal mission statements are short overviews of why you do what you do, and they can be effective ways of helping coworkers or potential employers get to know you. They can also focus your work and decision-making, so it's important to spend some time thinking through your personal mission statement. In this article, we'll go over how to write a personal mission statement, some examples of these statements, and how having a personal mission statement can help you at work. Key Takeaways A personal mission statement should be one sentence long. Your personal mission statement communicates the "why" behind your work. Having a personal mission statement will help you decide what to prioritize and will help you introduce yourself and your values to employers. How to Write a Personal Mission Statement
If you're having trouble coming up with a personal mission statement, you're not alone. Though it seems like a simple sentence, personal mission statements contain a lifetime of experience, knowledge, and even soul-searching when done correctly.
Once you get the hang of it, you'll find that crafting your own personal mission statement can be not only fun but illuminating. It can help you to identify and clarify the values that have been driving your working life. Here are some steps you can take to write a great personal mission statement:
Brainstorm on your work and life missions. As we've discussed, personal mission statements are deceptively compact, and these short statements contain a ton of information on how you navigate the working world.
For many people, we've never actually taken the time to think through our views on work and on life in general, or how these views intersect. Take the time to think this through and write down whatever comes up.
Identify your core values and goals. Read through your brainstorm journals, and highlight anything that sticks out to you as one of your key motivating values . This could be anything that drives you to do what you do in this world.
Perhaps you want to help people live safely and comfortably. Maybe you want to expand human knowledge or artistic possibilities. Perhaps you want to make people, or just one person, smile. The possibilities are endless, and it's all your decision based upon what particular thing you feel called to do in this lifetime.
Recognize the skills you'll use to enact your values. Each of us has special skills , both professional and personal, that we can use to achieve our goals. Mentioning these skills in your personal mission statement not only gives you an extra chance to show off your strengths but demonstrates that you are determined to use this skill proactively.
Edit for maximum impact. They say the key to excellent writing is packing as much information into as few words as possible, which holds true for a great personal mission statement. Your personal mission statement should be short, sweet, and to the point for maximum effectiveness.
Discuss with peers and mentors. Finally, if you're still not sure how to write a mission statement acceptable for your contextual purposes, discuss it with your colleagues or professional mentors . You can ask about their personal mission statements, or just for a second pair of eyes on yours.
Personal Mission Statement Template
Your personal mission statement will have to be modified for grammar and syntax based on where and how it is used, but a great personal mission statement will address all of the following points in a single sentence:
What action(s) will you take to affect change?
What skills will you use?
What community or group of people will be affected?
What change do you wish to affect/ what result do you want to have?
It could look something like this:
"To use [skill] to [verb describing your work] [community affected by your work] [desired result of your work]"
However, please keep in mind that this is entirely personal and contextual. If it ends up sounding awkward, you can always rephrase out and take out any parts you like. You can even simplify it to only your desired impact or result.
Personal Mission Statement Examples
To use my creative talents to teach inner-city high schoolers about the ways that art can uplift their spirit and change their perspective.
To bring joy to those around me.
To write stories that remind us of our humanity.
To use my writing skills to increase nonprofit funding and create a more equitable world.
To create a new era of marketing focused on ethics, sustainability, and transparency.
To engineer commercial products that make our lives easier and better.
To bring comfort and attentive care to patients at the end of their lives.
To be happy, healthy, and do no harm.
To create innovative technology that changes the way we live our lives.
To help women of color find success in corporate positions through one-on-one, intersectional consultations.
To never stop learning.
To create software that enhances user security with a streamlined process.
To inform policies that will tackle the climate crisis head-on and save the planet.
To give my clients beautiful, easy-to-use web pages that will help them expand their online businesses.
To use my talents to invest in my community.
To serve as a mentor , apply my values to every decision, and make a difference in people's lives.
To fight until every child has a free and fair chance at education.
To use my unique gifts.
To keep people informed on global issues and create a more connected world.
To foster a more accessible world with disability-conscious designs.
To create and record beautiful wedding memories for my clients.
To help those around me grow in their talents and use them to better the world.
To provide excellent care to every patient every day.
To bring beauty to the world around me.
To make every child feel like the most important person in the room.
To help my clients live the fullest, healthiest lives possible.
Here are some final tips for crafting your perfect personal mission statement:
Be brief. Keep it as concise as you can in a single, straightforward sentence. It should be easy to remember and immediately clear. If you'd like, you can even narrow it down to three words representing the essence of your statement and sparsely add in words for clarity.
Be honest. The worst way to write a personal mission statement is to say what you think others want to hear, regardless of whether you believe it. Your statement should be a genuine reflection of you, and if it isn't, it doesn't serve much of a purpose.
Be open. If you are cynical, be open to the process. It's okay if this doesn't turn out to be the best way for you to express yourself, but it can still help figure out what drives you on your deepest level.
Being vulnerable about our deepest drives, motivations, and values can be scary. This is because we've been told so often in our lives – both directly and indirectly – that the things we want and value are wrong, or they don't matter.
Be teachable. Your mission statement can feel highly personal, so it can be difficult to ask for feedback on it. However, you need to have someone you trust read it to check it for errors and to make sure you're communicating clearly and effectively.
When they do give you feedback, take it graciously and remember that it isn't a personal attack — they're just trying to help you.
A personal mission statement, sometimes called a vision statement, outlines your deepest purpose for working. It gives a quick synopsis of your goals and values in your working life, and it can help you make decisions that align with your purpose.
Personal mission statements are typically in the format of a single sentence or short phrase that shows how you define yourself as a person and a member of an organization. It shows, quickly, how and why you work.
Personal mission statements can be used in a variety of ways, both for your own personal benefit and as a way of helping others get to know you. They can be used on resumes , college applications, professional social media profiles, and more.
Even just keeping this statement in mind can help radically shift the choices you make in your work life. This is because personal mission statements also act as a guide for our behavior. Figuring out the right choice in any area of life can be a difficult and time-consuming task, but with your mission statement in mind, the right choice might be a little bit clearer.
Personal mission statements are important because they can help with the enormous task of figuring out your deepest purpose for your work life and choices.
We get it; you may be thinking, "my deepest purpose for working is to make money and survive," and that's perfectly fair. You do need to make money to survive in this world, and we aren't discounting the strong influence that can have on the career decisions you make.
However, the point of a personal mission statement is to, in a small way, carve out the life you want for yourself and the world you want to create. Your personal mission statement isn't about what you do to put food on the table; it's about what you would do with your life if money were no object.
For these reasons, a personal mission statement can be incredibly powerful. It's a short, quippy line that you can easily remember and call upon for big and small choices. It can help you recognize which opportunities and choices will help you achieve your aims and which ones won't. This is invaluable for creating career boundaries and long-term plans.
Your statement can help you assess anything from whether you fit into a given corporate culture to which projects you can take on, and more.
Successful people are clear on their goals and values, and they have the empowering belief that they can and will create a life for themselves that honors these goals and values. A mission statement is a signifier to those who may work with you that you are determined and clear and won't settle for lesser choices.
Personal mission statements have several possible applications, whether you're introducing yourself to someone, making important decisions, or just going about your day-to-day work life. Here are some examples of how to use a personal mission statement in your life:
Starting a new project. Before starting on a new task or project at work, start with your mission. Figuring out the bottom line of why you are about to engage in something helps you complete it more successfully and with a renewed passion. It also helps you to avoid rote ways of doing something in favor of results-focused innovation .
Daily tasks and choices. Even small decisions can be approached more effectively if the "why" is kept in mind from the start. Keeping your statement in mind during work, or even keeping it framed and in sight at your office, helps you feel more fulfilled in your work life and with the tasks you take on. They all have a larger purpose.
Scheduling. Your mission statement can be a wonderful guide for how you spend your day. Keep track of the tasks you do daily and how they contribute to your larger goals. There may be areas where you're over-exerting time and energy on a task that doesn't mean that much in the grand scheme of things (or, you may be experiencing the opposite).
Job-hunting. If you're currently searching for new opportunities, your mission statement can be one of your most powerful guides in deciding what jobs to apply for and take on. Take time to research the company and see if its mission is compatible with yours.
In your resume, cover letter, or portfolio . Your personal mission statement can be worked into your application materials in a few ways. You could include it in your resume summary or objective statement , in the first paragraph of your cover letter , or even in the header of your website.
During interviews. Introducing yourself professionally can be a bit of a task, but a mission statement makes it easy. Using your statement to inform your answers to interview questions helps the interviewer see that you have strong values and integrity .
How useful was this post?
Click on a star to rate it!
Average rating / 5. Vote count:
No votes so far! Be the first to rate this post.
Chris Kolmar is a co-founder of Zippia and the editor-in-chief of the Zippia career advice blog. He has hired over 50 people in his career, been hired five times, and wants to help you land your next job. His research has been featured on the New York Times, Thrillist, VOX, The Atlantic, and a host of local news. More recently, he's been quoted on USA Today, BusinessInsider, and CNBC.
Recent Job Searches
Registered Nurse Jobs Resume Location
Truck Driver Jobs Resume Location
Call Center Representative Jobs Resume Location
Customer Service Representative Jobs Resume
Delivery Driver Jobs Resume Location
Warehouse Worker Jobs Resume Location
Account Executive Jobs Resume Location
Sales Associate Jobs Resume Location
Licensed Practical Nurse Jobs Resume Location
Company Driver Jobs Resume
Related posts
Corporate Titles: Examples And What They Mean
How To Apply For Jobs Online
Walmart Online Application Information (With Assessment Test Tips)
A Guide To The Starbucks Application Process
Topics: Application , Specific Companies
How to Write a Personal Mission Statement (Examples Included)
Mike Simpson 0 Comments
By Mike Simpson
Mission statements are everywhere in business. Nearly every company has one, allowing a simple sentence or two to act as a guiding light for all of its decision-making.
But did you know that you can harness the power of the mission statement to elevate your career? It's true. With a personal mission statement, you can define your career target and achieve your goals.
Awesome, right?
And personal mission statements aren't that hard to nail. All you need is the right approach. If you want to make the most of this handy-dandy career-boosting tool, here's what you need to know…
What Is a Personal Mission Statement?
Alright, before we dig into how to write personal mission statements, let's take a step back and talk about what one even is.
In the simplest terms, a personal mission statement is a couple of sentences that define your professional capabilities, traits, values, and dreams. It outlines what you're all about, including what you bring to the table now and what you want to achieve in your career.
How can a personal mission statement help you reach your goals? By giving you focus. It's all about outlining what actually matters to you, giving you something to concentrate on as you make career decisions.
This is especially true if you're launching a job search or a full-blown career change. Why? Because it helps you figure out where you should go next. You'll be able to concentrate on opportunities that can help you get where you want to end up, instead of just skimming job boards without a clear direction in mind.
But even if you aren't about to make a change, that doesn't mean writing a personal mission statement isn't a great idea. You can use one to adopt a more positive mindset, find meaning in the small tasks that don't feel all that meaningful alone or keep you focused on what really matters to you.
In the end, everyone can benefit from one of these little declarations. When you write one, you have to really think about who you are, what you value, and what you want from your life. That's powerful. It gives you direction, and that's crucial for any career.
Common Mistakes When Writing a Personal Mission Statement
Yes, it is possible to make mistakes when you try to create a personal mission statement. And, if you do, the outcome is less than ideal. You end up with a point of focus that doesn't really align with who you are and what you want, and that can send you in the wrong direction.
By understanding what the common mistakes are, you can avoid them. So, let's dig into that.
Really, the biggest mistake you can make when writing personal mission statements is not focusing on you. If you let other people's opinions influence what you create, the end result isn't very personal, and it feels like an obligation weighing over your head.
Similarly, not reflecting on what you genuinely want is another massive misstep. You need to dig deep and discover what matters most to you. That way, your personal mission statement is meaningful.
Another issue is being too specific. Unlike with your career goals , where details are your ally, being a little broad when you create your personal mission statement isn't a bad idea. This is supposed to be more of a guiding principle, so embrace the big picture instead.
Finally, hedging is a major mistake. This isn't a place for "maybes." Instead, it's a place for "musts." Think about what you're internally compelled to do. If you can concentrate on things that you feel driven toward, your odds of hitting the mark go up dramatically.
How to Write a Personal Mission Statement
Okay, so you're ready to start forming your own personal mission statement. That's awesome.
While it may seem a little difficult at first, you can smooth out the process by following the right approach. If you aren't sure where to start, here's a step-by-step guide for creating personal mission statements.
1. Spend Time Reflecting
Before you start writing your statement, take a moment to really reflect. Think about your boldest personal and career goals , envision where you want to be down the road, and consider what you genuinely wish to achieve.
As you reflect, you don't have to focus entirely on your professional life. After all, your time away from work is a big chunk of your overall experience, so it's fine to think about what you want outside of your career, too.
Additionally, don't be afraid to think big picture. Often, core values are a bit broad, and that's alright. The main goal is to determine what really lights your fire, whether it's big or small.
You could also spend time reflecting on the kind of legacy you want to leave. This mindset can actually be ridiculously helpful. Consider what you want to be remembered for, and use that as a guide.
As you come up with ideas, jot them down. Create a messy running list and let the creative juices flow. This step is all about ideas, so let them fly.
2. Identify Who You Want to Help
Personal mission statements have an audience. Usually, it's something or someone you want to help.
Not sure who your audience is? Well, it could be your employer, customers, employees, or community, for example.
Think about who you want to have benefit from your efforts. That's probably your audience.
3. Pick Core Traits or Skills
When you're writing a personal mission statement, you need to include the skills and traits you'll need to put to work to make that happen. Now, these can be more technical capabilities or personal characteristics, so don't feel like you're limited to one or the other. You're not.
4. Try a Personal Mission Statement Template
Now that you've done some brainstorming, you can use a formula to create your personal mission statement. If you aren't sure where to begin, try this personal mission statement template:
"To [desired goal, outcome, or achievement] [target audience that will benefit] by [skills you want to use] [what those skills will let you do or how you'll apply them]."
For example, let's say your area doesn't have a food bank because they can't afford one, and that's hurting low-income families, but you've got skills that can help start one in your city. Your mission statement may say:
"To launch a community food bank for low-income families by harnessing my fundraising, networking, and negotiating skills to sure the needed funding."
Use the personal mission statement template as a starting framework, but feel free to adjust it a bit if the need arises. For example, you may tweak the order you cover each point. In fact, we do that in some of the samples below.
Personal Mission Statement Examples
While personal mission statements are, by definition, personal, that doesn't mean a little bit of inspiration isn't helpful. By reviewing some examples, you can learn more about what resonates with you.
Personal mission statements can vary a lot depending on the nature of your career as well as your goals, values, and preferences. Additionally, some are a bit more general, while others are more specific.
For example, Sir Richard Branson once said his was: "Have fun in your journey through life and learn from your mistakes."
Compare that to one from Oprah : "To be a teacher. And to be known for inspiring my students to be more than they thought they could be."
Those are two different approaches that accomplish a similar goal. In the end, either way can work, as long as it resonates with you and sends you in the proper direction.
Still looking for more help? We've got you. Here are ten personal mission statement examples for different kinds of professionals.
To inspire the development of today's young people by continuously honing my skills, expanding my knowledge, and supporting them as they grow.
2. Registered Nurse
To be a guiding light during challenging times, ensuring those in crisis feel safe and supported while offering the highest quality care every moment of every day.
3. Software Developer
To build technologies that ease the burdens of others, all while focusing on personal efficiency and skill development to ensure I am always equipped to not just address the challenges of today, but the challenges of tomorrow, as well.
4. HR Manager
To ensure the success of the company as well as every employee within it, providing both with the tools, guidance, and support they need to achieve new heights while reaching their business and professional goals.
5. Paralegal
To provide exceptional support to every member of the practice, ensuring that those we serve are given the high-quality experience they deserve every step of the way.
6. Accountant
To continuously handle my responsibilities with diligence, all while ensuring that ethical codes of conduct are met and that every action is fully compliant.
7. Project Manager
To ensure that companies can achieve success by removing obstacles, finding solutions, and coordinating the efforts of diverse teams.
8. Data Analyst
To bring meaning to the mountains of information companies receive by growing and honing my skills, ensuring that business can make sound decisions every step of the way.
9. Operations Manager
To improve the efficiency and reliability of company operations while simultaneously providing exceptional results when overseeing projects, managing personnel, and updating business processes.
10. C-Suite Executive
To lead the company toward greater heights by embracing innovative thinking, always looking toward the future, and offering support to every team member to ensure they thrive in their roles.
Putting It All Together
Ultimately, a personal mission statement can be an excellent tool. It lets you focus your efforts on what you really want, and that's powerful. Use the personal mission statement examples above, as well as the step-by-step process, to get started. If you do, you'll have an amazing one ready faster than you'd ever imagined.

Co-Founder and CEO of TheInterviewGuys.com. Mike is a job interview and career expert and the head writer at TheInterviewGuys.com.
His advice and insights have been shared and featured by publications such as Forbes , Entrepreneur , CNBC and more as well as educational institutions such as the University of Michigan , Penn State , Northeastern and others.
Learn more about The Interview Guys on our About Us page .
About The Author
Mike simpson.
Co-Founder and CEO of TheInterviewGuys.com. Mike is a job interview and career expert and the head writer at TheInterviewGuys.com. His advice and insights have been shared and featured by publications such as Forbes , Entrepreneur , CNBC and more as well as educational institutions such as the University of Michigan , Penn State , Northeastern and others. Learn more about The Interview Guys on our About Us page .
Copyright © 2022 · TheInterviewguys.com · All Rights Reserved
Our Products
Case Studies
Interview Questions
Jobs Articles
Members Login