Aug 25, 2020
The Cover Letter that Helped me Get a Job in Publishing
As requested, here is the cover letter that got me the role as an Assistant Production Editor at an independent publishing house. I am sharing this because I found cover letter blog posts really useful and I want to help others get their foot in the door. I personally wrote a lot of cover letters during my job search, almost all of which received little to no feedback, but each failed cover letter eventually led to me writing this successful one.
Opening paragraph [the introduction]
I am a proactive, recent BA (Hons) English Language and Literature graduate with [x] years of entry-level experience in the publishing industry. Alongside my degree, I have completed internships at [names of companies]. I have always worked hard to make my goal of working in publishing a reality; I was awarded a place on the [publishing scheme] in [year] and had my place on [publishing short course] sponsored by [name of publishing association]. I have also undertaken a retail marketing internship and worked part-time as the [job role] at [company name]. My work experience has provided me with excellent written and verbal communication skills, good time management, and the ability to produce a high standard of work amidst tight, ongoing deadlines.
This is just a basic introduction — who I am, what I've been doing with my life for the past 3 years, and the extracurricular publishing bits that I've been involved in. After retrospectively putting my Editor Hat on, I think some of these sentences are a bit clunky and I could've been more concise.
Middle paragraph [skills flex]
Since finishing my dissertation a fortnight ago, I have enrolled on the Essential Proofreading and Grammar course run by The Publishing Training Centre and have begun providing freelance editorial services for private clients via my website, [insert link]. I have strong IT skills, especially Microsoft Word, Excel, PowerPoint, and Adobe InDesign and Photoshop. During my summer internship at [company name], I proofread [brand name] books using InDesign, and during my time as the Marketing Intern at [company name], I used Photoshop to create marketing content for social media and e-newsletters.
I think this paragraph is a bit wilder than the rest — there's a lot going on! — but in terms of experience, the PTC courses , my freelance portfolio, and my Adobe skills were a huge part of what got me the job. This paragraph reiterates the skills listed on my CV and puts them into context, using two specific examples of how and where I developed them. P.S., the marketing internship was not a publishing role but Adobe skills are easily transferable.
Final paragraph [why this company?]
I really want to work for [your company] because I am tremendously interested in the books that you publish. Throughout my degree, I have taken a few modules in [subject], including having to [do a niche subject-related translation task]. I am also enthusiastic about many of the [publications] you print to supplement authors that I love, such as [author] and [author]. As a [location]-based [location reference] myself, I enjoy visiting [location]— so should I be successful in my application, I would be delighted to relocate a little further [direction].
Showing that you are interested in the books an employer publishes is essential, especially if you coincidentally studied them at university. I was fortunate enough to have taken many fantastic modules at university that educated me about some of the esoteric topics that my employer publishes. I included that end sentence about my link to the publisher's location (a) to let them know that I am willing to relocate, and (b) because they publish books related to the area, so this shows that I am familiar with the area and its literary significance.
To summarise, I showed that I had the skills and experience needed, I demonstrated it with a few examples, and I explained why the company was the perfect fit for my literary interests. I'm sure that anyone who has taken the time to read this can surely write a better cover letter than me, and I very much encourage you to do so!
If you found this useful, please give me a 'clap' or follow me on Medium. If you didn't find this useful, it's probably because you already write a brilliant cover letter and just need to keep applying — try independent publishers, publishers outside of London, or roles outside of editorial and marketing, as there is less competition. Remember, it only takes one "yes"!
Revised note, 14 August 2022: At the time of this revision, this article now has over 20,000 views. I am blown away by this and truly hope that my cover letter has helped some people break into publishing. However, it would be disingenuous of me not to mention that I left publishing because I was not paid a living wage. My salary was £18,000 (£15,838 after tax), which was not enough to make ends meet, so I decided to leave publishing before getting myself into debt. Two years later, what with the cost of living crisis and inflation, I know I made the right choice. I now work in law and earn double my publishing salary.
More from Ness
I am an English Language & Literature graduate who works in law.
About Help Terms Privacy
Get the Medium app
Text to speech
You are using an outdated browser. Please upgrade your browser or activate Google Chrome Frame to improve your experience.
More in this series
Writing a cover letter for a job in the publishing industry, for application week, catapult staffers share some of their old cover letters in hopes of providing insight into applying for positions in the writing world..
If we're being honest with ourselves, cover letters are an absolute bummer. How do you distill your excitement (or, sometimes, force your enthusiasm) into one brief likeable-yet-professional page? How much crossover should there be between your cover letter and your résumé? How do you distinguish your letters from one position to another, especially if you're on the job hunt and are applying to many different positions all at once? Cover letters are one of the main things that could help your job application stand out from the millions (okay, not really) that a hiring committee are reading . . . but, like, how do you do that?
Some of our Catapult staffers were generous enough to dredge up some of their old cover letters they used to apply to positions in the publishing and writing industries to share with you, dear reader. Some letters got them a job, while others did not. All of them include annotations from their authors, now that they are looking back from a (hopefully) wiser place. Our hope is that by sharing these letters, we'll give you a bit of insight from the "inside" of the industry—whether you're currently applying or you're just curious about how one might write a cover letter to apply to a position for a writing job.
Enter your email address to receive notifications for author The Editors
Confirmation link sent to your email to add you to notification list for author The Editors
More by this author
Reading recommendations for aspiring romance writers.
Don't miss this list of reading recommendations (crowdsourced from Twitter!) for our Romance Week series.
Writing Jobs In Media and Publishing
This list of job opportunities for writers is updated at least twice a month. Bookmark this page to say up to date on new postings!
Little Lessons from Writing Newsletters
Sometimes you just need to claw out a few paragraphs on the page and hit publish. A newsletter can teach you how.
You have flagged this story. We'll look into your complaint and take it down if it violates our community guidelines.
Are you sure this story content violates community guidelines?
What kind of story would you like to write?
Reset Password
Log into your catapult account below.
You do not have an account with Catapult. Please make sure you have typed your email address correctly. If you believe this message is in error, please email [email protected]
Enter your password to proceed
Haven't set your password? Login with your associated social account
Arts & Culture
All Classes
NYC Classes
Online Classes
Consultations
Instructors
Opportunities
Where We Write
Notes on Craft
Notes from Class
Writing Life
Magazine Masthead
Perception Box
Resume Templates
Resume Examples
How to Write a Resume
Resume Format
Resume Packs
Cover Letter Templates
Cover Letter Examples
How To Write a Cover Letter
CV Templates
CV Examples
Resume Help
Cover Letter Help
Job Interview
Career Advice
Convincing Cover Letter for Publishing Industry: Sample + Tips
Are you that person whose nose is always deep into some new title? Do most types of printed periodicals appear oddly fascinating to you? Well, then you are probably well-suited for a career in the publishing industry.
Despite our collective obsession with digital — and the ubiquity of bite-sized blog posts — a real book still remains an in-demand product too. Last year, the US book industry generated over $26.5 billion in revenue with print book figures improving. And that means that many publishers are once again on a hiring spree.
To land a job with some cool publisher, you gotta have a polished resume. But more importantly, you need to submit a compelling cover letter too. After all, it's your best way to show your word mastery. 
But even experienced editors often struggle to come up with the right words to frame their achievements. So we've created this sample cover letter for publishing jobs as a writing prompt for you. Scroll to the bottom for some extra tips too!
Publishing Jobs Cover Letter Sample (Word version)
Here's a sample cover letter for an experienced romance novels editor, looking to work with a national publisher.
Download cover letter example (.docx)
Cover Letter Example for Publishing Industry (text version)
Dear Mariam Smith,
Do you know how I recognize a potential best-seller? If the first ten pages leave me thoroughly hooked, it's a strong contender. My cover letter for an open position of Romance Novel Editor with Clarks and Spencer Publishing isn't a real pageturner, but it hopefully will provide an interesting narrative into my professional experience and abilities that can be of use to your company.
My journey towards the publishing industry began when I was 6. That's when I wrote a short love story about a princess and an ice cream delivery man (non-trivial theme, I know). Then I tried to persuade my parents to let me print several copies to give away to my friends. But my mom said that book publishing isn't free, so I do need to finish several chores first if I want my novel to see the light of day. Since then, I've learned a lot more about the publishing industry during my 5 years as an Associate Essay Editor with Angies' Publishing House and as Romance Features Editor at Wedding Magazine.
Additionally, I provide manuscript editing services as a freelancer to self-published romance authors, specializing in period dramas — a genre where Clarks and Spencer Publishing certainly excels. Joanne Monroe and Andy McKinzey are two of my long-term favorite authors, whose your house published.
Apart from having strong copyediting skills, I'm also experienced with the operational side of the business. I can provide creative direction and vision for book illustrations, liaise with authors and agents, and otherwise facilitate the titles acquisition process.
For previous samples of my work and references, please check my personal website kaylaeditorialservices.com. If you have further questions, don't hesitate to contact me.
Kayla Devis
How To Write A Cover Letter for Publishing Industry Jobs
Since you are in the business of words, your cover letter should be coherent, well-narrated, and a bit artistically articulate. After all, you'd like to advertise your personal writing skills too and there's no better way to do that than in a cover letter.
Still, your cover letter should respect the "unspoken" code — provide background into your work experience, core competencies, and motivation for joining this particular company. To communicate all of the above within one page, follow these actionable tips.
1. Explain Your "Why"
Why are you so interested in the publishing industry? Why do you want to work for our company? These are the questions nearly every employer in the industry asks. And they want to see answers to them in your cover letter.
As Carolyn Zimatore, Director, Talent Management at HarperCollins Publishers puts it : 
"I am not sure which is worse: a generic cover letter that says "I would like the open position at your company" without any mention of what the company is or what the job is or why you want the job, or no cover letter at all."
So before you put any words down, take a five and research the company . Look into the type of genres they are mostly publishing. Check recent authors. Bring up industry awards. There are a lot of small nuggets you can dig up to make your letter sound as if you intimately know their business.
2. Use Some Storytelling 
Most people join the publishing industry because they are obsessed with great stories. Show your appreciation of a good narrative by weaving in a quick personal story into your letter like the applicant does in the letter above. Just remember to err on the side of brevity. A cover letter isn't a novel. So keep your story short and sweet as the author does in the sample above.
3. Advertise Some Extra Skills 
If you want to work in the publishing industry, you need to have exceptional writing and editorial skills. But that's what every other job applicant will highlight too. So instead of focusing on just that, bring up some of the "extras" you have. Are you an amazing negotiator and can get the needle moving with agents? Are you a maven when it comes to writing jacket copy and sales notes? Do you also happen to be obsessed with numbers and can do baseline sales projections, price research, and other analytical tasks? Bring all of these complementary skills in your cover letter!
Here are several other in-demand skills for editorial jobs in the publishing industry:
Publishing process coordination
Author relationship management
Typography and illustration
Market research
Deal management
Payment records management
P&L management
Backlist project coordination
Final Thoughts
Landing a job in the publishing industry is a dream for many bookworms. But don't let this be just a dream — take proactive steps to get your foot in the door. Sure, such jobs are competitive, but with a little bit of persistence and the right attitude, you'd be able to break into it!
Elena runs content operations at Freesumes since 2017. She works closely with copywriters, designers, and invited career experts to ensure that all content meets our highest editorial standards. Up to date, she wrote over 200 career-related pieces around resume writing, career advice... more
you might also like
Construction Project Manager Cover Letter Example
Amazing Assistant Principal Cover Letter Example
Impactful Event Manager Cover Letter Example and Tips
HR Assistant Cover Letter Example and Tips
Marvelous Marketing Assistant Cover Letter Example
Leave a response cancel reply.
Book Ramblings
All things books, the cover letter that got me into publishing.
So I got a job in publishing! As of last Monday, I am the editorial and audio assistant at Watkins Publishing. It's been a wild journey. I never thought I'd be trying to find a job and writing hundreds of cover letters amid a pandemic. But we got there! And since announcing it on my Twitter and Instagram, I've had a few questions about my application process, and specifically my cover letter.
A big thank you to the Publishing Hopefuls Facebook group , where I first saw this job advertised. I'd definitely recommend joining this if you're applying to publishing jobs as it's a great place to share advice, positivity and support.
First off, there are so many amazing publishing people who have resources on publishing applications (such as cover letters), who have far more experience and authority on the matter. A few that helped me were:
Carl @ ThatPubBlogger on Writing Cover Letters Chloe and Emma @ Pub Interns and their Cover Letter Masterpost Sophie @ Romantic, Rebels and Reviews on The Difficulty of Cover Letters Suzanne @ Book Careers Podcasts Ellie @ EllesBellesNotebook on How To Write a Standout Cover Letter
Next I'd also like to add that the job I got was with a smaller independent publisher – not one of the Big 5. I applied to so many positions with companies such as Hachette and Penguin and only ever got through to the interview stage once. This is of course not the perfect cover letter, even when applying to an indie publisher. When I read it back now, there are things I would improve or change, and I'm sure you'll spot things as well. You'll have also noticed I hadn't read any books by the publisher prior to applying to this role (I did read some before the interview stage) so I instead focussed on connecting with, and showing knowledge of, their genres. But hopefully it's another resource you can use to break into the industry! Note: I have redacted the names of previous companies I've worked for.
So here goes:
[insert my personal details in top right corner – email, phone number, address, date].
Dear [insert first + last name of hiring manager],
I am writing to apply to the Editorial and Audiobook Assistant position at Watkins Media. I am an English graduate and enthusiastic book blogger excited to employ my editorial and administrative experience in an entry level publishing role.
During lockdown, I have become increasingly aware of my own mental and physical health. Being forced to largely stay at home and even work from home has led me to make some lifestyle choices. I started running, exploring healthier cooking and experimented in more diverse and creative distractions from my computer screen, from knitting to photography. I am really enthusiastic about the opportunity to contribute to books that explore wellbeing further. When looking on your website, I am particularly drawn to your self help and personal development book list and look forward to exploring more of these titles.
I have experience contributing to the editorial and production publishing process at [insert publishing company name]. Here, I worked on various projects under four different editors. I utilised Trello to ensure excellent time management whilst juggling different projects, all with competing deadlines. One of my main roles was to check the quality of copy, index and reference checks by freelancers, as well as to proofread a maths guide written in-house and commissioned by the local council. This has given me a familiarity with style sheets and experience proof-reading and checking freelancer work, all of which I can apply when working on the Watkins Media lists.
In my current role for [insert tech company name], I am in charge of coordinating all upcoming conference speakers, keeping track of what information they have given us and following up on details we are still waiting for. Not only does this require high levels of communication and organisation, which I could employ when liaising with authors and freelancers, my work putting these details onto the website has also required a great attention to detail. My role is largely to provide administrative support to the director, answering emails, booking meetings and updating Excel spreadsheets for information collection and budgets. This, along with other administrative experience detailed on my CV, would allow me to make a valued contribution to the administrative workings of the company.
I think this role would allow me to become a vital, efficient and enthusiastic team member, contributing to the editorial and administrative workings of both Watkins Publishing and Nourish Books. I am eager to expand on my editorial skills whilst also learning more about the production of audiobooks. Please find attached my CV and a copy of this covering letter.
Yours Sincerely,
Brittany Willis
Good luck with your own applications! Please feel free to reach out to me if you had any questions or wanted me to write another blog post – perhaps on my interview or my first week in the job!
And remember, there are so many amazing people that are willing to offer help on Twitter – don't be afraid to reach out and ask questions.
Happy reading 🙂
Share this:
7 thoughts on " the cover letter that got me into publishing ".
Honestly, thank you Brittany! Thank you for adding the template as it gives others a chance on how to structure theirs a bit more. And congratulations on your new role! It's nice to hear others getting into the publishing industry. Here's hoping I'll be next!
Like Liked by 2 people
Thanks so much for the positive feedback Nyasha! Fingers crossed for you
Like Liked by 1 person
I'm so, so pleased for you Brittany. Many congratulations on getting the job, you seem so driven to me and you really deserve this. Great cover letter, too 😊
Thanks so much Stephen! You're one of the most supportive people in this community and I love seeing your name pop up in my notifications 🙂
That was very useful! Thank you Brittany! The idea of a blog article on the interview process/ first week on the job sounds awesome! I'd be very grateful if you could share that with us! 🙂
Thanks so much! I'm currently writing one about my first week (due to go up next week I think) and will start thinking about one focussed on my interview! 🙂
Pingback: Monthly Wrap-Up – October 2020 – Stephen Writes
Leave a Reply Cancel reply
Fill in your details below or click an icon to log in:
You are commenting using your WordPress.com account. ( Log Out / Change )
You are commenting using your Twitter account. ( Log Out / Change )
You are commenting using your Facebook account. ( Log Out / Change )
Connecting to %s
Notify me of new comments via email.
Notify me of new posts via email.
Already have a WordPress.com account? Log in now.
Follow Following
Copy shortlink
Report this content
View post in Reader
Manage subscriptions
Collapse this bar
You control your data
We use cookies to tailor the experience of creating resumes and cover letters. For these reasons, we may share your usage data with third parties. You can find more information about how we use cookies on our Cookies Policy . If you would like to set your cookies preferences, click the Settings button below. To accept all cookies, click Accept.
Cookie settings
Click on the types of cookies below to learn more about them and customize your experience on our Site. You may freely give, refuse or withdraw your consent. Keep in mind that disabling cookies may affect your experience on the Site. For more information, please visit our Cookies Policy and Privacy Policy .
Choose type of cookies to accept
These cookies allow us to analyze our performance to offer you a better experience of creating resumes and cover letters. Analytics related cookies used on our Site are not used by Us for the purpose of identifying who you are or to send you targeted advertising. For example, we may use cookies/tracking technologies for analytics related purposes to determine the number of visitors to our Site, identify how visitors move around the Site and, in particular, which pages they visit. This allows us to improve our Site and our services.
These cookies give you access to a customized experience of our products. Personalization cookies are also used to deliver content, including ads, relevant to your interests on our Site and third-party sites based on how you interact with our advertisements or content as well as track the content you access (including video viewing). We may also collect password information from you when you log in, as well as computer and/or connection information. During some visits, we may use software tools to measure and collect session information, including page response times, download errors, time spent on certain pages and page interaction information.
These cookies are placed by third-party companies to deliver targeted content based on relevant topics that are of interest to you. And allow you to better interact with social media platforms such as Facebook.
These cookies are essential for the Site's performance and for you to be able to use its features. For example, essential cookies include: cookies dropped to provide the service, maintain your account, provide builder access, payment pages, create IDs for your documents and store your consents.
To see a detailed list of cookies, click here .
This site uses cookies to ensure you get the best experience on our website. To learn more visit our Privacy Policy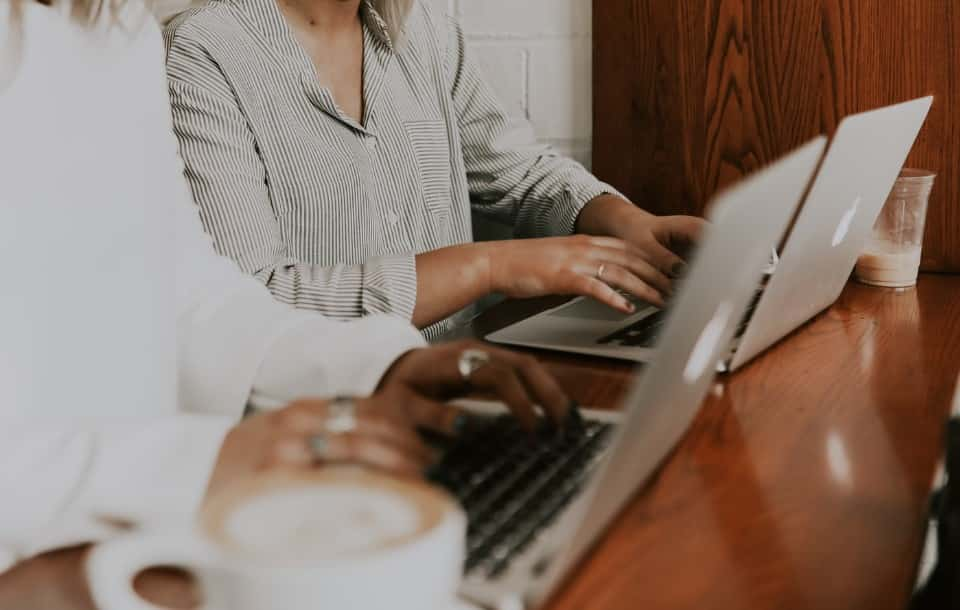 Cover Letter Examples
Editorial Assistant Cover Letter: Sample & Writing Guide
Editorial Assistant Cover Letter: Sample & Writing Guide
Ready to enter the world of publishing? Make it to the frontlist with an editorial assistant cover letter that gets more interviews than Vanity Fair!
As seen in:
If you're looking to become an editorial assistant, there are two things you need to prepare for:
Several cubic yards of terrible Harry Potter and Twilight rip-offs in the slush pile (plus enough crazy in the manuscripts to fill a few Azkabans).
Equally insane levels of competition for each job opening.
You can deal with the first issue by applying to publishing companies and newspapers that don't accept unsolicited manuscript submissions—
But how can you get ahead of the fierce competition and make sure you're the one to get invited for an interview?
Easy—
By submitting an editorial assistant cover letter that's a guaranteed instant bestseller.
This guide will show you:
An editorial assistant cover letter sample better than 9 out of 10 others.
How to write a cover letter for an editorial assistant position that will get you hired.
How to use your achievements to your advantage in an editorial assistant cover letter.
Want to write your cover letter fast? Use our cover letter builder. Choose from 20+ professional cover letter templates that match your resume. See actionable examples and get expert tips along the way.
Create your cover letter now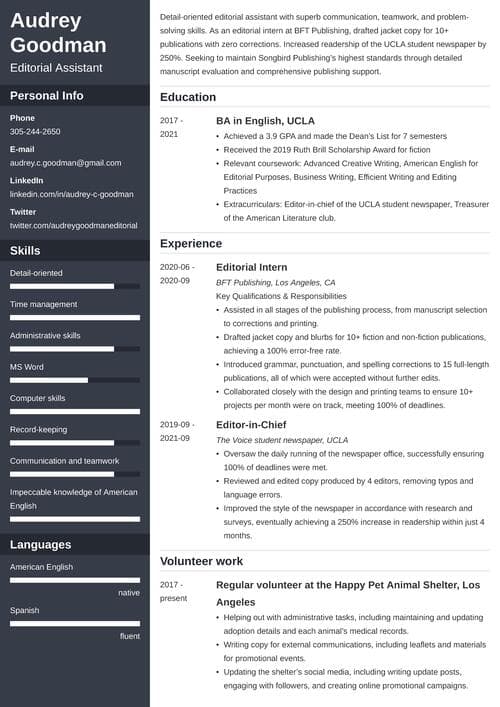 Sample cover letter for a resume— See more cover letter templates and create your cover letter here .
Applying for other jobs, too? Check out these guides:
Editor Cover Letter Sample
Copywriter Cover Letter Sample
Journalism Cover Letter Sample
Librarian Cover Letter Sample
Library Assistant Cover Letter Sample
Public Relations / PR Cover Letter Sample
Social Media Manager Cover Letter Sample
Academic Cover Letter Sample
Research Assistant Cover Letter Sample
Recent Graduate Cover Letter Sample
Want to explore your options further? See our full selection of cover letter examples for every career: Best Cover Letter Examples
Editorial Assistant Cover Letter Sample
Editorial assistant
Mailing Address
Phone Number
Email Address
Hiring Manager Name
Company Name
Dear [Hiring Manager Name],
As a recent English graduate from UCLA, I was thrilled to hear of your search for an editorial assistant. My writing and editing skills have already been recognized with the 2019 Ruth Brill Scholarship Award for fiction. Now, I'm eager to apply myself towards helping Songbird Publishing continue to grow and inspire young minds with messages of tolerance and self-acceptance.
I understand that beyond impeccable English skills, this role requires excellent time management, attention to detail, and the ability to work both independently and as part of a cross-functional team. Here are some of my past achievements that illustrate my suitability for this opportunity:
Drafted jacket copy for 10+ novels during my editorial internship at BFT Publishing, 100% of which were accepted for publication with no corrections.
Collaborated with editors, graphic designers, and printers to ensure that 5+ books/month were printed correctly and on time.
Met 100% of deadlines during my 2 years as editor-in-chief of the UCLA student newspaper.
Introduced improvements to the style of the newspaper, increasing readership by 250% in under 6 months.
I have no doubt that my future lies in editing, but I'm particularly drawn to Songbird Publishing because of your conscientious, selective approach to the type of content you publish. In today's competitive market, few companies have the courage to stand up for what they believe in. Your commitment to publishing books that have a positive impact on young adults' self-image is truly inspiring, and it would be an honor to become part of your mission.
I'd be delighted to discuss in more detail how my skills and experience could become an asset to Songbird Publishing and how I could aid the company's growth through careful manuscript evaluation and publishing support.
Best regards,
[Your name], Editorial assistant
P.S.: I'd love to tell you about how I won the Student Journalism Award in 2019. It's quite a story!
Well—
Were it a real company, Songbird Publishing would already be drafting a contract for this person.
Let's get to writing your Penguin Random House-ready cover letter! Before you submit it for publishing, make sure you complete the series with an equally impressive resume: The Ultimate Guide to Writing a Job-Winning Resume
Now then—
How Do I Write a Cover Letter for an Editorial Assistant?
Here's how to write the perfect editorial assistant cover letter:
1. Use the Right Editorial Assistant Cover Letter Format
You wouldn't want to read a badly formatted piece of writing. Period.
You know better than anyone that proper formatting makes reading easier and far more enjoyable, so—
Here's how to format your cover letter for maximum readability :
Include plenty of white space: get your cover letter spacing right , and it'll be much easier on the eye.
Pick a professional cover letter font like Calibri or Cambria and set it to 11–12 points.
Use an elegant cover letter template to save yourself some time.
Read more: What Should My Cover Letter Look Like?
2. Create a Professional Cover Letter Header
Just as no publication would be complete without a masthead, your cover letter must include a heading with relevant contact details.
Here's what to include in your cover letter heading :
Your contact information: name, job title , phone number, and email address. Unless you're applying by post, there's no need to add your mailing address.
The date of your application.
The addressee's contact information: name and job title of the hiring manager, plus the company's address.
This is essentially the standard business letter format: it'll come in handy once you get your editorial assistant job, too, since you'll be handling a lot of correspondence!
Having trouble finding the name of the hiring manager?
Go the extra mile and do some research online: the company's official website and LinkedIn are great sources of information. If all else fails, you can always call the company and ask who reviews job applications for this position.
Read more: The Correct Way to Address a Cover Letter
3. Start with a Personal Greeting and a Compelling First Paragraph
Imagine you're evaluating a few dozen manuscripts (or pitches for a feature, if you prefer), and they all start the same. Same first paragraph, same vocabulary, just slightly different phrasing. One-way ticket to snoozeville.
...but then, you start reading a piece that starts in an entirely different way, taking a completely unexpected direction. Wouldn't that be the one to grab your attention?
Use the same principle to give your cover letter the best chance of success.
Here's how to start your editorial assistant cover letter:
Open with the correct cover letter salutation : Dear + the hiring manager's name. If you weren't able to determine their personal details, use the phrase Dear Hiring Manager .
Introduce yourself in the first sentence, mentioning your job title or the position you're applying for.
Describe (briefly!) your best professional achievement. If this doesn't jolt the recruiter into action, nothing will!
Use numbers to quantify your success, e.g. met 100% of deadlines or exceeded lead conversion targets by 25% .
Offer to use your expertise for the company's benefit. Try to mention a specific goal you want to achieve—it'll show you've done your research on the company.
See how that puts you a cut above the generic, copy + paste cover letters of your competitors?
Still waiting for inspiration? Read more: Best Cover Letter Opening Paragraphs & Guide to Starting Your Cover Letter the Right Way
4. Show That You're the Perfect Candidate
Doing great so far!
Your next task is to sort through your experience and pick a few impressive accomplishments relevant to the role of editorial assistant. They're about to become your best selling points.
Here's how to write the second paragraph of your cover letter:
Read through the job ad carefully and figure out what specific skills the company is after.
Show your understanding of the role by mentioning a few of your relevant professional skills.
Give a few examples of how you've exceeded expectations in the past: using bullet points, list 3–4 of your relevant accomplishments. Remember to use plenty of numbers and action verbs .
When describing yourself , you can use experience from your jobs in different professions (e.g. office jobs that show your administrative skills ) and other transferable skills if needed. Academic achievements are also fair game.
Blurb, chapbook, or full-fledged novel? Read more: How Long is the Perfect Cover Letter? Ideal Page & Word Count
5. Explain Why You Want This Particular Job
You've proven you can handle the job. The next question is, why do you want it?
In the third paragraph of your cover letter, show the employer that you genuinely care about the job and the company. So-called career confidence is often underestimated, but it can go a long, long way towards helping you land an interview.
Here's how:
Focus on what excites you about this opportunity. It could be the company's status as an industry leader, the chance to work with experienced professionals or famous authors, or simply the company's niche or structure.
Include a compliment or two.
Show that your personality makes you a good match for the company's values and culture.
As you can see, it's important to make every cover letter an exclusive read. You'd be surprised at how many people don't bother tailoring their cover letters!
Your dream publisher not hiring right now? Psst… Unsolicited submissions aren't so bad. Read more: How to Write the Perfect Cold Call Cover Letter
6. End Your Editorial Assistant Cover Letter With an Offer
Don't you hate it when great stories have mediocre endings?
How you end your editorial assistant cover letter matters—
Thanks for your time, please call me to arrange an interview simply won't cut it.
Here's how to write a memorable cover letter ending:
Offer to discuss your skills or suitability further. It implies you're ready for an interview and that you have even more achievements to share.
Reiterate how you can help the company achieve a specific goal.
Read more: How to End a Cover Letter: Guide, Examples, and Expert Tips
7. Complete Your Cover Letter with a Professional Signature and a P.S.
Almost done!
All that's left is signing your work. End with a professional Best regards , followed by your full name and job title.
To really make your resume unique, add a P.S. after your signature. Mention an additional achievement or project—
It'll leave the recruiter with a positive impression and give you an excellent talking point for your interview.
Asking after your application's status can be awkward (but it doesn't have to be). Read more: Everything You Need to Know About Following Up on Your Job Application
That's it!
Cross the Ts and dot the Is, and the ARC of your editorial assistant cover letter will be ready to send out along with a matching resume.
When making a resume in our builder, drag & drop bullet points, skills, and auto-fill the boring stuff. Spell check? Check . Start building a professional resume template here for free .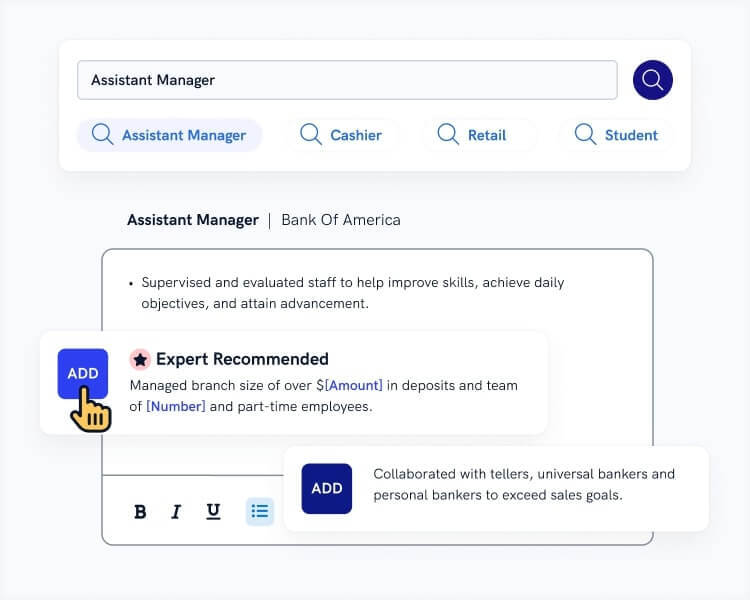 When you're done, Zety's resume builder will score your resume and tell you exactly how to make it better.
Thanks for reading! Is it difficult coming up with a list of professional achievements for an editorial assistant cover letter? Drop us a line in the comments below, we'd love to chat!
Don't miss out on exclusive stories that will supercharge your career!
Get a weekly dose of inspiration delivered to your inbox
Similar articles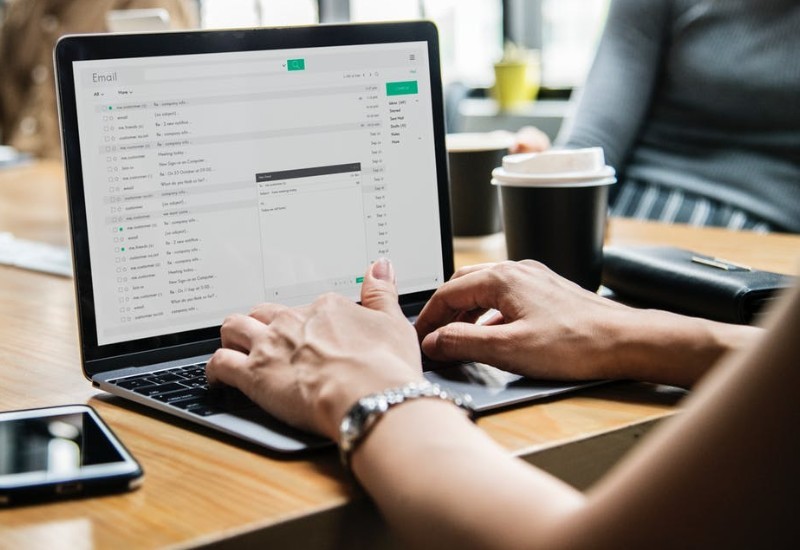 How to Email a Cover Letter: Samples, Format & Subject Line
Applying for a job via email? You need a perfect email cover letter (No, copy-pasting your regular cover letter will NOT do.) Check out this guide to see an email cover letter sample that gets jobs. Plus, you'll get an email cover letter template you can adjust and use, tons of expert advice, and actionable cover letter tips.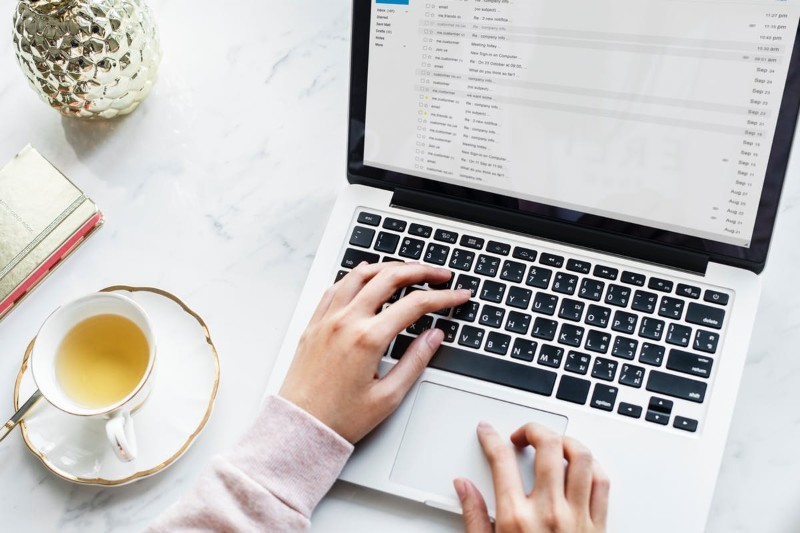 12 Cover Letter Templates for Microsoft Word (Free Download)
We've combed the Internet to bring you a collection of 12 awesome Word cover letter templates. Plus, we'll show you how to use them in MS Word.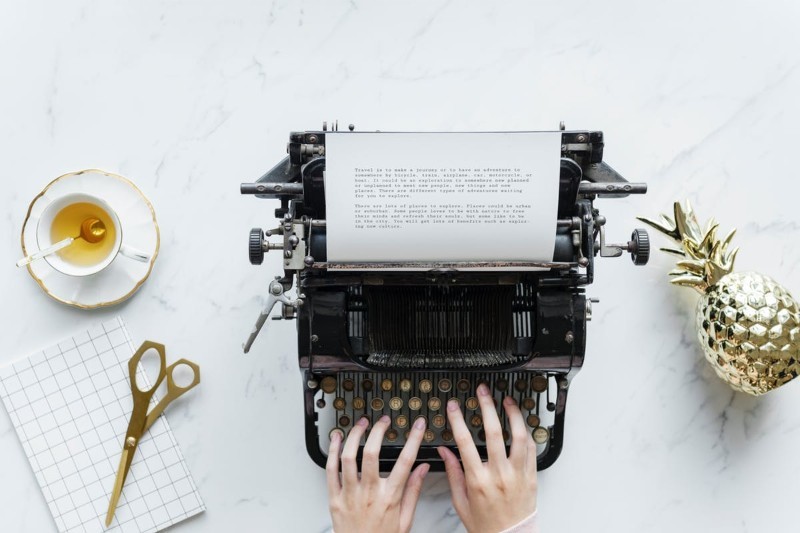 160 Writing Skills for a Professional & Creative Resume [List]
160 best writing skills for resumes in 2019. See 10 writing tips to improve your writing skills & skills for technical writing jobs, creative writing jobs, etc.
An Ode to the Cover Letter
By Carolyn Zimatore, Director, Talent Management at HarperCollins Publishers
My five-year anniversary with HarperCollins has come and gone. On top of that I celebrated my ten-year anniversary in book publishing this past March, and I still have to pinch myself sometimes because every day I get to work with such intelligent, creative, and passionate people. Book publishing is a very special industry—you get into it because you love books, you care about them, you love talking about them, you love how they feel,you love how they make you feel. That's why to me, whose primary job function is to hire people into book publishing, the cover letter is so very important.
Here are some great reasons why you should submit a well-written, well-thought-out cover letter each and every time you apply for a job in publishing. We want to know the "why"
Why do you want to work at HarperCollins? Why are you interested in working on, let's say, romance novels, if that's the job you are applying for? Why do you want to be an editor? I don't like to think of publishing as just a job. It's a career, and it's full of people who LOVE books. We want to know that you love books, too. This is especially important if you have no publishing experience, or you are looking to switch industries. Prove to me that you aren't just going to indeed.com and applying to every opening that has the word "marketing" in the title. It's fine if that's how you found the job opening, but we want to know you are excited about the prospect of marketing books. It is also great if you write about why you are interested in the imprint or genre the job works with. It helps if you already have a love of informative, beautifully designed books if you are applying to a job with HarperDesign, for example. I am not sure which is worse: a generic cover letter that says "I would like the open position at your company" without any mention of what the company is or what the job is or why you want the job, or no cover letter at all. Interested in multiple job openings?
That's great! You should apply for them—but there has to be a reason why, let's say, you like subsidiary rights and design. What aspects of those jobs, based on your knowledge of them or on what you read in the job ad, do you think you would like? And you should be submitting a separate cover letter for EACH. Why? Because they are different jobs! In the second paragraph of your cover letter, I should know why you are qualified for the job. Do you have experience doing some of the things that you would be doing in the role? Address it! Even if it is not spot-on but a transferrable skill—explain it. Address any holes in your resume.
Don't live in the area? We tend to fill jobs very quickly, so if you are planning on taking a month or more to move to the NYC area AFTER you get a job offer, it is going to take you a long time and a lot of applications before you find something. But perhaps you have a friend who already lives in the area and he or she said you can crash at their place for a few weeks while you find your own apartment—note that in the cover letter! You can say "while I currently reside in ___, I have a place to stay and I would be able to start within two weeks of an accepted offer." Look, I know applying to jobs is incredibly stressful, and doing it right can be very time-consuming. That being said, putting extra effort into your cover letter—at least when it comes to applying for jobs in publishing—will really pay off. The resume does not tell your whole story—you see what I did there?—use your cover letter to show your interest the job and why you are qualified for it. Good luck, and I hope to read your cover letter in the future!
Home → About publishing → Write the perfect CV and cover letter
Write the perfect CV and cover letter
When applying for a job or internship, your CV and cover letter should be well written and specific to the job you are applying for. Highlight transferable skills from previous experiences, even if they were unpaid or not directly associated with publishing. For example, an administrator needs to have good timekeeping, show attention to detail, and have strong written and verbal communication skills which are all transferable skills for an editorial assistant.
Take care checking for typos – use tools to help you like grammarly.com , ask a friend to proofread it for you, and read it out loud to catch any grammar, punctuation, or spelling mistakes.
Make sure you have tailored your CV to the role you're applying for. Avoid using the same CV or cover letter for every application – it should be specific to the role and company you are applying for.
Don't make it too long – CVs should be kept to two pages. Avoid long paragraphs and keep your sentences short. Try bullet points to demonstrate your skills and responsibilities under each position.
For more careers advice from people across the publishing industry on what – and what not – to put on an entry level publishing CV, view this video:
Covering Letter Tips
Take time to write your cover letter. Ask yourself why you want this position at this particular company. What is it you love about the role? Why do you think you'll be the perfect candidate?
Research the company and, where relevant, the imprint*, and tailor you application. Look at types of books and/or journals they publish, what recent successes have impressed you, and who are their competitors. Reading the Bookseller (a magazine specifically about the bookselling and publishing trades) and following publishers on Twitter are great ways to keep up with industry news!
Remember that your cover letter is not just an embellished CV – it is an opportunity to show you have your own ideas, are aware of industry trends, and (most importantly) can do the job. Work through the list of required skills provided in the job description and give examples of relevant experience. When giving examples, be specific and show results, for example "In my time running my football club's Twitter account at university, I introduced weekly sports quizzes that doubled our followers from 50 to 100 in one month".
Be honest if you don't have any experience of a required skill and present it as an exciting opportunity to develop.
Address the cover letter to the hiring manager. This is usually included in the job description. If it isn't, don't be afraid to contact whoever posted the job and ask.
Always err on the side of caution and use formal conventions in any correspondence, e.g. "Dear Sir/Madam" or, if you know their name, "Dear [Ms/Mr/Mx] [Surname]". Remember that every interaction with the company is an opportunity to impress so be polite and respectful. Sending too many emails to check up on the status of your application can be annoying for those involved in the hiring process, who may be juggling hundreds of CVs.
The first paragraph should come straight to the point, for example: 'I am writing to apply for the position of [role name] that I saw advertised in [media/agency]. Please find my CV enclosed.'
Use key words from the job description and give concrete examples of your skills.
Some companies will let applicants know if they are unsuccessful, but this is not always the case. If you don't hear from a company after the deadline, you can probably assume that you won't be offered an interview.
Interview Tips
Research is key! Find out everything you can about the company, the books or journals they publish, the people that work there, and, if you can, the people who will be interviewing you.
Be prepared to answer these questions in an interview:
Why do you want to work at this company?
Why do you want to work in this role?
Tell us a bit about yourself.
What are your biggest strengths?
What is your biggest weakness?
It's also a good idea to prepare examples of your creativity, problem-solving abilities and organisational skills. Using the job description, consider if there are any other key skills you may be asked to give examples of in the interview.
Always come to an interview with a list of questions and remember that you are also interviewing them! This is your opportunity to find out if the company is right for you – what is the company culture like? Are there opportunities for training and progression? Who are the rest of the team?
Build rapport with the interviewers by asking about their careers, what they like about working there, and what they hope the successful candidate will get out of the role. Finally, don't forget to ask about the timeline and next steps for their final decision. This is especially important if you have multiple interviews in the same week as you may be offered another position while waiting to hear back from them.
*An imprint is a publishing term for subdivision of a publishing company. A publisher may have multiple imprints under the same division. In a very large company with several divisions, there can be hundreds of imprints, each with their own distinct list of books. To figure out where the team that you are applying to join fits within the overall structure of the business, visit the About page of the parent company. For example, if you are applying for a position at Penguin Random House, you can find a description of their divisions and imprints here .
Publishing Interns
Looking to get into the publishing industry find tips, jobs, internships and other general useful things here 🎉, faq: how do i write a cover letter.
HOO BOY. This is a big one. Don't feel like you need to read this all in one go, but think of it like a master list of resources to check if you have any doubts. I've also had a little help from my friends, who are both amazing and far more knowledgeable than I:
Sarah Fortune , otherwise known as the worlds youngest publishing manager (24!!) and the person who inflicted me upon John Blake Publishing.
The amazing  Lydia Gittins , press officer from Titan Books  and all round superstar.
Fran Roberts , marketing machine at DK, SYP extraordinaire and owner of the worlds best floral skirt collection
And finally I also have special permission from legendary publishing rockstar  Sam Missingham to include her #CVLetterTips, so watch out for those!
Now LETS GET STARTED!
Making sure your cover letter is effective is a huge pain in the ass, but it's essentially the first contact between you and your potential future employer, so you need to make a good impression. Now, I am by no means an expert, but I'm going to tell you what's worked for me, as well as drawing upon what other people have said, and hopefully we can create a huge master post for you to consult whenever you have ANY questions.
These are the main things I'm going to be covering in this post; if you need any other tips please do get in touch.
How long should my cover letter be?
Can i get away with using a basic template, what should my cover letter look like.
How formal should I be in it?
What should I actually write about?
Who should i address it to, ok, i've written it, what should i do now, anything else.
Easy – one side of A4 maximum. You need to be succinct and clear, and you need to get to the point quickly. Employers get A LOT of applications, and they just don't have the time to be reading an essay about you. Anything you need to say can be said in one side of paper, and anything longer than that is too much.
Lydia: Keep it snappy. A cover letter really doesn't need to run to more than a couple of hundred words as it serves to introduce you, briefly say why you're interested in the role and what relevant experience you might have.
Fran: One side of A4. Recruiters are going to be getting hundreds of letters, so it needs to be punchy and useful. If you're worried about font points, 11 is best, but I have been guilty of shrinking to 10.5! I tend to go with Calibri, because that seems the most widely accepted font at the moment, but just be sure to use one that is legible and clean – Arial and Times New Roman do the same job.
I feel my answer for this one is going to be controversial, but it's what I do and what has gotten me interviews at some of the biggest publishing companies. The short answer is yes, but it needs to be a TEMPLATE only, not something you're copy and pasting and changing the name of the company each time.
Here is the kind of template I use:
Definitely not the words 'cover letter' because your employer knows exactly what it is – you don't need to write that (same with CVs)
1st para: introduction Example: Hi, it's me, I'm applying for this job at your company because I love your company for these reasons. I'd be amazing and now I'm going to tell you why.
2nd para: about me I've done this, this and this, all of which have given me super experience for this job because of this reason, this reason and this reason. I also have these skills which will be great for this reason, and am doing this so I'll be great at doing that too.
3rd para: what I will bring to the role As previously mentioned I've done all these great things, and I will use them to make the company even better by doing this and that.  Also I am super passionate about this thing/practice/ethos your company is doing/following, so would fit in great with that. Finally I am super amazing and the best possible person who will apply.
Final para: anything else which is important I didn't mention before but there are also all these reasons why you should give me the job. In conclusion I am incredible, I look forward to hearing back from you, kindest regards, me.
And that's it, that's as far as you need to go with your template. You're still writing a new cover letter each time, but by planning something like this you can easily work out what it is you want and need to say, and where to say it. It's like writing an essay plan but then using it for loads of different essays – it saves time and helps you to organise yourself better.
Sarah: Make it personal! – If you're applying for quite a few jobs at a time, it's tempting to use a template for each application and just change the publisher's name, and this is absolutely a mistake I made when I applied for work experience placements, and even jobs in publishing at first. While I think it's fine to have a standard starting paragraph explaining who you are and why you want to go into publishing, I would always have a different middle paragraph for each application. No one is expecting you to have read their whole backlist, but just mention a couple of things the company have done that make you want to work for them. If you're applying for a job at your all-time favourite publishers and you've read loads of their books, then by all means tell them! If they're a company you know less about, Google them and see what they have coming out, if they've been nominated for anything or have anything similarly newsworthy. Again, it all shows that you care and that you want * this * job, not just any job.
Fran: I'm reluctant to say "template". Run of the mill cover letters are boring and it's not going to do you any favours. However, if you find a certain structure works for you, stick with it. But every letter needs to be personal and you can't do that from a template. My trick is to structure it by: talk about me, talk about my experience, talk about the company.
Lydia:  Write some good templates . Having two or three strong template letters to cover different areas of publishing (eg editorial, publicity, production etc) that you're interested in will be a time-saver ultimately as it will allow you to update with the relevant job title and company name (along with any name checked books to show you understand what the company publishes) as you go. It's honestly a time-saver that you will high-five yourself for later, even if writing them feels like a chore to begin with.  And always make sure you check  before hitting send just in case you have the wrong company name in there (it's happened to all of us, don't worry!)
NEVER cut and paste a templated cover letter for each job. 'I am very excited about 'Input Job' at 'Input Company'. No No No #CVLetterTips — Sam Missingham (@samatlounge) March 19, 2016
Ok so we've all given conflicting advice here. The most important thing to do is to use whichever method feels right, and what works for you.
P simple answer for this one – it should look like a letter! Some people appreciate having all the formalities, like an address in the top right corner and all that, some people couldn't give a hoot. Do what feels more normal and what you're more comfortable with.
Sarah: Lay it out like a letter – Like old people did, with your address in one corner and the company's in another. It just looks nicer on the page and shows that you care. 
Fran: Depends on your job. I know that if you're trying to get in to Design, it sometimes helps to have something a bit more creative. But don't go overboard! Mine has always been a standard letter format, with my name, number and email at the top. It doesn't have to be fancy – it has to be good.
Do NOT start every paragraph with 'I' on your covering letter & do not have one big block of text – break up with bullets etc #CVLetterTips — Sam Missingham (@samatlounge) March 19, 2016
How formal should I be?
My cover letter is not formal. It obviously isn't filled with slang, incorrect grammar and smiley faces, but my last one began with 'Hi!' and included me saying that I make a cracking cup of tea (I figured if I read that I'd want to give me a job, so it might work with other people too). I think the formality of your covering letter depends on who you're writing to, the image you want to put across and what you think works best for you. Applying at an independent children's publisher vs applying at a huge international academic publishers are entirely different things and should be treated as such. At the same time, publishing is a creative industry, so you don't need to apply in the same way as if you were writing to apply to work at a law firm. Work out what works best for you, and go with that.
Fran: Don't worry about being hugely formal, remember that you have to show your personality too. But stick to the rules – don't get too familiar, try not to use exclamation points (only use them in special circumstances, if at all), and remember that these people are wanting to employ you, not be your friend. Do you write to people in a professional capacity now? How do you approach them? It's the same idea. If you're not sure, imagine reading it to a complete stranger – how does it make you look? Make sure you find out the name of whoever it is recruiting, but try to stick with Mr/Mrs/Ms, as first names tend to step in to the too-familiar territory.
I think there is no right or wrong answer to this question. Some people think that cover letters are for skills you have, and CVs are for experience, some people think the other way around, some people think something entirely different. Mine is pretty much a combination of both.
I know that it's often useful to see examples of cover letters, so here is the entirety of the last cover letter I wrote, with names etc redacted:
Hello (name of person I sent it to) !
My name is Emma, and I am writing to apply for the (role) as advertised on (website/twitter account you saw job, or which was recommended to me by this person) . This is my ideal role, and I have already undertaken a number of similar jobs and developed relevant skills which make me a great fit; hopefully you will give me the chance to show you how passionate I am about book publishing. I am especially keen to work with you at (company name) , as I am particularly passionate about working with non-fiction, and I really love your (particular really good book series) . Being able to work with such amazing authors as (those involved in said series) would be incredible, so hopefully over the course of this letter I can convince you to give me a chance to do so!
At the moment I am a publishing intern at John Blake, where I work in almost all departments of the company. I am doing a lot of publicity and editorial work, as well as being the general admin assistant for the whole office. I am in charge of the phones and info email accounts, dealing with submissions and author queries, sending out press mailings, proof reading manuscripts and press materials, tracking e-book sales and a number of other responsibilities! Every day at John Blake I gain more invaluable publishing experience, however I would love to be able to reach the next stage in my career – a permanent job!
Prior to this, I undertook an internship at Biteback Publishing, working in their marketing, publicity and sales department. I was writing press releases, blog posts and publicity updates for upcoming releases, and using Gorkana to source relevant contacts to send this to. I also created a social media schedule for March, including a new marketing tactic to be implemented for the foreseeable future. As well as this, I uploaded forthcoming books to Nielsen Title Editor, writing bios for each of these and categorising them with BIC codes. Additionally I helped to process the sales orders made on the website, and organise these being sent out.
My role before as a marketing and social media assistant at an investment banking firm will allow me to bring forward a unique view to the  (role) , as well as requiring at lot of the same skills. I worked on increasing the marketability of recently acquired the shopping centres through the use of social media and digital marketing. I was in a small team, so the role was very high demand and a lot of work, with a lot riding on the success of the project. I was personally in charge of developing the social media campaigns for all seven shopping centres, having to research all previous work which had been done, the demographics of the pages followers, the centres competitors and other influencing factors. I undertook a lot of admin work, such as keeping up correspondence with centre staff and clients, taking minutes in meetings and organising an event for centre staff to attend, including travel and accommodation, eating arrangements and creating an agenda.
I've also interned as an editorial assistant at a magazine publisher and worked as a freelance proofreader throughout university, both of which have also helped to prepare me for this role. I'm great at organisation and very attentive, as well as being awesome at time management. Additionally, I run the Twitter account @pubinterns, so I am always up to date with publishing news and events. I also make a cracking cup of tea and usually have any kind of stationery you could ever need about my person – if that isn't useful, then I don't know what is.
I am completely dedicated to establishing a career in book publishing, and I hope that you will give me a chance to show you.
Kindest regards, Emma Stokes
As you can see, this is way too long, I just got a little carried away/over-excited when applying because I had done literally EVERYTHING the job spec asked for. But you can also see that I researched the company, tailored what I wrote to what they were looking for, and tried to make the most of the space I had. I talked about the non-publishing job I had, because the experience I gained there was also great for the role. I even mentioned the Twitter account, because so many people in publishing are active on Twitter and if you show them you have an active presence then they'll be able to look you up! (I'm assuming not all of you run publishing internship Twitter accounts which you can mention, so another way to do this is to message the person who listed the job, include publishing hashtag talks you've been involved in, or if it's for a role which includes social media use you can talk about publishers/authors on Twitter who you think are doing a great job).
You might think my cover letter is total bollocks (and it might be!) but I think that my personality comes across, that it's well written enough to not be thrown straight in the bin and that it shows I would have been good for the role. If you can get that from your cover letter too, you're golden!
Lydia: Write a cover letter! At the risk of sounding flippant on this, when we have internships available I receive applications that don't have any form of cover letter (either as an attachment or in the body of the email). I completely understand time constraints on job and internship applications, but a brief cover letter that introduces you and references the role and company lets me know that you've read the description and are interested in this particular opportunity.
Sarah: Don't treat it as an afterthought – Just FYI, an email that says 'Hello, I am writing to you to apply for work experience, please find my CV attached' is NOT a covering letter! I think the covering letter is just as important as your CV, and actually more important in a lot of ways. CVs from publishing graduates tend to be fairly similar (good degree, couple of work experience placements here and there) so the covering letter is your chance to stand out, and could just get you the interview versus someone who clearly hasn't made an effort.
Fran: Your cover letter is going to work as a bit of a mini-CV, as well as proving you're the perfect person for that company. Key points to remember:
        – talk about the company you're applying to, reference something relevant if you can (is there a campaign you admire? A success story on the Bookseller to reference?)
        – "tick the boxes" when it comes to the job description. Give them clear examples of when you have achieved something that they are looking for. For example, if you're applying for a marketing role, and they want experience of working on marketing campaigns (which they will unless it's entry level), give them an example of one you have worked on, with some measurables if you can – how it did, what worked and what you did to make it work
        – what do you want them to see in your CV? Make a point of it in your covering letter – they will look for it in the CV
        – talk about something other than your job – find an example outside of your job that fits with what they are looking for. You're a real person, not your CV! Show your passion for something, show you're driven. Include some positive feedback someone's given you. Give them a 3D picture of what you're like. I always talk about my blog, or my travelling, or something that has given me transferable skills.
Lydia: Keep it relevant to the role. If you're applying for a publicity internship don't list a life-long dream of being an editor as your reason for applying. Likewise if you're applying to a publisher that specialises in one particular genre (non-fiction, crime, YA etc) try to tailor towards this, even if it's just expressing your appreciation as a reader for a similar book.
Sarah: Show some commercial awareness- While it's fantastic that you've read the entire work of Dickens and love the Brontes, most publishers don't really want to hear about this (unless you're going for a job at Penguin Classics, in which case, go for it). If you're applying for a job in publishing, you obviously love reading, but talk about why the industry itself interests you and show an awareness of current trends, whether in terms of books being bought or how they're being promoted (e.g. Twitter and Instagram have become really important tools for publishers!).
If the application is not being sent to a personal email, or if the job spec doesn't say who you're sending it to, then it can be tricky to know what to do. Saying 'dear sir/madam (or just HI! in my case) seems horrendously impersonal, but what else can you do? WELL, if the job is listed/mention on Twitter, then reply to the tweeter asking who it should be addressed to. Even the general @JobsatHarper or @PRHCareers pages will have someone manning them to get back to you. Failing that, do you know someone working in that company/in that department/at that imprint? Send them a Twitter/LinkedIn message and ask if they know who you should send it to (and if they have any tips 😏). All that being said, not addressing it to a specific person isn't the end of the world, and your job prospects won't be affected by it at all.
Sarah: It's nice if you know the name of the person doing the hiring, but it's not critical and I'd never dismiss someone because they just wrote 'Dear Sir/Madam' or 'Dear Hiring Manager'.
Fran: You should always address it to the person you are applying to. Try and find out who you will be reporting in to, as they will more often than not be that person. This can be hard, and if you're going through a recruitment company, it's not always possible. But a personalised covering letter is so much stronger than a "dear sir/madam". Twitter and LinkedIn are your friends with this! You need to show you know about the company and the job – this is the quickest and easiest way to prove it.
SPELL CHECK. GRAMMAR CHECK. SPELL AND GRAMMAR CHECK AGAIN. If you've spelled anything wrong or written anything incorrectly there's a good  chance your application is going straight in the bin.
Re-read the job spec. Have you specifically addressed what they're asking for? If they've said "we want someone with great computer skills", have you mentioned your computer skills? Or have you gone off on a tangent and talked about how you once ate a whole pizza in 3 minutes? Your cover letter needs to be tailored for EACH AND EVERY job you're applying to (I know it's a pain, but if you don't do this then someone else applying will have!)
Lydia: Experience is everywhere . It's totally fine to have no previous "formal" publishing experience (it's why you're applying after all) but you probably do have publishing experience: from blogging, being part of #bookstagram, having an English Literature degree or even just being an avid and enthusiastic reader, it's all part of the publishing world. Love for books is some of the most essential experience you can have, so make sure you let us know.  (I REALLY like this one)
Sarah: Get the company name right (!!!)  – this sounds super obvious but I've opened up plenty of letters addressed to 'John Black', 'John Barnes' and sometimes a different publishing house entirely. Instant way to get your application rejected and letter deleted.
Fran: Check it! Have someone else check it if you can. Trust me – bad spelling and grammar will do more damage than a lack of experience any day. Make sure it's structured well and makes sense, and make sure it matches the job description. I call it "ticking the boxes", but I genuinely do something like that – pulling out the key points in the job description, and ticking them off as I add them in to my covering letter. Check your figures if you've included them, and double check that your covering letter and CV match. It's no good sending a great covering letter if your CV doesn't hold up too.
YES! But I promise I'm almost finished. BIG well done on making it this far!
Here are Sam Missingham's other #CVLetterTips, which are really useful:
Read the job description CAREFULLY and highlight the key things they are asking for – your covering letter should address them #CVLetterTips — Sam Missingham (@samatlounge) March 19, 2016
Your letter is an exercise in copywriting & marketing yourself. How can you sell yourself, preferably with fewer words? #CVLetterTips — Sam Missingham (@samatlounge) March 19, 2016
Research the company you are applying to & reference them, their products, achievements at least twice. #CVLetterTips — Sam Missingham (@samatlounge) March 19, 2016
Research the co. on Twitter, Facebook & Linkedin – should give you the most up-to-date info & more useful than their w'site #CVLetterTips — Sam Missingham (@samatlounge) March 19, 2016
Pretty good huh? Okay, what else?
Well, the Careers at Penguin blog has a couple of posts about cover letters (among other things) which are another good resource to have. Check out  what makes a covering letter stand out  and  zoom in on the covering letter  to see what they have to say for themselves.
Here are some final words from Sarah, Fran and Lydia which I couldn't cram into the other headings:
Sarah: Be enthusiastic – you want them to get a sense of how passionate you are about the job, and not only what the job would offer you, but what you'd offer it!
Lydia: Be honest. We're nice (I promise!) and understand that people have other commitments. If you're applying for a 5 day a week internship, but realistically you're going to struggle with this you can put forward an alternative and suggest fewer days or a shorter internship. While it may not always be possible there are quieter periods in publishing that this may be the perfect fit for and we appreciate both your honesty and the ability to manage your time and commitments.
Fran: Do not be put off if you don't have 100% of the experience. In a recent study, people in the most successful jobs, will go for a role even if they only have around 80% of the skills required. Jobs should always be a challenge, and you should always be learning. It's up to you to prove to your employer that you are worth that investment – which, by the way, you are.
And now, THAT'S IT! I'M FINALLY DONE, 4241 WORDS LATER!
I know this is all A LOT to take in, but this is something you can refer to later on whenever you're writing a letter and get stuck on something. So I hope that at least someone finds it useful, cos it's taken me friggin' ages!
If there's anything you think is missing, any tips you want me to include or questions you want me to answer, as ever email me at [email protected] or find me on Twitter. Sarah, Lydia and Fran's Twitter accounts are all linked at the start when I first mentioned them, please go and follow them and show them your love! I know I will be. Now I am going to go and take a long hot bath to recover from writing this, you're going to write the best covering letter of all time and we'll all be happy! (Until the time comes when I do this ALL OVER AGAIN FOR CVS (this isn't going to be for a while I am exhausted.))
Share this:
31 thoughts on " faq: how do i write a cover letter ".
This is so great! Very helpful, thanks for putting it together 🙂 I wish I could get away with sending in the template 'Hi it's me' version though!
Hah, me too! Glad you like it 🙂
Hi Emma! I loved this post! 🙂 I'm in the midst of writing a cover letter as we speak. Do you have any advise or resources for someone trying to get into contracts and rights? Would a cover letter or interview for a contracts assistant position be wildly different from an editorial one?
Hi! I wouldn't say it would be WILDLY different, but there are probably a number of things which would be good to mention. Drop me an email ([email protected] and i will get in touch with some contracty people and get back to you!
Pingback: 13/05 Jobs – Publishing Interns
Hi Emma, Firstly, great post! I've bookmarked it and will be referring to it whenever I write cover letters in the future.
One thing I struggle with pretty much every time I apply for a job is whether to put the cover letter in the body of the email, or to format it as a proper (pretty) letter and send it as an attachment. I'm not sure if it's particularly important, but it always feels like a crisis when I have to choose which to do.
Hey!! Thank you so much I'm glad you like it! Also that's totally confusing, I always used to send it just in the email but then one rejection I got told me that they couldn't process it any further because I didn't have a cover?! So basically always always send it as another attachment, and then in the email just say hey hi I'm applying for this pls find cover/cv attached! I hope that helps xxxxx
Hi! This was really helpful, thank you! I have also bookmarked it and will be using it for all future cover letter crises. 🙂
Thanks so much! I'm glad it's helping :-)))
Pingback: What's Worked for Me So Far (Interning in London) | The Delirious Reader
Pingback: INTERSHIPS POST 17/8 – Publishing Interns
Pingback: On Unemployment and Graduate Life | The Singing Lights
Pingback: A Few Thoughts on Publishing | The Singing Lights
Pingback: How to get into publishing: CV and covering letter – That Publishing Blog
I refer to this everytime I write a cover letter!! Thanks guys!!
Like Liked by 1 person
Reblogged this on Asmaa Muses .
Reblogged it. It was really helpful, thanks!
Pingback: INTERVIEWS MASTERPOST! – Publishing Interns
Incredibly inspiring and helpful post. However, I've only just decided to pursue publishing internships and as such don't have experience. I'm a fast reader and wanted to pursue something I really enjoy. Do you have any advice for either other avenues or making myself a more attractive candidate? I'm an actor which has required me to read lots of scripts, I read loads and have a Classics degree. Any advice would be really appreciated! 🙂 Thank you
hiya! so aside from doing publishing industry internships, you can also look at other entry level ways in, such as journalism if you wanted to get into editorial, a pr agency if you wanted to get into publicity, or being a bookseller if you wanted to get into sales. all experience related to books is also a bonus – bookshops/libraries, etc. basically if you find which area of publishing you want to do into, and find out the duties that entails, you can cater your cv/experience to fit with that. for example with editorial – reading scripts is good, even better if you did any proofreading/editing for them. that kind of thing! Hope that makes sense.
Like Liked by 2 people
Pingback: GUEST POST: What are Recruitment REALLY looking for in a Cover Letter? – Publishing Interns
Pingback: 5 Awesome Resources For Getting Into Book Publishing « Inspiring Interns Blog
Reblogged this on The In-Between and commented: Book Publishing. Some great tips on writing cover letters, covered here!
Such a helpful post – thank you! One question about Lydia's final comment (being honest about time commitments etc.) – where would you put this in the cover letter? Straight in at the beginning so that you're not wasting anyone's time, or tagged on at the end? Thanks!
Pingback: Job hunting/ interview tips! – Fledgling Words
Reblogged this on Conversationalist .
This post has been incredibly useful! Thank you so much for taking the time to write it. 🙂
I didn't have any expectations regarding that name, but then the more I was astonished. The author did a great job, he informed me about the writer that wrote this https://scottishcovenanters.org/ . I spent a couple of minutes reading and checking the facts.
Everything is very clear and understandable. I enjoy posts that fill in your knowledge gaps. This one is of the kind. Moreover, I like the way the author organized his thoughts as well as the visual part.
Pingback: My experience working in publishing – Going to meet the fishermen
Great post!
Pingback: My First Publishing Job! – Book Ramblings
Leave a Reply Cancel reply
Fill in your details below or click an icon to log in:
You are commenting using your WordPress.com account. ( Log Out / Change )
You are commenting using your Twitter account. ( Log Out / Change )
You are commenting using your Facebook account. ( Log Out / Change )
Connecting to %s
Notify me of new comments via email.
Notify me of new posts via email.
Already have a WordPress.com account? Log in now.
Follow Following
Copy shortlink
Report this content
View post in Reader
Manage subscriptions
Collapse this bar
Privacy preference center
We care about your privacy
When you visit our website, we will use cookies to make sure you enjoy your stay. We respect your privacy and we'll never share your resumes and cover letters with recruiters or job sites. On the other hand, we're using several third party tools to help us run our website with all its functionality.
But what exactly are cookies? Cookies are small bits of information which get stored on your computer. This information usually isn't enough to directly identify you, but it allows us to deliver a page tailored to your particular needs and preferences.
Because we really care about your right to privacy, we give you a lot of control over which cookies we use in your sessions. Click on the different category headings on the left to find out more, and change our default settings.
However, remember that blocking some types of cookies may impact your experience of our website. Finally, note that we'll need to use a cookie to remember your cookie preferences.
Without these cookies our website wouldn't function and they cannot be switched off. We need them to provide services that you've asked for.
Want an example? We use these cookies when you sign in to Kickresume. We also use them to remember things you've already done, like text you've entered into a registration form so it'll be there when you go back to the page in the same session.
Thanks to these cookies, we can count visits and traffic sources to our pages. This allows us to measure and improve the performance of our website and provide you with content you'll find interesting.
Performance cookies let us see which pages are the most and least popular, and how you and other visitors move around the site.
All information these cookies collect is aggregated (it's a statistic) and therefore completely anonymous. If you don't let us use these cookies, you'll leave us in the dark a bit, as we won't be able to give you the content you may like.
These cookies allow us to provide you with better functionality and personalization. They may be set up by us or by third party providers whose services we've added to our pages.
The purpose of these cookies is to give you a more personalized experience, based on your previous visits and choices. If you don't wish to allow these cookies, these services may not work.
We use these cookies to uniquely identify your browser and internet device. Thanks to them, we and our partners can build a profile of your interests, and target you with discounts to our service and specialized content.
On the other hand, these cookies allow some companies target you with advertising on other sites. This is to provide you with advertising that you might find interesting, rather than with a series of irrelevant ads you don't care about.
Desktop Publisher Cover Letter Sample
Enhance your career prospects & learn how to improve your cover letter with this carefully composed Desktop Publisher cover letter sample. Copy and paste this cover letter example as it is or revise it in our sleek cover letter builder.
Related resume guides and samples
How to craft an impressive flight attendant resume
How to write an excellent librarian resume
How to craft a compelling personal trainer resume
Desktop Publisher Cover Letter Sample (Full Text Version)
Dear Hiring Manager,
As a Desktop Publisher with 3 years of client project experience, I apply with enthusiasm for this opportunity.
I am currently a Desktop Publishing Specialist at Halliwell & Co, where I provide document formatting and publishing support to a wide variety of business and academic clients. After assessing their individual requirements, I develop templates and shells, incorporate written responses into the master file, monitor file configuration, and finalize electronic files while ensuring content and formatting are of the highest quality. This builds upon my 18 months as Desktop Publishing Associate at Rhubarb Press, where I worked on chapters of a software user manual for a global client.
In addition to my experience, I hold a Bachelor of English. I consistently receive excellent feedback from clients for my meticulous attention to detail, ability to quickly comprehend their needs, and for delivering superior work often ahead of schedule. Per your requirements, I am an expert user of Adobe InDesign, Scribus, PageStream, and QuarkXPress.
I have loved my time at Halliwell & Co. As my workload has decreased considerably due to the pandemic, I now seek a new opportunity in a fast-paced environment where quality work is valued.
Please find attached my résumé for your consideration. Thank you very much for your time. I look forward to hearing from you regarding next steps.
Yours sincerely,
Edit this sample using our resume builder.
Don't struggle with your cover letter. artificial intelligence can write it for you..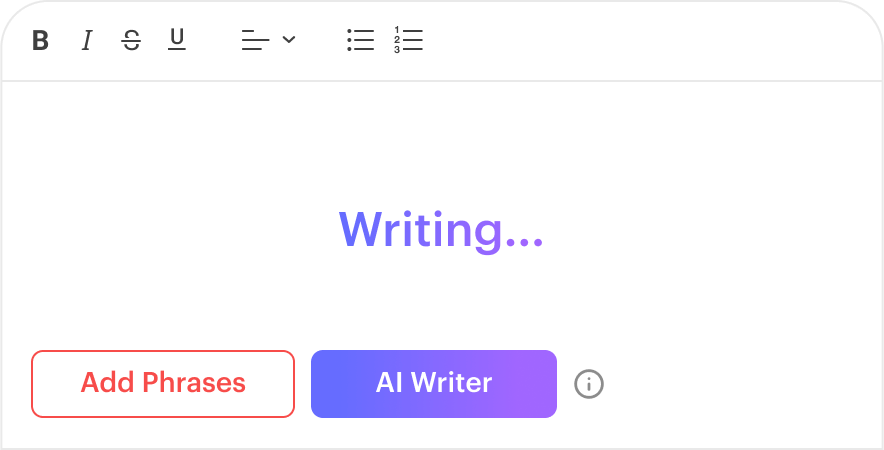 Similar job positions
Personal Trainer Flight Attendant Librarian
Related others resume samples
Related others cover letter samples
Let your resume do the work.
Join 2,000,000+ job seekers worldwide and get hired faster with your best resume yet.