Blog > A Guide to PowerPoint-Karaoke
A Guide to PowerPoint-Karaoke
08.15.19 • #fun #ppt #game.
When hearing the Word Karaoke, most people immediately think of being on stage and singing to a background track. With PowerPoint, we associate work, school, meetings and workshops – rather professional matters. But mix the two things together and you get one of the funniest, most entertaining games ever – PowerPoint Karaoke.
What is PowerPoint Karaoke?
…may be the first question you ask. Well, PowerPoint-Karaoke (also known as Battle Decks) is a game with very simple rules: The presenter gets on stage and must convincingly present a deck of PowerPoint slides he has never seen before. The main purpose is to have as much fun as possible. We listed further instructions in the paragraph below.
Watch this very funny example of Kate McKinnon doing PowerPoint Karaoke:
The presenter must not see the slides before presenting them. All slides have to be presented in order and it is not allowed to skip slides.
When all the slides have been presented, the presentation is over. Alternatively, you can set a time limit.
The rules for the slides are not defined very strictly. They can either be about a "regular" topic (e.g. on a country, an animal, a hobby), a complex topic (e.g. difficult concepts of science), or about nothing at all really (just a bunch of nonsense-slides open for creative interpretation).
Once all the presenters are done with their presentation, it is time to crown a champion. You can decide the winner based on the following points:
Content and Credibility
Posture and Gesture
Entertainment/Fun
(Optional) Withdraw points for not finishing in time
An easy way to evaluate the best presentation is to let the audience vote in a live poll via SlideLizard. Download it here: slidelizard.com/download
How can I play it?
Even if there is no pub or bar near you that offers public PowerPoint-Karaoke events, you can always get your friends and family and have a fun evening playing. You can either make presentations for each other, try out the ones we made down below or look for more on the internet. You can show the slides on a TV or a bigger computer screen. The at-home-or-with-friends-version is definitely a great option, because you do not have to get on a stage and you're with people you know all the time – which makes it a lot less embarrassing and may get shy people to participate.
Making it even more entertaining
The game gets even better by making it interactive and integrating the audience. Polls are perfect for doing so! SlideLizard offers a great tool for creating them. Here's an example:
What does every Start-up need?
A coala bear
2437 litres of rum
A submarine
Now it's time to let the audience vote. In the end, the presenter has to explain the right answer.
Free PowerPoint-Karaoke slides
In order to get you started right away, we have prepared three creative presentations for your next game of PowerPoint karaoke! Each slide deck contains two additional suggestions for live polls which you can add with SlideLizard to make the game even more fun!
Topic 1: Dolphins (12 slides) Download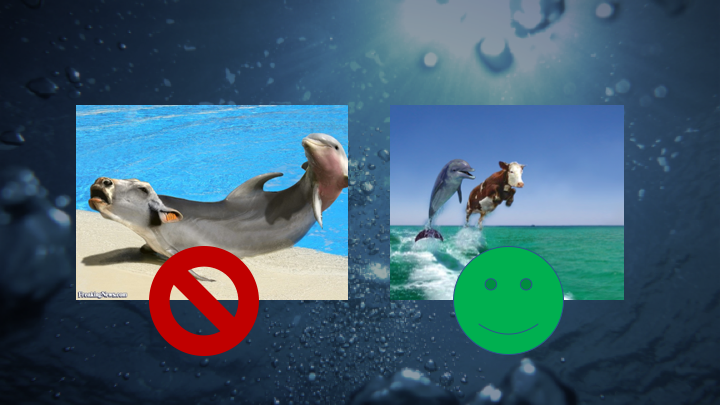 Topic 2: Startup (12 slides) Download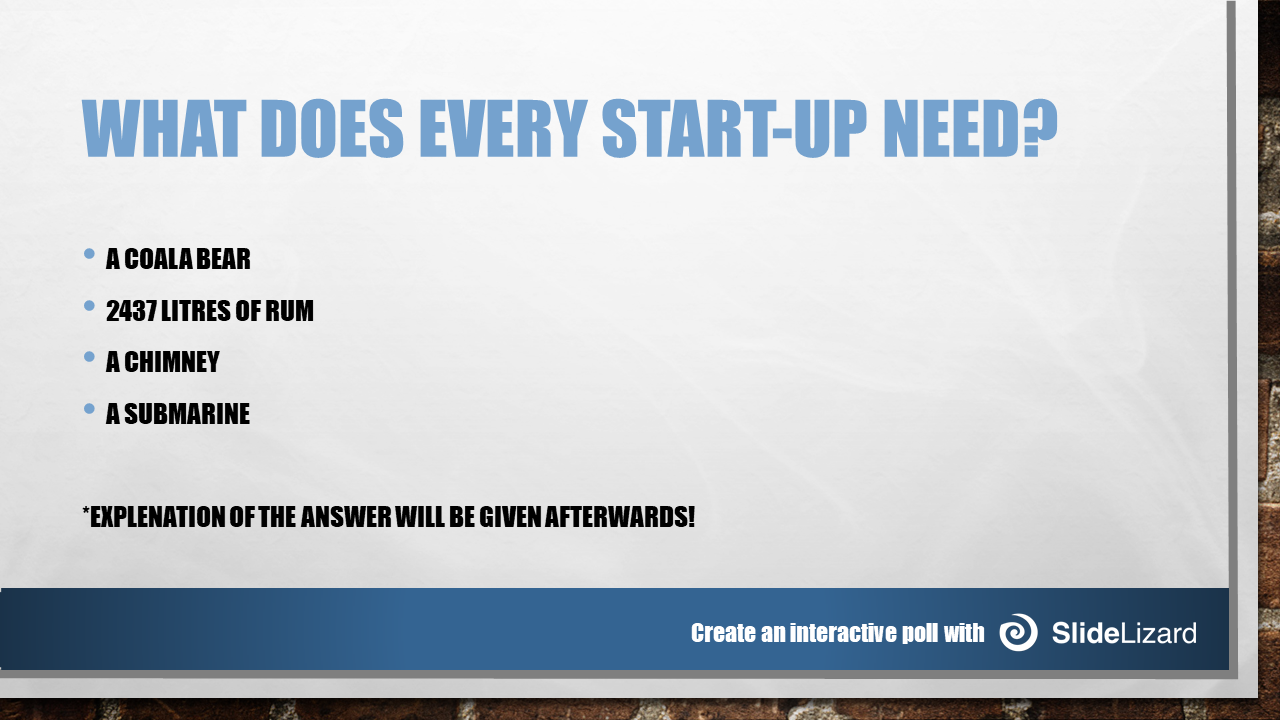 Topic 3: Diet (11 slides) Download
Related articles
About the author.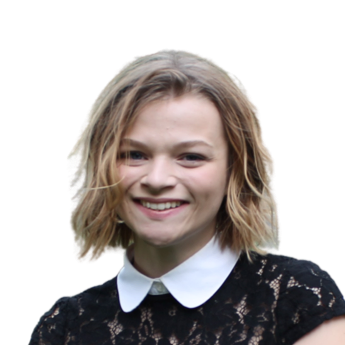 Pia Lehner-Mittermaier
Pia works in Marketing as a graphic designer and writer at SlideLizard. She uses her vivid imagination and creativity to produce good content.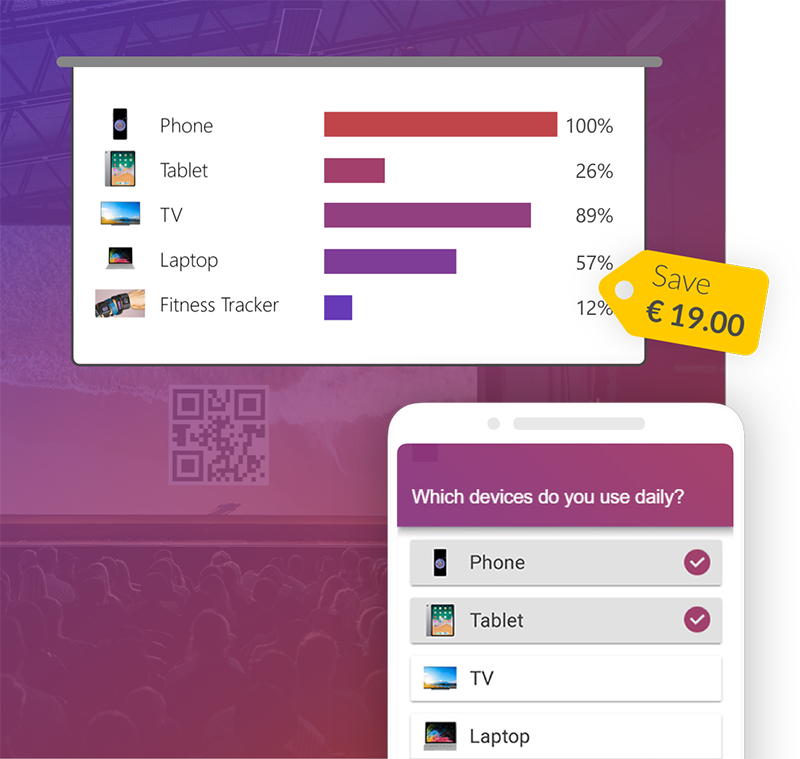 Get 1 Month for free!
Do you want to make your presentations more interactive.
With SlideLizard you can engage your audience with live polls, questions and feedback . Directly within your PowerPoint Presentation. Learn more

Top blog articles More posts

PowerPoint change format (16:9 ↔ 4:3)

How to introduce SlideLizard to your audience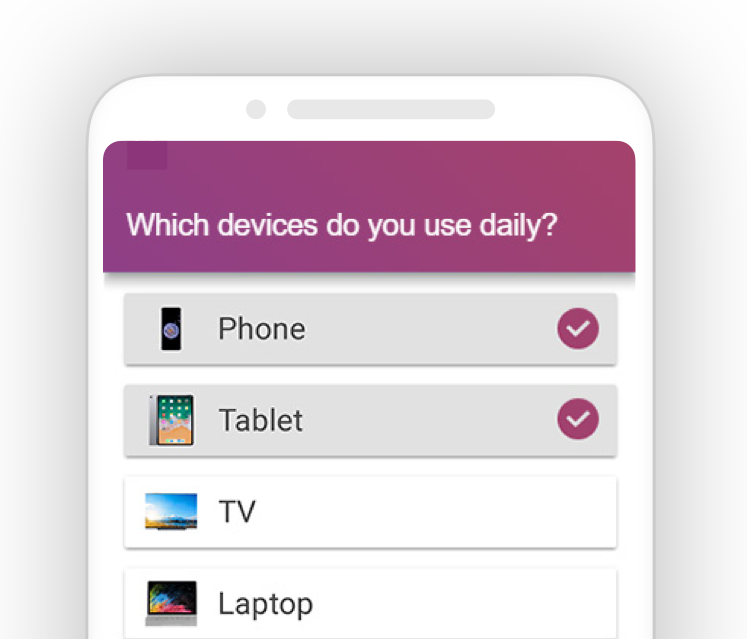 Get started with Live Polls, Q&A and slides
for your PowerPoint Presentations
The big SlideLizard presentation glossary
Normal view (slide view).
The normal view or slide view is the main working window in your PowerPoint presentation. You can see the slides at their full size on screen.
Slide Sorter view
The Slide Sorter view in PowerPoint shows thumbnails of all your slides in horizontal rows.The view is useful for applying global changes to several slides at once. Also it's useful for deleting and rearranging slides.
Face-to-face
If you are talking to someone face-to-face you are directly facing each other.
Internal Preview
An Internal Preview is a statement, which is made in the body of the speech, so that the audience knows what the speaker is going to discuss next.
Be the first to know!
The latest SlideLizard news, articles, and resources, sent straight to your inbox.
- or follow us on -
We use cookies to personalize content and analyze traffic to our website. You can choose to accept only cookies that are necessary for the website to function or to also allow tracking cookies. For more information, please see our privacy policy .
Cookie Settings
Necessary cookies are required for the proper functioning of the website. These cookies ensure basic functionalities and security features of the website.
Analytical cookies are used to understand how visitors interact with the website. These cookies help provide information about the number of visitors, etc.
The game where you give the Powerpoint presentation of your life.
Powerpoint karaoke (also called powerpoint roulette or battledecks) is an improv game where you give a presentation from a slide deck you've never seen..
It's a game that tests your skills, gets people laughing, and keeps everyone wondering what will happen next.
The name "Powerpoint Karaoke" comes from combining " PowerPoint ", the presentation software, and " karaoke ," the popular singing performance game.
Powerpoint Karaoke is great for:
Company meetings and events
Team-building activities
Off-sites and retreats
Workshops and trainings
Meetups and conferences
High-school or College classes
"[I] tried this with some of my coworkers and they absolutely loved it. We're going to use this for fun activities that also reinforce presentation and teambuilding skills."
Brad Kriesman, Director, athenaUniversity
Learn How to Play
Powerpoint Karaoke
How to play.
Total of 10 slides
Spend 15-30 seconds per slide
Advance slides yourself
credibility
getting through the deck
Random number generator
Source of slides.
PowerPoint Karaoke
What's this all about? ... PowerPoint Karaoke , also known as Battledecks or Battle Decks , is an improvisational activity in which a participant must deliver a presentation based on a set of slides that they have never seen before. Its name is derived from Microsoft PowerPoint, the world's most popular presentation software, and karaoke, an activity in which a performer sings along with a pre-recorded backing track. The effect is intended to be comical, and PowerPoint Karaoke can be considered a form of improvisational theatre, or a type of Theatresports game. Read more on Wikipedia - http://en.wikipedia.org/wiki/Powerpoint-Karaoke
So you went to some event and they did PowerPoint Karaoke and it was tons of fun. Now you are sober and want to do it again with another group of people. Its your lucky day - here's a collection of some good decks.
Chicken Chicken
Productivity
Who the hell
Press Play!
Put yourself right in the fun with a random deck!
How to play?
Get familiar with Slidefest!
Gather some friends!
Gather some friends or colleagues at home or during a lunchbreak!
Connect a beamer or TV
Find a screen, any screen, to play SlideFest on.
Go to slidefest.com
Good job, you're already here!
Choose a slidedeck
Pick your favorite, or press the big Play button for random decks!
Choose a random topic
Pick a topic, everything is allowed. Everything…
Hit Play and have loads of fun!
Join the community!
Visit Debatrix for training and coaching in your persuasive powers.

PowerPoint Karaoke: Have Fun and Improve Your Presentation Skills
October 3, 2014 / Blog, PowerPoint ideas, PowerPoint Tips, Presentation Powerpoint, powerpoint karaoke, presentation delivery, presentation skills
I'm sure you've tried karaoke to wind down with colleagues after a long day of work. But have you ever thought to give PowerPoint Karaoke a try?
In PowerPoint Karaoke, participants are challenged to take the stage and deliver a presentation based on slides they've never seen before. The rules are pretty simple. Instead of singing power ballads, participants will need to make sense of random slides, and connect it to an assigned theme. They will also be restricted by a time limit. The results are usually pretty crazy and absurd. To give you a clue, here are some slides from a PowerPoint Karaoke event held in Seattle last 2012:
As you can probably imagine, PowerPoint Karaoke can lead to some pretty hilarious situations. The best speakers are those who are willing to step out of their comfort zone, ready to have fun while practicing their improvisation skills. It's the perfect game for anyone looking to deliver better and more engaging presentations.
Getting started:
If you're ready to throw your own PowerPoint Karaoke party, here are some tips to help you get started:
Build your PowerPoint decks beforehand. Be creative and go for slides that will challenge the participants. If you want, you can find presentations online and edit them for your use. Five to seven slides per deck will do.
At the event, let the participants draw for their speaking order and assigned theme. This will give everyone an even playing field, and prevent people settling for topics they're familiar with.
You can decide whether you want speakers to control their own deck, or have the slides auto advance.
Set a time limit that's no more than 5 minutes.
Decide on a winner by letting the audience vote. You can prepare forms, or just ask them to choose their favorites by show of hands.
PowerPoint Karaoke is a great activity to try with your colleagues. Gather a small group in a room and start having fun. Urge everyone to test their improvisation abilities and improve their presentation skills.
Featured Image: Simon Law via Flickr
Popular Posts
Save your deck: methods to recover an unsaved powerpoint file.
Twitter: Lessons from Social Media
Oscar Speech Sounds A Lot Like…..
Olympians Can Teach Presenters a Thing or Two
Overcoming a Public Speaking Disaster: A Lesson from Michael Bay
The Similarities Between Presentations and Advertisments : Super Bowl Edition

PowerPoint Templates
Google Slides Themes
Keynote Templates
Education & Training
Nature & Environment
Technology and Science
Careers/Industry
Abstract/Textures
Food & Beverage
Art & Entertainment
Construction
Business Concepts
Financial/Accounting
Religious/Spiritual
Utilities/Industrial
Holiday/Special Occasion
Business Models
Infographics
Cars and Transportation
Business Cards
Letterheads
Newsletters
Technology, Science & Computers
Agriculture and Animals
Illustrations
Backgrounds
Business and Office
Education and Training
Arrows, Shapes and Buttons
Industry Essentials
Objects and Equipment
Animals and Pets
Agriculture
Religious / Worship
Consumer Electronics
Home Appliances
Web templates
Actions and Presets
Layer Styles
Become a Contributor

Presentation Templates
Graphic Templates
Karaoke PowerPoint Templates & Google Slides Themes
Karaoke Party PowerPoint Template
Singing powerpoint template, wired microphone powerpoint template, microphone of 70th powerpoint template, singing girl powerpoint template, show biz powerpoint template, music concert powerpoint template, microphone powerpoint template, audio recording powerpoint template, office canteen powerpoint template, talent show powerpoint template, silver old fashioned stage microphone presentation, old fashion microphone against bokeh background presentation, microphone on a stand up comedy stage presentation, cromagnon - creative neon powerpoint template, close up of microphone in concert hall with blurred lights presentation.
Can't find what you are looking for? Tell us what it is!
Download Free and Premium Karaoke PowerPoint Templates
Choose and download Karaoke PowerPoint templates , and Karaoke PowerPoint Backgrounds in just a few minutes. And with amazing ease of use, you can transform your "sleep-inducing" PowerPoint presentation into an aggressive, energetic, jaw-dropping presentation in nearly no time at all. These from free or premium Karaoke PowerPoint Templates and Backgrounds are a great choice for a wide variety of presentation needs.
Our Free and Premium PowerPoint Templates are "pre-made" presentation shells. All graphics, typefaces, and colors have been created and are pre-set by an expert graphic designer. You simply insert your text. That's it!
Free vs. Premium Karaoke PowerPoint Presentation Templates
PoweredTemplate offers a wide range of free Karaoke PowerPoint Presentation Templates. You can find them by filtering by "Free", from the "Filters" option on the site, on the top left corner of the screen after you search. This content is completely free of charge.
If you download our free Karaoke PowerPoint templates as a free user, remember that you need to credit the author by including a credits slide or add an attribution line "Designed by PoweredTemplate", clearly and visibly, somewhere in your final presentation.
PoweredTemplate also offers premium PowerPoint templates, which are available only to Premium users. There is no difference in product quality between free and premium Karaoke PowerPoint Presentation Templates.
Best Karaoke PowerPoint Templates
Are you looking for professionally designed, pre-formatted Karaoke PowerPoint templates so you can quickly create presentations? You've come to the right place - PoweredTemplate has created these templates with professionals in mind. At PoweredTemplates, we understand how busy you are and how you love to save time.
That's why we've created a set of PowerPoint design templates with a Karaoke theme. These Karaoke PowerPoint templates are a great choice for a wide variety of presentation needs. Spend your time wisely - download the Karaoke PowerPoint Templates today.
Karaoke PowerPoint Presentation Themes FAQ
What are karaoke powerpoint templates.
A PowerPoint template is a pattern or blueprint for your slides that you save as a .pptx or .potx file.
All the Karaoke PowerPoint templates are natively built in PowerPoint, using placeholders on the slide master, color palettes, and other features in PowerPoint, and can contain layouts, theme colors, theme fonts, theme effects, background styles, and even content (according to Microsoft Office).
How to choose Karaoke PowerPoint templates for presentations?
Choose after carefully studying the template features and viewing the big preview images. All the product information is on the product page in the description and a list of the features can be found in the horizontal scrolling bar under the Download button. You may download a few free templates before making the final decision.
Who are Karaoke PowerPoint templates suitable for?
Why do i need karaoke powerpoint templates.
You have not viewed any products yet. Start browsing our template library and here will be stored your history of viewed products.
Use "Favorites" to save products you find interesting, to compare them and add to cart. To add products in favorites you must first register or login. Registration is Free! To add a product to "Favorites" simple click on near product's image.
Account Sign In
Create your Free Account
Forgot Password?
Remember me on this computer
Not Registered? Create Free Account
By creating an account I agree to PoweredTemplate's Terms and Conditions .
Already have an account? Sign in
No suggested jump to results
Notifications
A public list of funny slides that you can use for Slideshow Karaoke
bih/list-of-slideshow-karaoke-slides
Name already in use.
Use Git or checkout with SVN using the web URL.
Work fast with our official CLI. Learn more .
Open with GitHub Desktop
Download ZIP
Sign In Required
Please sign in to use Codespaces.
Launching GitHub Desktop
If nothing happens, download GitHub Desktop and try again.
Launching Xcode
If nothing happens, download Xcode and try again.
Launching Visual Studio Code
Your codespace will open once ready.
There was a problem preparing your codespace, please try again.
Latest commit
List of Slideshow Karaoke Slides
This is no longer maintained. Feel free to fork this repository.
At many hackathons and events around the world, we play a game that's known as Slideshow Karaoke . It also goes by the name Powerpoint-Karaoke or Battle Decks. Basically, an audience watches a person present a random set of slides that they have never seen before, often with the slides being controlled by someone else. It's a lot of fun, with plenty of laughter and improvisation.
However, finding good slides is difficult. This repository should hopefully solve that.
List of Slides
Contributing.
Thanks for wanting to contribute. There's just a few rules that we have for slides in this list:
They must not violate the Major League Hacking Code of Conduct .
They must have at least 15 slides, and no more than 75 slides.
They must not contain more than 75% text. Text-heavy slides don't work.
They must be available for public use. A good place to find slides is Slideshare .
When creating a PR to add your slide to the list, please add them alphabetically.
What makes a funny set of slides for Slideshow Karaoke?
Repetition. Lack of this is too much to follow and often not funny.
Very opinionated. Slides that have a lot of opinion (i.e. programming language) are 💯 .
Nostalgia. When slides try to incorporate childhood TV shows into modern concepts, that's always a hit.
Foreign slides. People can't present slides that they only half-understand 😎
Memes. Why not.
Contributors 4
How to Create a Karaoke File With PowerPoint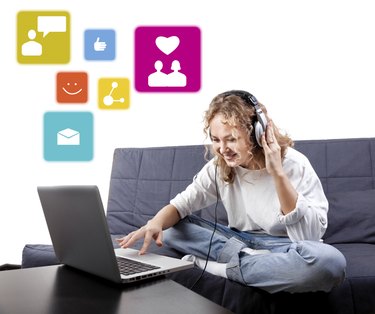 A sure-fire hit at restaurants, parties and weddings, karaoke machines turn ordinary people into singing stars, whether they can hold a tune or not. The magic lies in the karaoke machine's ability to display words that synchronize song lyrics with the music that's playing. Performers read the lyrics from a screen as the song plays and sing them. If you don't have a karaoke machine, you can recreate that exhilarating karaoke experience using Microsoft PowerPoint 2013. Simply create slides that hold your song lyrics and sync the slides to the music.
Advertisement
Insert the Lyrics
Launch PowerPoint and a slide appears. The slide contains a "Click to add title" section and a "Click to add text" section. Type the song's title in the slide's Click to add title" section and press "Ctrl-M" to add a second slide to the presentation.
Video of the Day
Type the first line of your song. For instance, if the song is "Jingle Bells," the first line would be "Jingle Bells, Jingle Bells, Jingle all the way."
Repeat this process until you create enough slides to contain all of the song's lyrics. When you're done, you'll see thumbnail representations of those slides in the Thumbnails pane on the user interface.
Press "F5" to preview the presentation. You'll see the first slide that contains the song's title. Click that slide to advance to the next slide that contains the song's first line. At this point, the karaoke is almost complete. All it needs is music and synchronization that syncs the slides to that music.
Add a Dash of Music
Click the first slide in the Thumbnail pane to view it. Click "Insert" followed by "Audio" and then click "Audio on My PC" to view the Insert Audio window.
Navigate to the folder that contains your song and double-click the song to open it. PowerPoint places a speaker icon and a small audio player on the slide. Click the "Play" button to listen to the song. Click the "Pause" button when you want to stop playback.
Right-click the speaker icon, click "Style" and then click "Play in Background." This important step causes the song to play in the background as the slideshow runs.
Click "Slide Show" and then click "Rehearse Timings." Power Point enters preview mode and places a small music player on-screen. The music also begins to play as you view the first slide that shows the song's title.
Listen to the music and click the first slide when the song reaches the point where you hear the song's first line. When you click the slide, PowerPoint shows the slide that has that first line. Continue to listen and click that slide when you hear the song's second line. PowerPoint advances to that slide. Repeat this process until you reach the end of the song.
Press "Esc" and PowerPoint displays a message window that shows the length of your slide show. It also asks if you'd like to save the new slide timings. Click "Yes" to close the message window and return to the main user interface.
Press "F5" to preview your presentation. The music plays and the slides advance automatically in sync with the music. This happens because PowerPoint remembered the timing information you set up when you clicked slides in Rehearse Timings mode. You can save your presentation and run it any time when you want to sing along to your karaoke song.
Create a Karoke Video
Click "File" followed by "Export" and select "Create a Video." Click "Computer & HD Displays" and click one of the output options you see. Those options are "Computer& HD Displays," "Internet & DVD" and "Portable Devices."
Click "Use Recorded Timings and Narrations" and then click "Create Video." Navigate to the folder where you want to save the video and type a name for the file in the "File Name" text box.
Click the "Save as Type" drop-down menu and select the video format you'd like to use and then click "Save."
Report an Issue
Screenshot loading...
We've updated our privacy policy. Click here to review the details. Tap here to review the details.
Activate your 30 day free trial to unlock unlimited reading.
PowerPoint Karaoke
You are reading a preview.
Activate your 30 day free trial to continue reading.
Check these out next
Download to read offline
Deck of random slides for PowerPoint Karaoke --> PowerPoint meets Improv.
Recommended
More Related Content
Slideshows for you (20).
Viewers also liked (20)
Similar to PowerPoint Karaoke (20)
Recently uploaded (20)
1. #PPTK<br />PowerPoint Karaoke<br />
2. Let's Do This!<br />
3. Driving Innovation<br />6.0 Be relevant<br />No.1 Obama Fundraiser<br />Listen to what is being said<br />Identify touchpoints (where are people already talking about you and what are they saying)<br />Be ready to react<br />Engage and add value to existing conversations<br />Sarah Palin - Obama campaign most successful fundraiser - $11 million raised in one day following Sarah Palin speech - Campaign reacted community via email. Giving the cynical speech as a reason the to donate money to ensure Palin could not succeed<br />3<br />
5. Gartner Hype Cycle for Enterprise Architecture, 2010 <br />
6. Did these entrepreneurs sell their soul?<br />
7. Sometimes your passion goes against the grain.<br />
11. Slide 4<br />WHERE TO START<br />Picket Fence<br />CRM<br />Mass Marketing<br />Number of Customers<br />Highest Value Customers<br />Customer Value<br />Source: Peppers & Rogers Group<br />
15. You do not just measureyour heart beat<br />
16. 16<br />And a Little Bit About Respirators<br />Occupational Risk Pyramid for Pandemic Influenza<br />Respirators Recommended;<br />Consider higher level respirator (e.g., PAPR)<br />Respirators Recommended<br />Facemasks Recommended<br />Facemasks or Respirators Not Recommended<br />
18. sometimes we fail<br />
19. 19<br />PRODUCTION CYCLE TIME<br />Time gap between the starting time to produce a completed item (or Batch, ready for dispatch) till the next item (or Batch ) is started. The total time is production cycle time.<br />CONTINUOUS IMPROVEMENT:<br />Continuous Improvement View of Losses of Deviations from Normal<br />
20. Your TV Will Kill You<br />
22. If the shelter had only ten clients…<br />7 White<br />1 Hispanic<br />1 Black<br />1 Native American<br />4 will work<br />6 will be unemployed<br />5 will stay 7 days or less<br />3 veterans<br />3 will have mental health issues<br />4 will have substance abuse issues<br />8 men<br />2 women<br />The Numbers<br />
24. The Outcome?<br />
25. Flickr photo by rosewithoutathorn84<br />And you're branded a heretic.<br />
27. What is social media?<br />
28. Technosocial<br />Wormholes<br />
31. Virtualised Farm ArchitectureVirtualisation Scalability<br />
32. Your Chair Is Killing You<br />
35. Yellow Hat Activity<br />In small groups of 3: <br />(Group Roles, Graphic Organisers)<br />What are the good points of being tall?<br />
36. We have a problem<br />
37. All you really need:<br />+<br />+<br />Flickr: Insanity TheoryKellyPuffs<br />
40. Be who you are.<br />
44. we are all <br />cyborgs<br />
45. customer relationships<br />partners<br />product selection<br />selling stuff<br />on the Web<br />mass customer<br />Amazon.com<br />content management<br />distribution<br />Amazon S3<br />Web2.0 companies<br />Internet API<br />warehousing & distribution<br />product search<br />data services<br />A9 product search<br />e-commerce sites<br />Internet<br />Amazon.com data grid<br />selling stuff<br />IT infra<br />data storage fees<br />marketing<br />search engine revenues<br />
46. Driving Innovation<br />10+ Culture <br />Social media central to the campaign - not a sideline<br />Agile approach to responding<br />Accepting some chaos <br />No room for command and control<br />Open and transparent<br />Set ground rules<br />46<br />
48. Module 1: Introduction to Critical Thinking<br />1. What is Thinking? <br />3. What is <br />Critical Thinking? <br />2. Types of Thinking <br />7. Characteristics of<br /> a Critical Thinker <br />4. Critical Thinking <br />Standards<br />Introduction<br />6. Barriers to <br />Critical Thinking <br />5. Benefits of <br />Critical Thinking<br />
49. Sitting Will Kill You<br />
50. But so were these guys.<br />
52. like electricityin your house!<br />
55. A Challenge<br />Please write a One Sentence Definition of<br /> TEAM BUILDING.<br />
58. 200K<br />1998<br />300K<br />2001<br />500K<br />2002<br />??<br />2007<br />More & more IT projects are starting each year<br />
60. Maybe you should embrace your heresy.<br />
61. 61<br />LOSS FUNCTION :<br />L(y) =K(y-m)2 = Taguchi Loss Function <br />Where,<br />y = the value of the quality characteristic for a particular item of product or service,<br />m = the nominal value for the quality characteristic, and <br />k = a constant, A/d2<br />A = the loss (cost) of exceeding specification limits (e.g., the cost to scrap a unit of output), and <br />d = the allowable tolerance from the nominal value that is used to determine specification limits. <br />
62. Facial Expressions<br />Face is the index of Mind<br />The eyes, the lips and the muscles express many feelings<br />It can also be deceived by manipulation<br />
63. Put your personality on stage<br />
64. Mr. Average<br />
66. Selling your soul is a good thing for your brand.<br />
67. 6 aspects of leading by example<br />Priorities<br />Urgency<br />problem solving<br />standards of performance<br />Ethics<br />Co-operation<br />
68. People accept a leader's influence because leaders have power<br />
71. privacy on facebook<br />
72. http://www.betterprojects.net/2007/05/introduction-to-stakeholder-management.html<br />
74. The Cookie<br />
75. 1.7 Characteristics of a Critical Thinker <br />
76. What gets your engine running?<br />
79. prosthetics <br />and their <br />discontents<br />
80. Normal Distribution Bonus Lecture<br />Now your template should look like this<br />Not to be used, posted, etc. without my expressed permission. B Heard<br />
81. Figure 1.1 Triple Constraint of Project Management(Schwalbe, 2006, p8)<br />
83. 1 A4 to prepare<br />1 slideto communicate<br />1 A4to execute<br />
85. Why Exercise?<br />
89. Reality isn't always fun<br />
90. 90<br />UCL<br />LCL<br />BPMS<br />Process Mission Statement<br /><ul><li>Assess your previous mission/goals
91. Evaluate if your process boundaries have changed
92. Adjust and make corrections </li></ul>A.<br />Purpose:<br />Importance:<br />Boundaries:<br />Process Goals:<br />Step 1: Create Process Mission<br />è<br />Process Management System<br /> Process Owner<br />Beginning Point End Point<br />Step 2:Document Process<br />è<br />B.<br /> C<br /> O<br /> P<br /> I<br />S<br /><ul><li>Assess current CTQs and if they reflect process
93. Assess if any new CTQs or measures are needed
94. Adjust and make corrections</li></ul>Key Process <br />Verbatim Issue Requirement<br />Step 3: Document Customer and Process Requirements<br />è<br />Operational Definitions<br />Data Owner<br />Definition<br />Unit<br />How Many<br />DPU<br /> ê<br />è èèèè<br />Step 4:Identify Output and Process Measures<br />Proc.<br />CTQ Rqmt Output Proc Input<br />è<br />C.<br />Process Management System<br /><ul><li>Develop should be process map
95. Create a simple data collection plan</li></ul>è<br />Step 5: Build Process Management System<br />Step 6 Establish Data Collection Plan<br />Clarify Operational<br />Data Definitions<br />è<br />Validate <br />System<br />Data<br />Display<br /><ul><li>Assess if current dashboards are representative
96. Collect Data and populate dashboards
97. Assess performance against targets
98. Adjust and make corrections</li></ul>Step 7: Process Performance Monitoring<br />D.<br />è<br />Step 8: Develop Dashboards with Spec Limits and Targets<br />è<br /><ul><li>Develop actions to address variation</li></ul>Step 9: Identify Improvement Opportunities<br />Trend <br />Chart<br />Problem <br />Pareto<br />E.<br />è<br />Root <br />Cause<br />Corrective <br />Actions<br />
100. 92<br />
102. strong & valuable approach, but limited view<br />
105. Can you draw these?<br />
108. Have you ever heard anyone say, "His actions spoke so loudly I couldn't hear what he said?"<br />
109. A map is handy to communicate(=Strategy map)how you plan to get(=Strategy)from where you are(=Mission)to where you want to be(=Vision)<br />
110. "<br />To find something comparable, you have to go back<br />500 years to the printing press, the birth of mass media – which, incidentally, is what really destroyed the old world of kings and aristocracies. Technology is shifting power away from the editors, the publishers, the establishment, the media elite. Now it's the people who are taking <br /> control."<br />– Rupert Murdoch<br />
111. 5 attributes<br />1<br />2<br />most important attribute<br />second most important<br />…<br />…<br />3<br />4<br />-<br />-<br />
115. Figure 1.1 Project Life Cycle (Gray & Larson, 2006, p6)<br />
116. FORTUNES UP AGAIN<br />FORTUNES UP<br />They left their brand<br />FORTUNES DOWN<br />They created their brand<br />They returned to their Brand<br />
118. Quality<br />The QuadrupleConstraint<br />Time<br />Scope<br />Cost<br />Warning: Quality has many definitions<br />
120. Why?<br />
122. 114<br />
123. In this photo released by the official Xinhua news agency, members of China's armed police demonstrate a rapid deployment during an anti-terrorist drill held in Jinan, east China, on Wednesday July 2, 2008, roughly one month ahead of the Beijing Olympic Games.<br />
124. Most Valuable Customers: Retain<br />'Below Zero' Customers:<br /> Dismiss, or?<br />Most Growable Customers: Grow<br />Marginal customers: Business as usual?<br />Slide 2<br />DIFFERENT CUSTOMERS BY VALUE<br />Service costs<br />Source: Peppers & Rogers Group<br />Customer value segments<br />Actual value<br />Strategic value (potential share of customer)<br />
129. The Thoracic Cage<br />The thoracic cage consists of the thoracic vertebrae,sternum, and ribs. It forms a more or less conical enclosure for the lungs and heart and provides attachment for the pectoral girdle and upper limb. It has a broad base and a somewhat narrower superior apex; it is rhythmically expanded by the respiratory muscles to create a vacuum that draws air into the lungs.<br />
130. 9. execute the plan-> manage implementation & change<br />
131. management<br />
132. Figure 10.1 Network of stakeholders(Gray & Larson, 2006, p314)<br />
136. You Car Will Kill You<br />
137. draw a value proposition<br />5 - high<br />3 - medium<br />bank's performance<br />1 - low<br />attribute 2<br />attribute 3<br />attribute 1<br />attribute 5<br />attribute 4<br />[Kim & Mauborgne (2002) Charting Your Company's Future]<br />
139. 131<br />% Trained<br />No. Trained against no. identified for training in a chosen subject<br />Better Throughput<br />Establishing a Performance Standard<br />A performance standard translates customer needs into quantified requirements for our product or process<br />Product/ProcessCharacteristic<br />Measure<br />Customer<br />Need<br />CTQ<br />Target<br />95 %<br />Specification/ToleranceLimit(s)<br />90%<br />Defect Definition<br />Below 90%<br />
140. Customer satisfaction<br />
143. insert<br />:-)<br />¥€$<br />Acquiring knowledge<br />Learningperspective<br />Summarizing knowledge<br />Processperspective<br />Customer satisfaction<br />Customerperspective<br />Profitable growth<br />Financialperspective<br />
144. The "Products"<br />Flickr: tfynsoldierantdrikidgray_xplane<br />
146. Beijing 2008<br />
147. Unclear use of colors<br />
149. Facebook's international age distribution<br />Source: Facebook internal data, September 2007<br />
152. Chinese police parade during an anti-terrorism drill for the 2008 Beijing Olympic Games in Xian, in China's Shaanxi province on June 11, 2008. China is staging a week of anti-terrorism drills, dubbed "Great Wall 5", ahead of the Beijing Olympics next month.<br />
153. Too many colors<br />
156. 5. chose suitable design-> decide<br />
158. Banana<br />
159. 151<br />Probability of Success<br />Low<br />Med<br />Hi<br />Project Prioritization Matrix<br />The desirability of a project increases as you move from the lower right to the upper left, and as the circle gets larger<br />Increasing Desirability<br />Hi<br />IMPACT<br />Med<br />Low<br />Low Med Hi EFFORT<br />
161. Which ones are most important for projects?<br />Technical skills<br />People Skills<br />Budgeting, Scheduling, Documenting<br />Leading, Motivating, Listening, Empathising<br />
162. Ultimately all causal paths lead to financial measures<br />Financial perspective<br />Customer perspective<br />Process perspective<br />Learning perspective<br />
Editor's Notes
Unemployed: (evidence suggests that most of these qualify for or are currently receiving disability benefits)The population we serve at the shelter is predominately male, typically 80% male and 20% female.Many suffer from mental illness and or other mental health issues, others from addictions, and for some both. Roughly 25% of our residents attribute mental health issues to reasons why they are homeless and 40% report problems with alcohol or substance abuse.Some of our residents have neither MH issues nor addiction issues, but life circumstances have caused them to use our services. (Divorce, loss of Job, death in family, injury while at work, Etc.)Some are rough and tough, yet they are all vulnerable to some extent considering they are staying at the shelter.
The Art School Entry test…
http://www.wired.com/wired/archive/14.07/murdoch.htmlhttp://www.milkeninstitute.org/newsroom/photos/gc04_rmurdoch.jpg
Finished artwork is a product of the process.Not all Visual Thinking Exercises must lead to a finished/polished piece of work.
Share Clipboard
Public clipboards featuring this slide, select another clipboard.
Looks like you've clipped this slide to already.
You just clipped your first slide!
Create a clipboard
Get slideshare without ads, special offer to slideshare readers, just for you: free 60-day trial to the world's largest digital library..
The SlideShare family just got bigger. Enjoy access to millions of ebooks, audiobooks, magazines, and more from Scribd.
You have now unlocked unlimited access to 20M+ documents!
Unlimited Reading
Learn faster and smarter from top experts
Unlimited Downloading
Download to take your learnings offline and on the go
Instant access to millions of ebooks, audiobooks, magazines, podcasts and more.
Read and listen offline with any device.
Free access to premium services like Tuneln, Mubi and more.
Help us keep SlideShare free
It appears that you have an ad-blocker running. By whitelisting SlideShare on your ad-blocker, you are supporting our community of content creators.
We've updated our privacy policy.
We've updated our privacy policy so that we are compliant with changing global privacy regulations and to provide you with insight into the limited ways in which we use your data.
You can read the details below. By accepting, you agree to the updated privacy policy.
Free Karaoke PowerPoint Template
Free Karaoke PowerPoint template is a free karaoke template for Power Point that you can download and use in your PowerPoint Karaoke presentations. This free slide design karaoke has a lady singing in the slide design over a blue PowerPoint background . You can download free Karaoke template for PowerPoint compatible with Microsoft PowerPoint 2007 and 2010. This free Karaoke PPT template can be useful for companies creating karaoke PowerPoint presentations. What is a Karaoke PowerPoint ? In Wikipedia we can read that a PowerPoint Karaoke "is a spin-off from the traditional Karaoke that instead of singing songs the presentation participants must present an impromptu presentation based on a random presentation topic. The presentation is projected on the screen to an audience. This random presentation can come from a sampling of images collected locally or by randomly downloading from the Internet. The name Powerpoint-Karaoke is based on the title of Microsoft Powerpoint. In theory, other similar software can be used for this purpose. Powerpoint-Karaoke can be considered a training game in PowerPoint presentations that allows the participants to hone their rhetorical presentation skills with a flair for dialogue. It is also considered to be a form of improvisational theatre or as a type of Theatersports game".
PPT Size: 84.7 KiB | Downloads: 13,382
Download 1764_karaoke_ppt.zip
Download In Progress…
Download will begin shortly. If you liked our content, please support our site helping us to spread the word. This way we can continue creating much more FREE templates for you.
For serious presenters, we recommend...
Slidemodel.com.
Fast-growing catalog of PowerPoint Templates, Shapes & Diagrams for Presentations.
Presenter Media
Animated PowerPoint Templates, 3D templates and Cliparts for PowerPoint
Register for FREE and Download
We will send you our curated collections to your email weekly. No spam, promise!