Notebook Stories
Paper presentation going out of business.
I had a scare the other day when I went to one of my all-time favorite stationery shops in New York City. I've been going to Paper Presentation on 18th St. for about 20 years. They used to have more competition in the neighborhood from the late, great A. I. Friedman and Sam Flax, and a shorter-lived store called Envelopper, but Paper Presentation always had one of the biggest selections of notebooks and journals (as well as pens, art supplies, cards, gifts, rubber stamps, stationery, envelopes, etc.)
The other day, I just ran in to find a birthday card. I was focused on the card section and noticed that it had moved to a different area. Then I realized that they had very few birthday cards to choose from. Then I started looking around further and realized that all the shelves were looking really empty. I went to the part of the store where all the notebooks used to be and was horrified to see that the shelves were nearly bare! And that usually means only one thing: store going out of business.
I was quite shocked, but also… not shocked. In NYC, so many great stores have closed in the last few years. There have been articles about certain neighborhoods becoming retail wastelands, because greedy landlords demand such high rents that no one can survive, and the spaces end up just sitting empty. Paper Presentation has a huge space spanning the whole block between 18th and 19th St. and I could imagine that it would be tough to sell enough paper products to pay that rent.
When I went to pay for my birthday card I asked the cashier what was going on. The news turned out not to be so dire: they had been planning to close and had a big sale to clear out their stock. "For three weeks, it was crazy here," she said. "People were buying up everything, all the Moleskines…" But at the last minute, someone stepped in and bought the store, and at least for the near future, the plan is to re-stock and keep it open as a stationery store. [UPDATE: per a comment below, the store is still open and has changed their name to City Papery. ]
I'm still blown away by how wiped out the store looked. I was just there about 6 weeks ago looking at their Bindewerk notebooks and everything seemed normal. I spent over $50, so I can't help being bummed that I missed their big sale! Most of the non-seasonal stock is now back to full price, and ironically, among the very few notebooks they had left were these larger size Bindewerk linen journals… no pocket ones, sadly!
Support your local retailers, people. You'll miss them when they're gone.
6 thoughts on "Paper Presentation Going Out of Business???"
I live on Staten Island and we still have card stores here, with a wide selection of cards and stationery, but they're short on quality notebooks and writing tools. I bought a lock-and-key diary, a pen case, and a set of Zebra Sarasa colored pens for my 10 year-old great-niece, and she was delighted! I plan on giving diaries, with pen cases and pen sets to all my great-nieces when they reach age 10. It's a great age to start keeping a diary!
Thank you for your blog, I really enjoy it and I hope you never run out of notebooks to try!
Hope that it's true that the end has been postponed. I was in there sometime after the good sale items had left and it seemed very bare and quite sad. At that time the signs said they would continue online, but there's nothing like the chance to cut from 19th to 18th street while browsing through pens, pads, boxes, and paper. Hoping.
I am also sad they are closing – I recently went online to purchase some paper and the online says Paper Presentation is permanently closed. :'(
I am a calligrapher in the Miami, FL area and always purchased everything from Paper Presentation!!
I haven't been back to the store since posting this, but recently I noticed an uptick on hits on this post, I guess because people are searching for information about them. It does sound like it has now gone out of business. Very sad.
The store is till there. I believe it changed owners. Its now called city papery https://www.citypapery.com/contact-us/
Paper presentation mail order department re-opened as of today Mar 31 , 2020
Leave a Reply
Your email address will not be published. Required fields are marked *
This site uses Akismet to reduce spam. Learn how your comment data is processed .
Notebooks, journals, sketchbooks, diaries: in search of the perfect page…

Sign in |
Account |
Basket |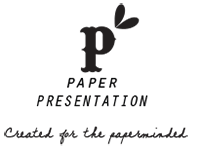 Business Card (2 1/8 x 3 5/8 )
Mini 2-Pay (2 1/2 x 4 1/4 )
Gift Card (2 5/8 x 3 5/8 )
4 Bar (3 5/8 x 5 1/8 )
A2 (4 3/8 x 5 3/4 )
A6 (4 3/4 x 6 1/2 )
A7 (5 1/4 x 7 1/4 )
Outer #7 (5 1/2 x 7 1/2 )
Monarch (3 7/8 x 7 1/2 )
A8 (5 1/2 x 8 1/8 )
A9 (5 3/4 x 8 3/4 )
Booklet 6 x 9
No. 10 (4 1/8 x 9 1/2 )
Booklet 9 1/2 x 12 5/8
SQUARE ENVELOPES
2 3/4 x 2 3/4
4 1/4 x 4 1/4
5 1/2 x 5 1/2
6 1/2 x 6 1/2
7 1/2 x 7 1/2
ENVELOPE LINERS
4 Bar Liners
Outer #7 Liners
6 x 9 Liners
6 x 6 Liners
6 1/2 x 6 1/2 Liners
7 1/2 x 7 1/2 Liners
No. 10 Liners
SPECIALTY ENVELOPES
Bordered Envelopes
Velvet Envelopes
String Tie Envelopes
Top Open Envelopes
Thick-e-lopes
Glassine Envelopes
Velcro Portfolio
Square Flap Envelopes
Cellophane Clear Bags
PAPER (TEXT)
Classic Crest
Classic Linen
Crane Lettra
Gmund Colors (* NEW*)
Mirri Sparkle and Mirror
Stardream/Metallic
Translucent
COVER (CARD STOCK)
Gmund Colors (*NEW*)
Gmund Savanna
Gmund Urban (Brasilia)
Plike (50% Off)
ALL INVITATIONS
5 1/2 x 2 1/2
Pochettes Style A1
Pochettes Style A2
Pochettes Style A3
Pochettes Style A4
Pochettes Style A5
Pochettes Style A6
Pochettes Style B1
Pochettes Style B2
Pochettes Style B3
Pochettes Style B4
Style A (5 3/4 x 5 3/4 )
Style A (7 1/4 x 5 1/4 )
Style A (5 1/4 x 7 1/4 )
Style B (5 3/4 x 5 3/4 )
Style B (7 1/4 x 5 1/4 )
Style B (5 1/4 x 7 1/4 )
Jackets 4 x 9
Jackets 5 1/8 x 7 1/8
Jackets 5 5/8 x 5 5/8
Jackets 3 3/4 x 5 1/8
Rectangular Cards
Rectangular Papers
Square Cards
Square Papers
Round Corner Cards
Business Cards
Circle Cards
Circle Scallop Cards
Scallop Cards
Scallop Heart Cards
Bracket Cards
Victorian Cards
Border Cards
Notch Cards
Crenelle Cards
FOLDED CARDS
Place Cards
Landscape Cards
Trifold Cards
Portrait Cards
Photo Insert Cards
Pocket Folders
Single Panel Folders
String Tie Portfolios
Velcro Portfolios
Capacity Folders
Document Portfolios Style A
Document Portfolios Style B
Box Invitations
Mailer Boxes
Shredded Paper
Belly Belts
EXACTO LABELS
Color Guide
Color Inspiration Panel
Custom Services
SWATCH BOOKS
LASER CUTTING
COLOR CHART
Information
Stay connected.
The Half King Is Dead. Long Live the Half King.
The Half King, a bar favored by war correspondents and conflict photographers, endured all kinds of disasters in its 19 years. Then came the tourists.
A portrait in the Half King of the photojournalist Tim Hetherington, who died while on assignment in Libya. Credit... Photographs by Caitlin Ochs for The New York Times
Supported by
Send any friend a story
As a subscriber, you have 10 gift articles to give each month. Anyone can read what you share.
By Derek M. Norman
[What you need to know to start the day: Get New York Today in your inbox .]
It was a late-April evening in 2011 when news broke that two photographers were killed by a mortar blast in the besieged city of Misurata, one of the last anti-Qaddafi rebel strongholds of the Libyan civil war.
Calls were made. Texts were exchanged. Word spread that these two seasoned conflict photographers, Tim Hetherington and Chris Hondros , were killed in action, and their closest friends and colleagues were meeting to regroup and attempt to digest the tragic news together at a familiar spot: a small bar nestled just below the High Line on the corner of 23rd Street and 10th Avenue.
"We're meeting at the Half King," a text would read. Before long, the shocked and devastated had arrived to grieve at this impromptu meeting place by the hundreds. Friends and colleagues cried together. Acquaintances embraced in grief. And strangers shook hands, bonding over tragedy.
"It seemed like there were hundreds of people there, without exaggeration," said Timothy Fadek, a New York-based photojournalist who was close with Mr. Hondros. "But when I think about who was there, I can't even remember it. It was all such a blur. We were all just so enveloped in our grief. That was really telling about the Half King — how it organically developed into a locus for war photographers and photojournalists."
A spotlighted portrait of Mr. Hetherington equipped with his camera and standing in front of armed Liberian rebels has since hung alone on a portion of the wall at the far corner of the bar.
The Half King , a bar and restaurant in the Chelsea neighborhood of Manhattan, has been for the better part of two decades a watering hole for writers, photographers and filmmakers. On a given afternoon, you might have seen journalists and their editors discussing projects over coffee at one of the pub's wooden booths. You may have passed publicists sharing baskets of jalapeño poppers with prospective authors in the adjacent dining room. You may have overheard war-hardened combat photographers swapping violent scenes of faraway places over $5 happy hour draft beers along the lengthy stretch of bar top.
But after Jan. 26, the Half King, along with its in-house reading series and photography exhibits, will permanently close. With the bar's rent having nearly tripled since it opened almost two decades ago, the market value of the neighborhood's commercial real estate had finally caught up to the owners, and the bar, according to them, had become financially unsustainable.
"For the last few years, the only reason this place still existed is because we loved it," said Sebastian Junger, a co-owner of the Half King, longtime war journalist and author of "The Perfect Storm." "We wanted to take one last stand against the 'generification' of New York City. It finally got to the point that we were actively losing money and we just couldn't sustain that for very long. I can't imagine opening another bar, because we'd face the same headwinds that this one is being forced closed by."
While not the only bar in New York City that caters to the arts — KGB Bar still hosts regular readings and bars like the Arts and Crafts Beer Parlor in Greenwich Village organize art exhibits — it filled a unique niche.
'Just nothing too shiny'
Steps away from an entrance to the High Line was the Half King. Inside was a dimly lit bar and a few wooden booths. About twice a month or more, since the bar opened, an invited author would set up shop toward the back of the bar's spacious dining room. The doors would close, and for a couple of hours, the writer would discuss his or her most recent book with a moderator and a mixed crowd of fans, colleagues, and any unaware diners that may have found themselves present and yet to finish their meal. The event, which was held about 30 times this past year alone, became an integral part of the bar's identity: The Half King Reading Series.
"I introduced every reading by saying, 'There's 10,000 different things you could do in New York any single day, and we don't take for granted that you've chosen to be with us," said Glenn Raucher, who assumed the role of curating and moderating the series a year ago.
"I wanted to make sure that the experience was organic, holistic and that everyone in the room got something from it," said Mr. Raucher, who ordered a Widow Jane whiskey, neat, before moderating each reading. "And I sweated over time trying to make that happen. Even on the nights when we only had a few people, you could say the conversation only took on more importance."
In his early days of curating the series, Mr. Raucher remembered asking how much "carte blanche" he had in choosing the guests. "You have all the carte blanche you want," Mr. Junger replied. "Just nothing too shiny." The goal was, according to Mr. Raucher, to keep true to the ethos of the bar and present works that touched upon a wide-range of topics and issues, and more important, create a discussion that guests felt worthwhile being a part of.
Since the launching of the Reading Series, speakers have ranged from authors like Bill McKibben, the acclaimed environmentalist, to Pulitzer Prize-winning journalist David Cay Johnston, to the writer Vegas Tenold, who wrote the book " Everything You Love Will Burn ," about his time embedded in the American far right.
But beyond the readings, the Half King was a pioneer in its photography exhibits . Every six to eight weeks, fine art photographers and world-class photojournalists would showcase their work, usually with a presentation given by one of the photographers. The exhibits, since 2010, have been curated and moderated by Anna Van Lenten, among other experts. And in its early stages, James Price, a photo editor at Newsweek, was involved.
There was a show devoted to shots of Jimi Hendrix playing at Woodstock, and one of the most popular exhibits was a showcase in 2014 of melting icebergs by the photographer Camille Seaman, which included a climate change discussion with the director of the NASA Goddard Space Institute.
"We've shown photographs from 1917 of Lowell Thomas following Lawrence of Arabia around the Middle East," Ms. Van Lenten recalled. "I mean, literally from when Lowell followed him around with a big box on his back and making glass plate negatives."
"Photographers here were just as much respected as storytellers as writers were as storytellers," Ms. Van Lenten said. "People are drinking beer and eating sweet potato fries, while we are talking about spotlighted art. For me, that's pushing the democratic feature of photography."
'This place kind of became a mecca'
The bar opened in 2000. Mr. Junger, who also directed the war documentary " Restrepo " with his close friend Tim Hetherington, started the Half King with Scott Anderson, an author and longtime magazine journalist who covered war extensively, and Mr. Anderson's wife, Nanette Burstein, an award-winning filmmaker. But the bar's conception began sometime before 2000, on a few bar stools at Sunny's Bar on the Red Hook waterfront.
"Let's buy a building in Red Hook," Mr. Junger recalled thinking. "We'll have a bar on the first floor. We each take a floor. And we'll have a fireman's pole that would run down into the bar from our apartments.
"Our idea wasn't to make money, but to pay our mortgage and break even," Mr. Junger added. "Who wants to break even anyway? We just wanted our own bar and our own fireman's pole."
A fourth partner, Jerome O'Connor, already an experienced bar owner, may have been the one to put the dream of a firefighter's pole to rest. After he came on, the location on the West Side of Manhattan — a pretty derelict stretch of 10th Avenue back at the turn of the century — was chosen. It was remodeled entirely, much of it with lumber salvaged from a 200-year-old barn in Pennsylvania.
Despite its isolation, the Half King quickly picked up a following. Artists and gallery folk would dine in. Soccer players from Chelsea Piers leagues would swing by for drinks after matches. The tables were constantly occupied, and as intended, including by those friendly with the owners.
"I remember when I was in Darfur for The Times Magazine, and I realized the Half King started to hit," Mr. Anderson said. "I ran into a Dutch photojournalist, and we were just hanging out and talking. I told him about owning a bar in New York and mentioned the Half King, and he goes, 'Oh, I know the Half King.' This place kind of became a mecca."
The bar had barely been open a year when the World Trade Center was attacked on Sept. 11. In the aftermath the Half King was one of the first bars open and reachable from ground zero. It drew a crowd of emergency medical workers, firefighters and police officers who were making pit stops for lunch or drinks during the cleanup. Much of the traffic heading from ground zero to the morgue uptown passed by the Half King.
"So they would all turn right here," Mr. Anderson recalled. "It was constant. I can remember virtually every night for weeks, there would be a long line of ambulances. Especially if they would recover a fireman or policeman's body, there would be a long motorcade of ambulances."
Just a couple years later, during the blackout of 2003, the Half King again kept its doors open. Inside was lit by candle, and cold food was being served before it inevitably spoiled. People stranded in the area sought respite in the bar, but rather than eating, took to drinking heavily.
While her partners were away from the city, Ms. Burstein had to manage the chaos alone. "The cash registers weren't working and the food was going to go bad," she said. "It could have been madness. At one point, I had to literally stand on top of the bar and shout, 'Everybody calm down!'"
And in 2012, Hurricane Sandy ravaged Manhattan, leaving the bar to fend for itself. It was once again without power and in the declared "dark zone," which began at about 30th street.
"We were flooded with two feet of water," Mr. Junger said. "I got a generator from somebody. We went outside of New York, somewhere in New Jersey, and got big jugs of gasoline. It felt like 'Mad Max,' and the gasoline was gold. If you had two five-gallon jugs, you were king."
After a major cleaning and overhaul, the bar survived, despite not having received any federal assistance, which the owners had applied for.
'Suddenly, they'd be there'
In the end, it wasn't a disaster that changed the fortunes of the Half King; it was the High Line . The railbed turned pedestrian park opened in 2009 and was finally completed in 2014. During those years, commercial real estate prices rose exponentially based on the massive influx of tourists. Many art galleries in the area closed and local residents moved out. The Half King, the owners realized, had changed.
"I remember friends saying, 'God, you guys are so lucky, you're right there.' But it really did change the clientele," Mr. Anderson said. "And so we had a lot of out-of-town tourists coming here, but it stopped being a destination area for a lot of New Yorkers."
Despite the changes to the neighborhood, a core group of writers, journalists, photographers and war veterans have stayed loyal to the Half King.
On Sept. 11 last year, C.J. Chivers, a Marine veteran and war correspondent for The Times, read from his book " The Fighters ," which was moderated by fellow Marine turned author, Phil Klay.
"He's a friend of the bar, so there were many people there," said Mr. Raucher, who noted a striking number of veterans in the crowd. "There were at least 70 or 75 people in the room, and yet when they were talking," Mr. Raucher said, "you could hear a pin drop. You could feel the electricity of how important what he was talking about was to everybody in the room."
For some, the bar has served as a bridge between New Yorkers and the foreign lands they visited. (The origin of the bar's name comes from an 18th-century Seneca chief who served as an honorary spokesman between tribes and foreign armies.)
"I had a lot of friends that, in the beginning, I had never seen outside of a war zone," said Michael Kamber, a combat photographer for The Times and now the director of the Bronx Documentary Center . "We had only seen each other in Iraq, Afghanistan, Somalia or wherever, and you could go to the Half King, and suddenly, they'd be there."
Mr. Kamber said that he appreciated the simplicity of the place. "It wasn't a precious fine art space where they were selling work for thousands of dollars; it was for working photojournalists." He had met Mr. Junger while covering the civil war in Liberia, and later worked on assignment with him for Vanity Fair, in Nigeria. A photograph from that assignment still hangs on a wall in the bar's private room.
For nearly two decades the original Half King sign had hung above the doorway, but over time it became weathered and worn. Some time ago, Mr. Junger thought a replacement was needed. He ordered a new sign, but weeks passed, and then more weeks passed. By the time it had arrived, the decision had already been made to close the bar for good. The new sign was hung anyway.
Advertisement
New York State on PAUSE: New York State Shuts Down All Nonessential Businesses to Combat COVID-19
What does it mean for new york state to be on pause.
By Brian E. Finch , Amanda G. Halter , Cassie Lentchner
On Saturday, March 21, 2020, New York Governor Andrew Cuomo issued Executive Order No. 202.8 (EO 202.8), requiring all nonessential employees to stay home, effective at 8 p.m. Sunday, March 22, 2020, through April 19, 2020. Any business not in compliance with the order is subject to civil fines and mandatory closures. There will also be restrictions placed on civilians, though specific enforcement measures for those provisions have not been specified.
Under the terms of EO 202.8:
All businesses and not-for-profit entities in the state shall utilize, to the maximum extent possible, any telecommuting or work-from-home procedures. By Sunday, March 22 at 8 p.m. all New York employers must eliminate their in-person workforces unless the business is deemed essential.
Any business providing essential services or functions, whether to an essential business or a nonessential business, shall not be subjected to the in-person work restriction, and may operate at the level necessary to provide such service or function. Businesses and entities that provide other essential services must implement rules that help facilitate social distancing of at least six feet.
The New York State Empire State Development Corporation (ESD) has updated the New York State guidance on businesses considered essential . These businesses can remain operational when others must move to working remotely or close.
Most health care services, grocery stores, restaurants/bars (for takeout and delivery), pharmacies, gas stations, hardware stores, laundromats, childcare facilities, car repair shops and funeral homes are deemed essential.
Other public services like trash hauling, construction, utilities and telecommunications are also exempt.
Financial institutions are also exempt, including banks, insurance, payroll, accounting, and other services related to financial markets.
Importantly, and in contrast to other localities' stay-at-home orders so far, Empire State Development (ESD) has implemented an electronic system to submit requests to be designated essential if the function of a business is not listed, but the business owner believes that it is providing essential services or functions. ESD has directed that businesses should not submit requests to be designated an essential function if they are already covered by the guidance, i.e., requests to confirm essential status are discouraged.
The shutdown of all nonessential businesses is the latest, and most drastic action taken by New York. Prior to this, New York instituted many workforce reduction efforts, prohibited large gatherings. and suspended many laws that would require people to leave their home including closing the Courts for all but essential actions, extending litigation and tax deadlines and suspending requirements that shareholder meetings be held at a physical location.
As social distancing-related regulation is picking up, New York has simultaneously been taking measures to lessen the impact on consumers and small businesses, including prohibiting the enforcement of either any eviction or foreclosure for any residential or commercial property proceedings for a period of ninety days. The rapidly changing legal environment resulting from the COVID-19 emergency is dramatically altering the business operations and we are available to answer questions.
Pillsbury's experienced crisis management professionals are closely monitoring the global threat of COVID-19, drawing on the firm's capabilities in supply chain management, insurance law, cybersecurity, employment law, corporate law and other areas to provide critical guidance to clients in an urgent and quickly evolving situation. For more thought leadership on this rapidly developing topic, please visit our COVID-19 resources page .
The 49 th International Symposium on Computer Architecture
June 18–22, 2022, new york city, usa, important dates.
Abstracts: November 16, 2021 at 11:59 PM AoE
Full Paper Deadline: November 23, 2021 at 11:59 PM AoE
Industry Track Abstract Deadline: January 7, 2022 at 11:59 PM EST
Workshop/Tutorial Proposal Deadline: January 7, 2022
Industry Track Paper Deadline: January 14, 2022 at 11:59 PM EST
Rebuttal/Revision Period: February 7–17, 2022
Author Notification: March 2, 2022
Early Registration Deadline: April 16, 2020 at 8:59 AM CEST (April 15 at 11:59 PM PDT )
Camera-Ready Deadline: April 25, 2022 at 11:59 PM AoE
Early Registration Deadline: May 20 23, 2022 at 11:59 PM EDT
View the Call for Papers View the Call for Papers
Upload Abstracts and Papers to HotCRP
View the Industry Track Call for Papers
Click Here to Attend ISCA Events Register for ISCA --> View the Program Download Whova ISCA has been pushed one week -->
The International Symposium on Computer Architecture (ISCA) is the premier forum for new ideas and research results in computer architecture. In 2022, the 49 th edition of ISCA will be held in New York City, New York, USA.
View the Calls for Papers: Regular Track CFP • Industry Track CFP
Upload Abstracts and Papers to HotCRP: Regular Track • Industry Track
View the Call for Workshops & Tutorials
Announcements
Remote access via whova.
Remote attendees can view conference sessions and panels on Whova. See instructions at the top of the main program page .
Abstracts are online and PDFs are coming
You can now view paper abstracts on the ACM Digital Library or through links from the main program page . Full paper PDFs will be freely available via the ACM DL for one month, starting the first day of the conference.
Early registration extension
Fear not! We have extended the early registration deadline to Monday May 23, 2022 because the CVent registration page went down. In the meantime, take a look at the keynotes, panels, and accepted papers on the program page, the many workshops and tutorials you can attend, and which upcoming and prior ISCA papers will present a poster this year.
Registration is open!
Registration for ISCA 2022 is now open! View the registration page for pricing and a link to register via Cvent. The workshops and tutorials page shows the approximate schedule and links to organizers' pages (main conference program coming soon). See the visa information page for instructions on visa support letters. See you in New York!
ISCA dates have been pushed one week
We had to push the ISCA dates by one week (June 18–22 instead of June 11–15) because the initial venue (a four-star hotel) closed suddenly a few weeks ago. We had to seek another venue on very short notice. The only availability was one week after the initial dates of ISCA. We apologize for this inconvenience and we are looking forward to seeing you in-person in NYC in June.
Check out the ISCA Workshops and Tutorials!
The workshops and tutorials page is live with approximate schedule and links to most organizers' pages. Consider submitting your work!
Submission LaTeX Template Updated
The submission guidelines page is live, and we updated the LaTeX template today to adhere to the HotCRP format checker. Best wishes in submitting your work!
Speakers/Panelists/Session Chairs: Check Email & Spam
For those of you who are speakers, panelists, or sessions chairs for the conference, please check your email and spam folders frequently over the next few days for your special Zoom links. We've received several reports of the emails being flagged as spam. Monday participants should have already received links (look for an email from the "@fase20.com" or "@sicongresos.com" domains).
Participants are expected to log in 30 minutes before the start of their scheduled session. If you have not received a personalized Zoom link by that time, please contact the general co-chairs (José Martínez and Jose Duato) and the program chair (Lizy John).
Registration Now Open
Registration for ISCA 2021 is now open! You can find information on fees and on how to watch content before the conference on the registration information page , and you can register for the conference at the ISCA virtual venue (where all talks and live content will be as well). For more info on how to navigate this year's virtual venue, please see our guide on attending the conference .
While you're at it, check out the final program , which includes the PDFs of all 81 papers, and the schedule of all workshops and tutorials ! This year's low registration fee covers all events. We look forward to seeing you virtually at the conference next week!
Registration Opens June 7
As we're working on final preparations for the conference, we wanted to let you know that registration for ISCA will open up on June 7 at 2 PM EDT /New York. We will post an announcement when registration is available. In the meantime, please check out the near-final program for the conference!
Technical Sponsors
Diamond Sponsors
Platinum sponsors, gold sponsors, silver sponsors, bronze sponsors, student travel sponsor.
'A sad and glorious history': One of NYC's last Chinese hand laundries closes
Robert Lee recalls success and racism. He starched the city's shirts through it all — but was forced to shut down because of Covid-19.
Robert Lee inside Sun's Laundry, his business of 61 years on the Lower East Side of New York City. (Sheldon Chau / Leap Man Productions)
By Hanna Park Oct. 9, 2020
For more than half a century, residents of Manhattan's East Village neighborhood would pick up their freshly starched shirts in flimsy plastic bags from Sun's Laundry. The store's red vintage sign, silver countertop bell, Chinese and Westernized calendars, bright customer tickets and over-the-counter conversations served as relics of a bygone era. 
Now, the shop sits desolate after having closed at the end of August, following decades during which the Sun family spent their days washing clothes in mixed starch and water, then taking an electric stainless steel iron to the garments to present their customers with crisp, pressed shirts. At night, they retreated to their two-bedroom apartment unit above the store. 
The Chinese hand laundry store — known for packaging the final product in traditional brown paper and twine — was one of the last in Manhattan, and it had been operating as a family business since 1959, with Robert S. Lee, 84, at the helm. He opened it with his father, Lee Dow Sun, after whom it's named. During the 1930s, Sun also owned a laundry in Boston, where Lee had first immigrated searching for opportunity. 
Robert Lee, left, sending off his cousins from Hong Kong to the U.S. in 1955. (Courtesy Robert Gee)
Robert Lee's first departure from Hong Kong to Boston in April 1957, with his brother-in-law's mother, Gam How Gee, left, and Wai Lee Hom. (Courtesy Robert Gee)
With waning clientele as the Covid-19 pandemic hit, Lee couldn't afford to put money into his business anymore. It closed Aug. 29. 
"If I had my way, I'd still be working," said Lee, whose given name in Chinese is Li Hong Sen, meaning "prosperous life."
Like many other first-generation Chinese immigrants, Lee resorted to the hand laundry business to earn a better living. Lee, born in the agricultural village of Toisan, China, had fled to Hong Kong by himself in 1951 amid the growing influence of the Chinese Communist Party before arriving in America. He says his mother, Lee Suet Fong, had been tortured by the Japanese with forced labor before she joined Lee in Hong Kong three years later, and his father, the first to arrive in the U.S., had sent thousands of dollars to build a home for the family in Toisan.
"It was a difficult trade, and I wanted to help out my parents in every way possible," Lee said in his native Toisanese, according to his nephew Robert Gee, who provided a translation of the Chinese dialect. "In the early 1900s, the business model was to send Chinese men to the U.S. to work and support families in China. Given the uprising of the communist rule in 1949, we had no choice but to stay in the U.S. and make the best of life in a new country. Life in America was better than in China with modern facilities versus living in the farmland." 
Lee said that in the booming days of businesswear in the early 1960s to the 1990s, he would process over 100 business shirts a day. As work clothing became more casual in the 2000s, he would sort just under 40 shirts a day.
According to the Partnership for New York City , an estimated one-third of local small businesses in the city, or about 77,000, will close permanently because of the coronavirus, with closings disproportionately harming immigrant communities. While Gov. Andrew Cuomo deemed laundromats to be essential businesses , many, like Sun's Laundry, closed temporarily to curb the spread of the virus.
Robert Lee, center, and Wai Hing Lee pose at their wedding in 1962 with his sister Wai Lee Hom, left, and brother-in-law, William Hom, and their two boys. (Courtesy Robert Gee)
Sun's Laundry, which he operated with his wife, Wai Hing Lee, 76, was the last of five laundry businesses within his extended family, and it was an emblem of the role the industry served in the U.S.
"It helped make America's lifestyle convenient and made them look good," said Gee, whose grandfather had also owned a Chinese hand laundry business in Manhattan. "People would give laundrymen soiled underwear, and you'll receive the result of beautiful clothes. Nobody wanted these jobs. Yet, the Chinese folks had to make a living."
"Nobody wanted these jobs. Yet, the Chinese folks had to make a living." Robert Gee
As an influx of Chinese immigrants escaping economic and political upheaval in the mid-1800s sought refuge in the U.S., many men scrambled for fortunes in the California Gold Rush and found work as laborers. Later, many of them started working on the Transcontinental Railroad, which would link the U.S. from east to west. 
"The Chinese man's vision of America was 'The Gold Mountain,'" Gee said, explaining what the country represented to the early Chinese immigrants during the Gold Rush of 1849. "But after there was no more gold, [white Americans] said, 'Let's make the Chinamen build the Pacific Railroad for us.'"
However, widespread unemployment after the Gold Rush led to a spike in anti-Chinese sentiments . As the U.S. enacted the Page Law of 1875 , barring Chinese women from entry, followed by the Chinese Exclusion Act of 1882 , which banned the entire Chinese population — including men — from immigrating based on their ethnic origin.
Restricted from owning property and barred from "masculine" trades in organized labor and in tobacco, shoe and woolen goods manufacturing, Chinese men were forced to take on more "feminized" jobs as cooks, laundrymen and domestic servants.
Robert Lee wrapping laundry in the classic brown butcher's paper tied with string.  (Sheldon Chau / Leap Man Productions)
"Washing clothes was not considered men's work. No men wanted to do the laundry, so the Chinese men took over the industry," said Justin Yu, president of the Chinese Consolidated Benevolent Association , a representative organization.     
"[Due to] the lack of education and discrimination towards Chinese immigrants, there were not many opportunities," Lee said. "The careers offered were mainly blue-collar opportunities. It was very seldom that a Chinese immigrant had the opportunity to become a white-collar worker."                                 
To meet the demand for clean clothes, many white miners had paid " relatively high prices " to Native American or Mexican women to wash their clothes. However, the Chinese men began to replace those women as early as the mid-1800s because of the shortage of Chinese women .
Wu said the Chinese population was still scapegoated for stealing the jobs of white Americans. 
"They got upset that the Chinese hand laundries dominated every corner of the streets ... from the East Side, West Side, downtown, uptown, Bronx and Brooklyn. Even when we were limited in job opportunities, we still faced people's jealousy. So they decided to force us out again," he said.
Sun's Laundry that now sits desolate on 626 East 14th Street. (Hanna Park)
In 1933, the New York City Council passed a law prompted by white laundry workers who were enraged by the lower prices their Chinese competitors charged. At a time when there were 5,000 Chinese laundry establishments in the city , the ordinance required all laundries to be run by U.S. citizens, to hire fewer than six employees and to pay $1,000 security bonds. The Chinese Consolidated Benevolent Association and the Chinese Hand Laundry Alliance — a labor union — fought back and hired a Polish Jewish lawyer, Julius Bezozo, who went before an African American judge, who lowered the bond to $100.
Far from being delicate, the process of hand laundering was taxing, requiring both outside contractors to dry clean and wet wash the clothes and owners to individually starch and then smooth the cotton shirts and beddings with 6-pound irons in air conditioner-less 90-degree weather.
"When you see baseball players, they step into their batter's spot and dig out a hole. Think of a laundryman standing there eight to 10 hours a day, for an excellent number of years. If you went to Mr. Lee's laundromat, you would see holes on the floor," Gee said. "The laundryman is there for so long that they know exactly what's the best spot to stand, because that's how they're efficient to iron your shirts."
Gee said he was meticulous in his presentation. "They're all stacked on top of each other, as if you went to Bloomingdale's or Saks. He wraps it up in butcher's paper tied with twine and puts C-120's ticket on top of the bag."
"The companies then send the clothes back in a pouch, and he would make sure it's all nicely pressed, touched up, then places all the five shirts back together for say, ticket C-120," Gee said. "They're all stacked on top of each other as if you went to Bloomingdale's or Saks. He wraps it up in butcher's paper tied with twine and puts C-120's ticket on top of the bag."
By clocking in 12 hours a day, six days a week, to support his family, Lee was able to put his children, Jane and Edward, through city colleges. During the golden years in the 1980s to the 1990s, Gee said, his uncle earned roughly $2,000 to $3,000 a month.
Lee claims to have maintained the lowest prices, starting at 19 cents to clean a shirt in 1959 and $1.20 in 2020, while competitors usually charged $1.80 to $2.50.
The brown paper and white strings resemble a packaged present, a characteristic of Chinese hand laundries. (Courtesy Robert Gee)
Stacks of laundry tickets to keep track of customers' orders. (Courtesy Robert Gee)
However, the shifts in consumer habits to automated drying machines in the 1970s to polyesters and wrinkle-free products in the 1980s to casual wear in the 20th century had slowly caused hand laundry businesses to falter. But Lee never considered automating his business model.   
Still, Lee and his family were able to buy a two-story house in Elmhurst, Queens, with their added savings from selling their laundry business in Boston. They had purchased Sun's Laundry for $4,300 and secured a 99-year lease, with rent starting at $100 a month in 1959, which steadily rose to $800 from 2008 onward.
Gee, whose family had also been in the laundry industry, said owning a house was a luxury. "Many times, your house and business were all in one. There was maybe a little room in the back where the laundry was. That was true for the case of my parents and my aunt," he said.  
Robert Lee, right, with Lee Dow Sun and Lee Suet Fong at a family gathering in Boston, in 1957. (Courtesy Robert Gee)
"If you speak to the generation in front of you, they worked seven days a week, so you don't have to," Gee said. "So, you can do well, study and get into the Ivy League. Then you are the star of the family, and that's their measurement of success."
Other than one-day escapades to Boston or Toronto, Lee had taken only one major vacation in his life — a cruise through the Caribbean Sea, where he was stunned by the three-hour trip to Miami, Gee said.
His only forms of leisure were catching glimpses of the Chinese newspaper during his cramped, hourlong commutes on the No. 7 train or watching local American news in bed before waking up to open his shop at 8:30 a.m. It was open until 6:30 p.m. every day except Sundays — although some weekends and an entire village were essential for him to carry on.
"There were definitely times when business was brisk," Lee recalled. "Me and my wife had to go to work on Sundays. ... We spent the entire day sorting and tagging outgoing clothes while ironing and packaging clothes that came back on Saturday afternoon to prepare for Monday's pickup by customers."
Robert Lee on his last day behind the store's red vintage sign that he repainted after it was passed down by the previous store owner.  (Sheldon Chau / Leap Man Productions)
Betty Yu , a multimedia artist who chronicled the history of her grandfather — Sui Woo — in her documentary " Discovering My Grandfather Through Mao ," said: "We can never forget the amount of suffering, harassment and discrimination that Chinese Americans faced in this country just to earn a living. White labor unions literally chased out these laundry workers, burning the Chinatowns down ." 
Woo was one of the founding members in 1933 of the Chinese Hand Laundry Alliance, which was heavily targeted as a communist organization during the 1950s McCarthyist Red Scare . Soon after, the organization, which initially boasted 3,000 to 4,000 members, had dwindled to 500 to 600 members, she said. Currently, the union has closed its office.   
"They were all questioned by the FBI at that time. Some of the Chinese members were deported back to China. Two of them took their own lives, and some of them spent time in jail because of these anti-Chinese sentiments. My grandfather couldn't build family roots here because of the discrimination," said Yu, whose grandfather — unlike Lee — was unable to settle in the U.S. and returned to China. "I fear that the younger generations of Chinese Americans would forget that." 
Robert Lee sits behind the counters of Sun's Laundry on his last day at work. (Sheldon Chau / Leap Man Productions)
When Lee first arrived in Boston, he took English classes from 9 a.m. to 3 p.m. and then worked immediately after school until 9 p.m. With experience in family laundry stores, his two other uncles would habitually help Sun's business. But due to the size of the small laundry that could only support three employees, Lee was forced to work at a separate commercial washer, apart from his father.
In the 1960s and the 1970s, customers would bark, "Hold the starch, Charlie" — a slur sourced from Hollywood films about Charlie Chan . Jane, then 10, would ask, "Why do they call you Charlie when your name is Robert?" 
Bias incidents against Asians have surged amid the pandemic, and a recent report points to a spike immediately following usage of phrases like "Kung Flu" and the "China virus ."  But Lee says he feels it's nothing new. 
"[Racism] has always been there. ..." he said. "I'm aware of the spike in Asian hate crimes. Fortunately, I was never racially attacked [during the pandemic]. There are always racial slurs made towards Chinese, but I just kept on walking to avoid trouble."
Lee said he always had Edward by his side to escort him to and from Sun's Laundry, while Jane would drive him to and from Queens when she had time, prior to the government-mandated shutdown in March.
"The Chinese hand laundry industry is both a sad and glorious history for us," said Wu, of the Chinese Consolidated Benevolent Association. "Sad because we suffered. Glorious because we maintained our integrity. We toiled through hard labor to make legitimate earnings. We don't owe anyone anything, and we're not leaving. This country becomes our country. We're going to have our piece of the pie."
As Lee soldiered on, the neighborhood grew on him. 
"He knew people by their building and apartment number," said Deidre Moderacki, a neighbor who knew Lee since the 1980s. "People would leave their house keys and packages with him. Before we had the buzzer system, he would come out to the doorway, call you or wave you down."
"People would leave their house keys and packages with him." Deidre Moderacki
His 700-square-foot store space would often be piled high with the neighbors' boxes, which, at times, included bicycles or mattresses. 
Lee described his customers as "very nice and genuine people," saying, "Since the apartments in the area had no doorman, I was the concierge." 
Yet Lee refused to charge for this service. When customers insisted on providing compensation out of gratitude, he would repay them with boxes of green tea.  
When the new management company of Lee's store was about to raise his monthly rent well above $800 in 2016, his neighbors started a GoFundMe page. Lee, reluctant to impose a burden on his neighbors, asked that all the money be returned.
By serendipity and goodwill, the company did not raise his rent, because it recognized his service to the community, Lee's niece said in a separate interview with his grandnephew. 
Lee said he grew up with three generations of customers. "I developed many long-lasting friendships with customers over my 61 years [of service]," Lee said. "In one case, I had laundered clothes for a family with three generations." Even when neighbors moved to other cities, some would still come back to visit.
"He was always happy to chit-chat with his customers, even though he had lots of outgoing and incoming laundry, Gee said. "He always made time for them."
Robert Lee and his long-time customers Ken Luymes and Ann Marie Duross, on his left. (Courtesy Ken Luymes)
Robert Lee with members of his family, including Robert Gee, left, who came to pay tribute to his 61 years of service. (Sheldon Chau / Leap Man Productions)
Ann Marie Duross, a longtime customer of 21 years, recalled Lee's personalized service, in which he marked her husband's name, "Ken," onto their pillowcases, which are now mementos. "My husband said he had to preserve these. It was just immaculate. You've never seen such perfectly folded towels and sheets."
On Lee's last day, a constant stream of customers and neighbors dropped by to bid him farewell, bearing murals, gifts, cards and Prosecco.
Although Sun's Laundry is now barren, it's a reminder of the trail Lee's generation blazed for the Asian American community today.
"Words can't describe the pain and struggles that this industry had endured for over 150 years," Lee said. "If WWII and change in the Chinese government had not happened, thousands of Chinese laundry workers would have returned to their home village. ... History had altered their life's destiny."
Gee said that with only a scant number of Chinese hand laundries remaining, he was left feeling nostalgic. 
"It's like the rotary phone or TV with the dial," he said. "That trade is gone forever. Same thing here. There's not going to be this type of laundry business anymore. All those men and women who worked in this business busted their chops to help the Chinese immigrants make a living here. They did it to help all the Asians who are successful now in corporate America, and they deserve recognition."
CORRECTION: (Oct. 12, 11:55 a.m. ET): A previous version of this article misstated the last name of the president of the Chinese Consolidated Benevolent Association. He is Justin Yu, not Justin Wu.